Wigan writer's debut children's book set in popular holiday resort
Susan Brownrigg has penned Gracie Fairshaw and the Mysterious Guest, which transports young bookworms back to the Blackpool of the 1930s.
Published 2nd Jun 2020, 12:30 BST

- 3 min read
Updated 2nd Jun 2020, 12:58 BST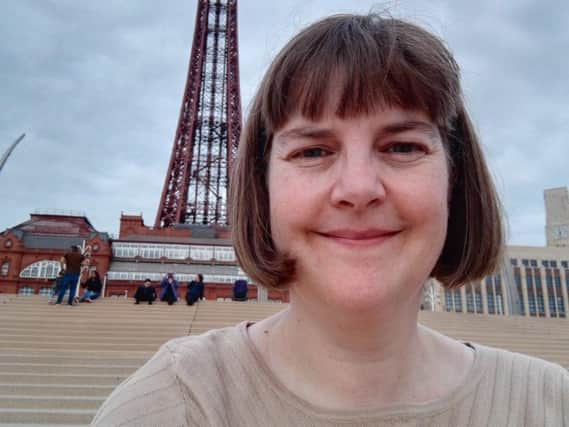 The novel, which is set to hit the shelves in July, is a fast-paced mystery and adventure story which has already impressed critics.
For former journalist and editor Susan writing a children's book about the North West resort was also a nostalgic return to happy day trips and holidays to Blackpool as a child.
Susan, who grew up in Abram and Platt Bridge, said: "I loved visiting the Tower, especially the aquarium and circus, the Illuminations, the Pleasure Beach and going for rides along the seafront on the heritage trams.
"Blackpool is a magical place with a fascinating history. When you think of the seaside you think of golden beaches, piers, sandcastles, donkey rides, sticks of rock and fish and chips. Blackpool has all this and more."
Set in 1935, the story tells the tale of the title character Gracie who moves into The Majestic, a Blackpool boarding house, with her family.
However, strange doings are afoot and her mother soon mysteriously vanishes.
Gracie teams up with her younger brother George, siblings Violet and Tom, and maid Phyllis, to work out why one of the guests – a con-man conjurer – has made their Ma disappear.
Time is ticking down towards the all-important Illuminations switch-on, with the youngsters having to bring their mother back before the annual event.
Susan developed a love of reading and writing as a pupil attending Low Hall Primary School and Byrchall High School.
She went on to complete a degree in journalism, film and broadcasting at Cardiff University.
After working as a journalist and sub-editor for 12 years her interest in history and a desire to work with children saw her change careers.
She now works as a Museum and Learning Community Manager and spent her spare time away from her job working on a succession of children's books.
And now, having endured obstacles and rejections for her novels, she has finally broken through and got one of her tales into print.
Susan, who now lives in Skelmersdale, said: "I've wanted to be an author since I was eight years old! I was always writing short stories in my spare time.
"I was very fortunate to have English teachers that really encouraged me to write and my school reports often mention my vivid imagination!
"Of course, success doesn't always come quickly. I wrote my first children's novel in my early 20s and I was delighted when it was long-listed in a competition.
"My third attempt at a children's book won a place in the SCBWI British Isles Undiscovered Voices and won the Margaret Carey Scholarship.
"I received some lovely feedback from agents and editors, but the rejections slips continued to come in.
"But I kept on writing, and I was delighted when my fifth children's novel was accepted."
The novel is coming out thanks to Uclan Publishing, an independent trade children's publisher based at the University of Central Lancashire in Preston and Susan spoke of her gratitude to the concern for their faith in her literary talents.
She said: "I am delighted to be published by Uclan Publishing. I have really enjoyed working with the MA students and illustrator Jenny Czerwonka who designed the cover. The editorial team have been absolutely fantastic."
Gracie Fairshaw and the Mysterious Guest, by Susan Brownrigg, will be published on Thursday July 2 and is available for pre-order from all good bookshops.