Wild plans for dual carriageway in Wigan village
Residents' group Standish Voice have been involved in the project to bring back wildflowers to one entrance to Standish
Published 30th Apr 2021, 12:44 BST

- 2 min read
Updated 30th Apr 2021, 12:46 BST
A sea of colourful wildflowers will be the blooming crop of an initiative which is brightening up the borough's roadsides.
Residents' group Standish Voice have been involved in the project to bring back wildflowers to one entrance to their village.
Committee member Ron Wade joined Lancashire Wildlife Trust ecologist Dr Mark Champion in seeding the grassed area between the dual carriageway leading to Junction 27 of the M6.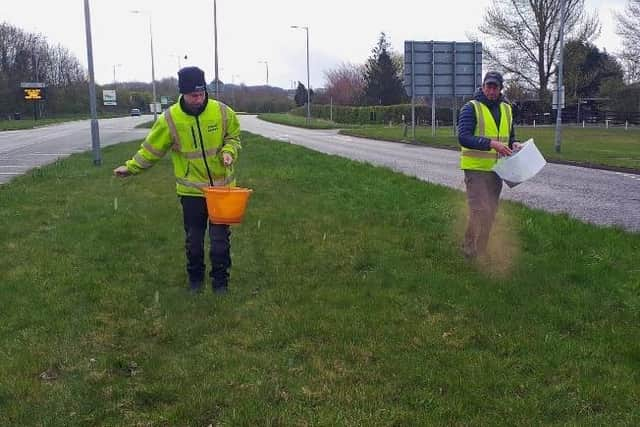 The meadow plants have been chosen carefully to reflect local biodiversity as part of a Wigan Council scheme called Naturalising The Borough.
During the seeding, Dr Champion carried out a survey of existing wildflowers and the predominant species was Mayflower.
This is quite ironic if you know that Myles Standish was a captain of the Mayflower which took the Pilgrim Fathers to America just over 400 years ago.
The Mayflower is also known as cuckooflower which gets its name because it first appears in April, at the same time as cuckoo.
May and June are the months when cuckooflower is in full bloom and due to this many people call it the Mayflower.
It is also known as Lady's Smock and Milkmaids.
The pretty, pinky-purple and white flowers are often found in wet meadows, stream margins, ditches and pastures where they tend to form a carpet of blossoms.
Ron, a member of the management committee of Standish Voice, said that through his role, he had been trying to get improvements to the green infrastructure in Standish sorted.
He said: "I started following Plant Life's roadside verge campaign and if you Google some the photos of the roundabouts and verges around the country, they are simply stunning.
"Having seen these, I thought the central reservation of the dual carriageway leading in to Standish from the motorway would look spectacular if planted with native wildflowers and would create a fitting entrance to the village.
"So I contacted the Lancashire Wildlife Trust, where I am a volunteer and trustee, to see how we could get this done.
"Dr Mark Champion from the trust came to look at the site and said it could be done through the council's initiative 'Naturalising the Borough'.
"This culminated in myself, Mark and Kieran Sayer from the council sowing a mix of native flowers earlier this month."
The project will also see Ron working with the council and Wildlife Trust to identify other suitable areas in Standish for late summer
It comes after the Naturalising the Borough project launched in May last year and is looking to increase biodiversity and enhance wildlife.
This stems from the peak of the Covid-19 outbreak when most of the council's grass cutting services ceased.
Thanks for reading. If you value what we do and are able to support us, a digital subscription is just £1 for your first month. Try us today by clicking here and viewing our offers ...