Woman who kept scarf her mum bought her on VE Day shares her memories of the end of war
Eileen Hawkins, from Haigh, was eight years old when she and her family headed into Wigan town centre to celebrate the culmination of six years of conflict in Europe in 1945.
Published 7th May 2020, 12:30 BST

- 2 min read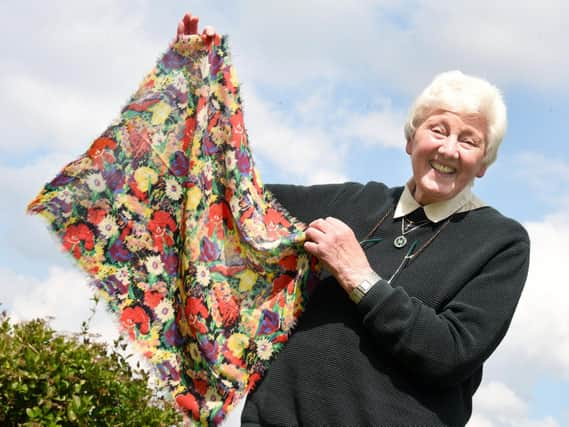 Her mum Agnes bought her a brightly-coloured floral scarf and Eileen, together with her older sisters Cecilia and Marie, joined the scenes of general jubilation.
And remarkably, the scarf is still in Eileen's possession at her Toddington Lane home some three quarters of a century later.
Eileen, 83, said: "My mother said she would go and buy something special, something bright and colourful, so she bought this scarf.
"I don't remember exactly where she bought it but it was probably Pendlebury's, which became Debenhams.
"It was a lovely day. We walked up to town from where we lived just off Park Road. It was very exciting."
The family, though, was not quite together to celebrate the end of World War Two as Eileen's father John Hawkins was in Germany.
He had remarkable experiences of the conflict as he was a police officer who because of his duties at home was asked to go to the continent and help with the repatriation of the unfortunate prisoners who had ended up in the Nazis' inhuman system of concentration and forced labour camps.
He was among the first group of people to gain entry to the infamous Belsen concentration camp when it was liberated and the world was shocked by images of the thousands of emaciated survivors and the dead victims of the Third Reich.
He worked in the legal commissions set up in the aftermath of war to get displaced persons from areas as far away as Poland and Ukraine back to their homes.
He wrote up his memoirs from his fascinating life for his family in later years.
Eileen shared with her sisters, including younger sibling Jacqueline who was born the year after the war, a picture of the scarf to remind them of the 75th anniversary of VE Day on Friday.
In describing the effect of the end of the conflict she also came up with a striking image which will strike a chord with readers currently staying at home during the coronavirus pandemic.
Eileen said: "It brings back all the memories, many happy memories. I think about the sirens, the planes and bombs coming over.
"We always used to go under the stairs. I don't know if that was the safest place.
"The change on VE Day was wonderful.
"It was a bit like being unlocked after lockdown."