Chris Green MP: ​Green Party still fairly anonymous
The Green Party is fairly anonymous which is odd considering how important they believe the issues that they champion are to the globe.
Watch more of our videos on Shots! 
and live on Freeview channel 276
Visit Shots! now
They think that the world is on the verge of catastrophe yet they can barely get their act together to campaign for change.
The UN Secretary General, Antonio Guterres, said that the world has now reached "boiling point", the media is full of stories of impending doom but still the Green Party cannot find the motivation to get active in a meaningful way.
As a Member of Parliament, you would expect me to believe in making your case, persuading others of your cause and getting a democratic mandate through elections.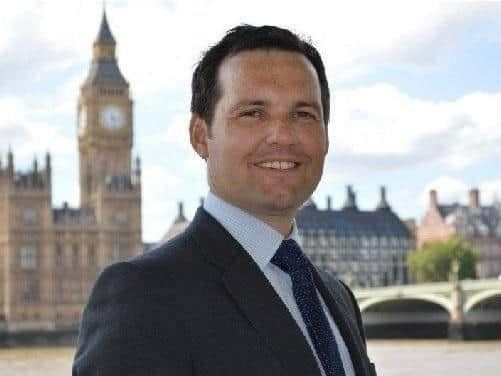 Unfortunately, Green Party activists prefer to have a day standing outside my office which is what they did on Saturday.
Pictures of the event looked rather miserable and will not persuade anyone of anything.
They need to connect the fires in Rhodes, flooding in Pakistan and other environmental problems with their cause and convince people that they have the solutions that will work but without taking us back to the stone age.
Obviously, I disagree with them trying to take political advantage over natural events or those which were not caused by global warming.
For example, the recent fires in Rhodes were mostly the work of arsonists and the naturally occurring fires are more of a problem when developers choose to locate hotels and other buildings in areas likely to have them.
Even when the Green Party is wrong, they at least seem to believe what they say.
Labour, on the other hand, want to be all things to all people and can never seem to get to grips with the actual problems we face.
As we anticipate the looming General Election, Labour are stepping up their political agenda, it is focused on the environment and they are floundering in setting a meaningful vision.
They plan to bring North Sea gas and oil production to an end along with the mass redundancies that will go with it without realising that this will mean importing more gas and oil from distant shores.
They will cut British jobs and wealth whilst making us dependent upon foreign nations. They are not even serious about supporting nuclear energy.
Labour came up with a scheme to spend £28 billion per year over the course of the next Parliament but they have decided to flip flop on it.
Someone must have told leader Sir Keir Starmer that going into an election promising to tax, tax and tax again is not good politics.
What are we or the Green Party supposed to make of the Labour Party's environment credentials when they want to massively increase building on the Green Belt in contrast to the Conservatives brown field first agenda?
We have all heard of the 'Red Wall' seats but the Green Party should spend less time picketing my office and make a start at serious campaigning if they want to grow their 'Green Hedge'.