BMX riders in the borough urged to avoid site of underground fire
The sub-surface blaze at the Leigh Reclamation Land Holding, known locally as Queensway Tip, has spread to a BMX track
Friday, 7th May 2021, 7:00 am
BMX riders have been urged to keep out of the site of a major underground fire which has been smouldering below a tip for more than a year.
The sub-surface blaze at the Leigh Reclamation Land Holding, known locally as Queensway Tip, broke out back in March last year.
It has continued to burn ever since, and council and fire chiefs, who have been monitoring the fire, have warned people to stay away from the land.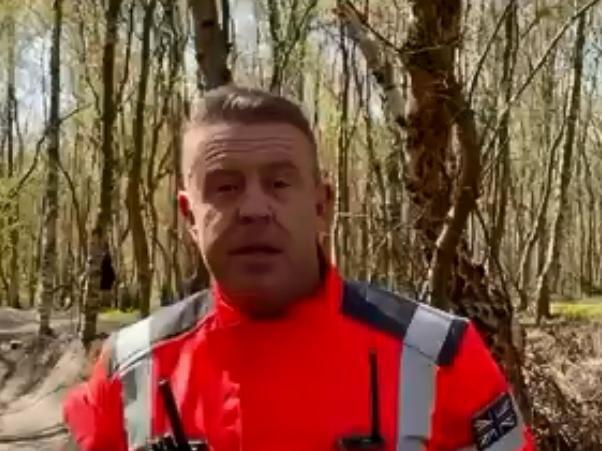 Chris Evans, station manager for GMFRS
The fire is linked to the old coal industry and the authority insist it does not pose any "imminent danger" if left alone. The BMX track has been created quite close to where it has been smouldering.
Council officers and fire crews visited the area around eight months ago to do a video and an overflight using a specialist drone and thermal imaging camera. They recently went back to the site to take some more footage which was overlayed with the old videos.
They show the blaze has spread and is now impinging on the BMX track, prompting calls for users to respect fencing and keep out signs for their own safety. Evidence shows that trees have fallen and smoke at the scene.
Greater Manchester Fire and Rescue Service station manager Chris Evans said: "Using a thermal imaging camera within our AIR unit – a type of drone - we can see that there's been a significant spread of the ongoing deep-seated fire at Queensway tip.
Smoke coming from the fire at Queensway in Leigh
"This now means the underground fire is now below the BMX track, so working with colleagues at Wigan Council, we are asking people to stay away from the area and adhere to the signs. Fences have been put up around the area, so please don't climb over them for your own safety, and that of others."
Penny McGinty, assistant director, of corporate contracts and assets, said: "This is a sub-surface fire at the Leigh Reclamation Land Holding, known locally as Queensway tip, and it currently poses no imminent danger.
"Council officers along with our colleagues in GMFRS and Public Health England are doing all they can to ensure everything remains under control.
"This is not something out of the ordinary but I would urge local residents to stay away from the fenced off areas, including areas used by residents as a BMX track, for their own safety.
"Unfortunately we have seen some incidents where warning signs and fencing placed in the area have been vandalised. We urge everyone to respect these precautionary measures as they are there for everyone's safety.
She added: "We will continue working with colleagues at the GMFRS to monitor the site. This includes using a type of drone able to give us information on the temperature of the fire and its size."
Thanks for reading. If you value what we do and are able to support us, a digital subscription is just £1 for your first month. Try us today by clicking here and viewing our offers ...