Cashless parking slammed by Wigan Conservatives leader
Coun Michael Winstanley claims move will "drive shoppers away" from town centres in the borough
Published 9th Apr 2021, 14:36 BST

- 2 min read
The leader of Wigan borough's Conservative group has slammed the council after it moved to mainly cashless pay machines for car parks.
Coun Michael Winstanley claimed the policy will prove a big disincetive to shoppers particularly older ones.
His comments come following a decision by Wigan Council to upgrade the parking pay and display machines to mainly cashless payment with a limited number of pay by cash machines.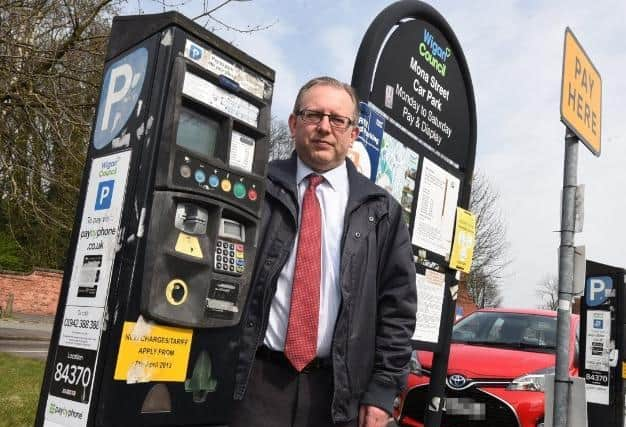 He said: "This decision will literally drive shoppers away from the town centres.
"This will exclude many shoppers from the town centre particularly the elderly.
"It is quite clear that the council are making long term decisions based on trends caused by the pandemic.
"I find it astonishing they are removing the option to pay by cash.
"This decision will have a big impact on vulnerable residents and elderly residents who prefer to use cash on a day-to-day basis.
"This will lead to shoppers literally driving away from the town centre.
"It makes no economic sense whatsoever.
"We should be making this easy for people not putting in obstacles."
He went on to say that the policy was "very discriminatory" and questioned whether residents had been consulted about the change, going onto call for the decision to be reversed.
He added: "It's time this council started to listen to its residents instead of acting in a high handed manner which they constantly do.
"This policy needs to be reversed with immediate effect."
But Coun David Molyneux, leader of the council, said motorists in the borough will still have the option to use cash payment machines with them available at selected car parks.
He added: "The introduction of cashless payments is in response to changes in society, with many people increasingly using digital payment services and contactless payments in light of the Covid-19 pandemic.
"The option to pay by cash will still be available together with payment by app and by phone.
"People carry less cash these days and these new services mean that drivers don't have to worry about having the correct change available.
"Moving forward we will continue to monitor how the use of cashless methods of payment goes and listen to any concerns raised by residents."