'Sinking grass' tackled by Wigan Council after complaints
"Sinking grass" has been tackled by Wigan Council after complaints from residents.
By Ben Butler
Published 4th Jan 2021, 15:25 BST- 2 min read
Updated 4th Jan 2021, 15:26 BST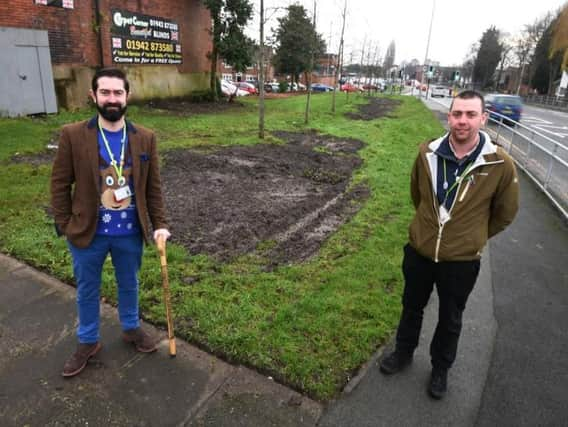 Over the last few weeks local authority workers have been carrying out extensive gardening on Mealhouse Lane in Atherton, not least because of a subsidence problem.
The town's three Independent councillors, James Paul Watson, Jamie Hodgkinson and Stuart Gerrard, had a number of site meetings with officers to work on a plan to clean the area up and make it safe. This included 70 tonnes of soil needed to fill in the sunken areas. Grass edges have also been cut and cleaned up along the paths and the market area scrubbed up too.
There are other works due over the winter months, but with Covid and staff redeployed to other jobs, the timescale will be a bit longer.
Coun Hodgkinson said: "We have been working with council officers to get the area cleaned, as it one of the first things you see entering Atherton town centre and in need of a little tender loving care.
"We have also been working with housing to get the flats in this area of Mealhouse Lane and Bolton Road sorted out, cleaned up and allocated to residents who need them."
Coun Watson said: "I welcome an appreciate the efforts of the council officers who have helped us to make this stretch of land more presentable for our residents, yet I feel that more still needs to be done as a whole in terms of investment within all of the borough's peripheral town centres.
"Bearing in mind the recent announcement regarding £130m investment in the Galleries awarded to a Chinese state-owned company, one must question the economic logic behind this, as I feel that this money would be better spent if it was distributed throughout the wider borough. This would boost local economies, create more jobs, support local business and help alleviate poverty by providing more opportunities for our most vulnerable residents."