James Grundy MP: Our priorities for next year are clear
Last week, Parliament was prorogued, meaning that when we return, there will be a King's Speech, setting out the priorities for the government for the final year before the general election.
Watch more of our videos on Shots! 
and live on Freeview channel 276
Visit Shots! now
The priorities for the government are very clear.
There are two broad challenges facing the country at the moment, namely, the economic shock to energy prices and the wider economy caused by the ongoing war in Ukraine, and tackling the challenges caused by illegal immigration.
​Firstly, it is good to see that progress has been made on the illegal immigration front, with Minister Robert Jenrick announcing in parliament just before the recess the phased closure of the hotels used to house illegal immigrants.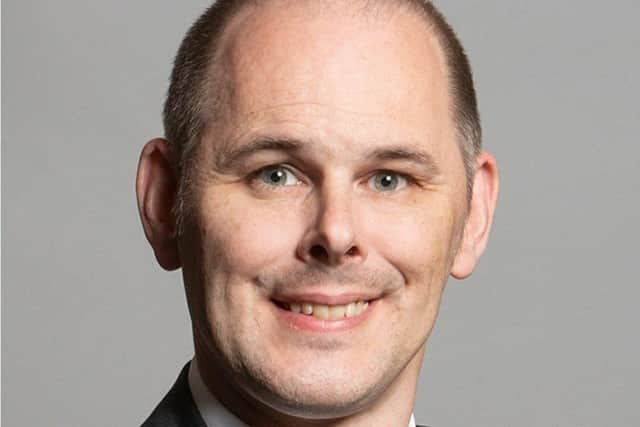 We must continue to clamp down on the gangmasters and people smugglers that profit from this miserable trade in modern slavery.
​The ordinary British public strongly support fair and controlled immigration.
There was virtually no opposition to Ukrainian asylum seekers, who the public saw as genuine, but the public rightly discerns between such genuine cases and people brought here by organised crime cartels to work illegally in shadowy sweatshops.
​Mass immigration, whether legal or illegal, forces wages down and rents up, and creates an impoverished society, ill at ease with itself.
Whilst progress has been made, we must continue to tackle this challenge, for the sake of the nation.
​On the economic front, the budget that follows the King's Speech will be important.
Food, fuel and energy inflation are still challenges for ordinary voters, and inflation also impacts mortgage rates, a key issue for younger families who have just got onto the property ladder, or are seeking to.
​Of course, many of these issues could be resolved in relatively short order if Vladimir Putin ceased his war of aggression to annex large parts of southern and eastern Ukraine, but sadly, tyrants rarely consider the suffering of ordinary folk in their plots and schemes.
​All across Europe, governments are facing similar challenges.
There are no short-term solutions, but long-term thinking will pay off for the future.
France, for example, whilst facing many of the same challenges, has seen much lower increases in electricity prices due to their much larger investment in nuclear power over the last few decades.
​Meanwhile, in Germany, a left wing coalition government involving the Green Party is seeking to close down the last remaining nuclear power stations there in the middle of an energy crisis, a policy of pure dogma, as baffling as it is destructive.
Fashionable, short term, harmful, a course that we must never take ourselves.
We must engage in similar long-term thinking if we are to prevent the problems we face today rearing their ugly heads again in the future.