James Grundy MP: ​Supporting Primodos scandal victims
​Recently in Parliament I spoke about the Primodos scandal.
Watch more of our videos on Shots! 
and live on Freeview channel 276
Visit Shots! now
Primodos was a pregnancy test drug that was given to women in the 1960s and 70s who thought they may be pregnant at the time.
​Even at the time evidence had emerged that Primodos caused miscarriages, stillbirths and birth defects due to exceptionally high levels of artificial female hormones present in the pills.
During the debate in the House of Commons those present repeatedly heard how a single pill of Primodos contained approximately 40 times more female hormones than a modern oral contraceptive pill or 13 times as much as the 'morning after' pill.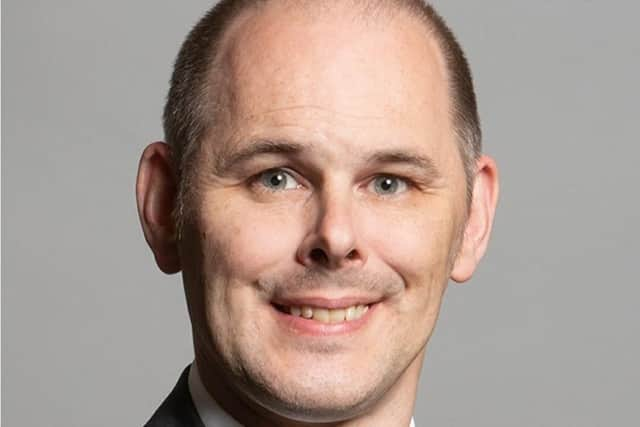 As a member of the All Party Parliamentary Group for Hormone Pregnancy Tests, I heard heart-rending stories from many of the women affected.
Sadly, given that many of these women were given the test almost 50 or more years ago, many of the affected children who survived childbirth have since passed away due to the very serious health conditions Primodos was believed to have caused.
One of these women, local campaigner Marie Lyon from our borough, was given the Primodos test 50 years ago and is one of the leading campaigners nationally on this issue and I would like to pay tribute to her half-century fight for justice on behalf of the families affected by this tragedy.
I was very pleased to see Marie present in the visitors gallery during the House of Commons debate.
Alongside backbenchers such as myself and APPG Chair Yasmin Qureshi, a number of high profile MP's also spoke in the debate including Leader of the Liberal Democrats Ed Davey, former Prime Minister Theresa May who commissioned the Cumberlege Report during her time in office as Prime Minister to look into the Primodos scandal and similar issues and Jacob Rees Mogg, who later that day invited Marie Lyon onto his GB News programme to speak about the issue for the general public who may not have been following the discussion in the Chamber.
During the course of my speech, I called for the government to meet with Marie Lyon and other representatives of the families affected by Primodos.
I was very pleased that during her reply to the debate government Minister Maria Caulfield MP referred to my request in her response and agreed to meet with myself, Marie Lyon and the APPG to begin the long-overdue process of finally delivering justice for the families affected by this issue.
Given the small number of those born who were affected by Primodos, and the increasing age of the women who took Primodos in the 60s and 70s it is vitally important that the harm caused by this scandal is recognised and appropriate support and redress is provided to the victims and their families whilst there is still time to do so.