Rehab workers to go on 10-day strike in long-running pay and dispute
The walk-out involving staff from drug and alcohol support service We Are With You will begin on September 21.
Published 10th Sep 2020, 09:58 BST

- 3 min read
Updated 10th Sep 2020, 10:01 BST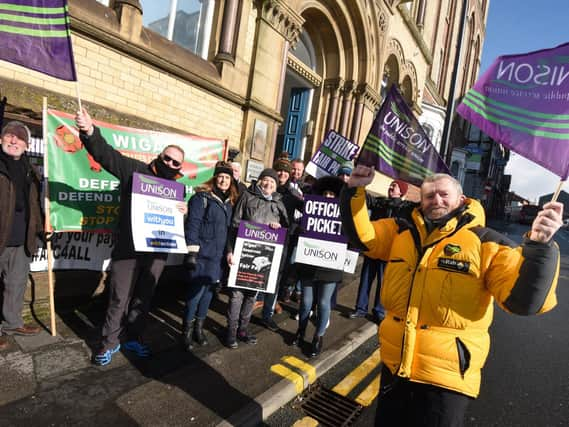 Unison says the employees working in Wigan and Leigh for the council-commissioned drug service will lose £230,000 in wages over the course of We Are With You's contract with the local authority.
The workers involved in the dispute were previously NHS staff but were then transferred to their current employer.
The industrial action, which has so far included 16 days of strike action, is over pay rates not keeping up with the salaries of staff still in the health service doing the same job.
We Are With You said it was disappointed at the prospect of further walk-outs and hit out at the trade union over a perceived lack of interest in negotiation.
Support worker and Unison rep Kathryn Herbert said: "As support workers, our number one priority is being there for our service users, which is why we paused our industrial dispute when the pandemic hit the UK. Unfortunately, this issue has dragged on for too long.
"When we transferred from the NHS, we were promised the NHS rate of pay by our employer. We are determined to stand together until we get the NHS rates that We Are With You repeatedly promised us."
Unison North West regional organiser Paddy Cleary said: "This dedicated group of key workers are standing firm. They understand fully that without a consolidated NHS pay award, accepting any offer from We Are With You would amount to voting for pay cuts.
"It is a sad state of affairs that support workers- who have given their all during this pandemic- should have to take 26 days of strike action in order to get their employer to listen to them. It is completely wrong that We Are With You can't find the funds for their support workers while their CEO earns well over £100,000 per year.
"It's time for We Are With You bosses to see sense and to keep their pay promises for the benefit of their support workers, their service users and the people of Wigan and Leigh."
Unison balloted 30 of its members who work at the Coops Building in Wigan town centre and Kennedy House in Leigh over the new strike action.
Every response the union received was in favour of action, with a turnout of 87 per cent.
The campaign of industrial action was paused during the lockdown period earlier this year, but in recent months staff have become increasingly frustrated by the lack of a resolution to the diuspute, Unison said.
We Are With You said it was still committed to working through the issues to a satisfactory outcome.
A spokesperson for the charity said: "We're committed to providing the best possible support for people who use our treatment services, while also providing our staff with a fair wage and good working conditions.
"This is true for all our services, from Cornwall to Wigan, to the north of Scotland. Cuts to local authority budgets have significantly reduced funding for drug and alcohol services in recent years, meaning this can be a tough balance to achieve.
"We are proud of our service in Wigan. Throughout the recent pandemic we have found innovative ways to continue supporting anyone in the area experiencing issues with drugs or alcohol, including virtual group sessions and prescribing. The people who use our service have repeatedly praised our quick reactions to keep offering support.
"We have now made three significant offers to end the dispute, but Unison has unfortunately not shown any willingness to negotiate a fair deal.
"We are disappointed that further strike action could take place and are committed to trying to work through the issues in a way that is fair and sustainable for our staff, the people who use our services and the local community."