'Very big hole in people's hearts' as former Wigan Council leader Lord Peter Smith dies
Tributes have been paid to Lord Peter Smith, the "remarkable" former leader of Wigan Council, who has died at the age of 76.
3rd Aug 2021, 2:24pm
- 4 min read
Updated
4th Aug 2021, 10:31am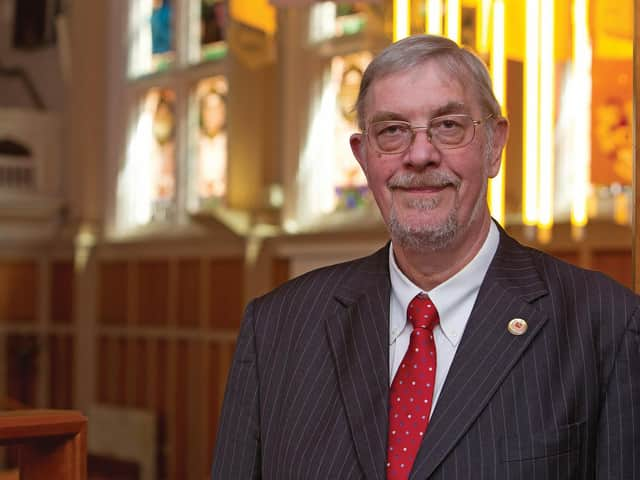 He spent 27 years leading the council, making him one of the longest-serving leaders in the country when he stepped down three years ago, and continued to represent the Leigh West ward for Labour.
Over the past three decades he gained a reputation as one of the most influential council leaders in the UK and in 2019 he was recognised with a prestigious lifetime achievement award.
Leading figures in local government described Lord Smith as "an inspirational leader" and "the glue that held Greater Manchester together" when he stepped down as council leader in May 2018.
Coun David Molyneux, who succeeded him as council leader, said: "Peter was not just a remarkable leader and councillor, but a husband, a dad and a very good friend.
"His death will leave a very big hole in people's hearts, including mine. It was an honour to serve alongside him as his deputy and I will miss his wisdom and friendship.
"He achieved so many great things for Wigan borough and will leave a lasting legacy."
Alison McKenzie-Folan, the council's chief executive, said: "Lord Peter Smith was a remarkable leader and councillor. I am deeply saddened by his death and will miss him dearly. His passion, ambition and dedication to the job helped him to achieve so much for Wigan borough and for that we will be eternally grateful. He meant a great deal to everyone, including me. But his legacy will live on for many years to come."
Makerfield MP Yvonne Fovargue said: "Peter was a remarkable man who will leave a lasting legacy. His wisdom and knowledge made him a huge figure in local government and he took this to the House of Lords where he was a much liked and respected member.
"My thoughts are with Joy and Anna at this sad time."
Leigh MP James Grundy said: "I was shocked and saddened today to learn of the death of the former leader of Wigan Council, Lord Peter Smith, who was still serving as a councillor for the Leigh West ward at the time he passed away, and had represented that area for longer than I have been alive.
"Peter and I crossed swords in the council chamber many times, often furiously, but outside the chamber we got on well personally. I last saw Peter in person when he took me on a tour of Leigh Sports Village alongside Culture Secretary Oliver Dowden when I was newly elected as local MP, and he did so in a courteous and kindly manner.
"Peter's wife Lady Joy Smith, or Mrs Smith as many of my contemporaries will remember her, was one of my teachers at Lowton High, and Peter and I often joked about this when we spoke in public together.
"I would like to extend my deepest condolences to Peter's widow, Lady Joy Smith, and Anna, their daughter, at this most difficult of times."
Coun Michael Winstanley, leader of the Conservative and Shevington Alliance Group on Wigan Council, said: "I am extremely sorry to hear about the sad news regarding Peter Smith. Peter will leave a big gap in local politics and he was an extremely able political operator both regionally and nationally. He will certainly be missed by a lot of people but particularly by his family and friends. I had lots of jousts with Peter in the council chamber but once the debate was over we would always have a drink after the meeting and leave the political point scoring behind.
"I always found him fair and straight in all my dealings with him over the 20 years that I have known him. On behalf of the Conservative and Shevington Alliance I would like to extend by condolences to Peter's family, friends and colleagues who are certainly in my thoughts and prayers at this moment in time."
Eamonn Boylan, chief executive of Greater Manchester Combined Authority, said: "The news of the passing of Lord Peter Smith, former leader of Wigan Council, is very sad indeed. My thoughts are with his friends and family at this difficult time.
"Peter was a hard-working and dedicated public servant who has left an indelible mark on Wigan and Greater Manchester. He was an influential voice as chair of the Association of Greater Manchester Authorities (AGMA) from 1986 and instrumental in originating and delivering GMCA, including as chair between 2011 and 2015, at a time when the devolution of powers to Greater Manchester was a significant political achievement.
"He served with distinction as chair of Greater Manchester Health and Social Care Partnership, a role to which he was ideally suited given he cared deeply about the health and well-being of our city-region's residents.
"Peter was leader of Wigan Council for 27 years – when he stood down from the role in May 2018 he was the longest serving council leader in Greater Manchester. That alone shows his dedication to local Government and public service, and his enduring commitment to his borough. He will be greatly missed."
Lord Smith started his career in local government when he was elected as a Labour Party ward councillor for Leigh West in 1978.
He gained his political reputation in council finance, moving from chairman of the finance committee for nine years to council leader.
His success as council leader led to many regional and national appointments throughout the 1980s and 1990s, including chairman of the North West Regional Assembly and vice-president of the Local Government Association.
In 1999 he was made Lord Smith of Leigh in recognition of his work in local government.
After stepping down as council leader, he continued to work as lead member for the Greater Manchester Health and Social Care Partnership.
Thanks for reading. If you value what we do and are able to support us, a digital subscription is just £1 for your first month. Try us today by clicking here