Wigan state pension campaigners vow to keep fighting despite court defeat
Borough members and supporters of the Women Against State Pension Inequality (Waspi) have responded after the Court of Appeal found against two women from Backto60.
Published 22nd Sep 2020, 12:11 BST

- 2 min read
Updated 22nd Sep 2020, 12:14 BST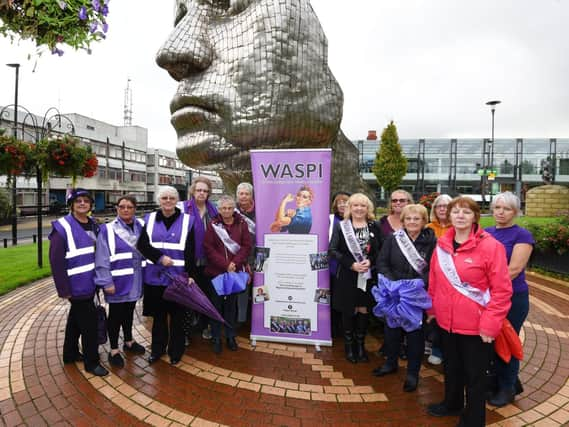 The case had been brought against the Government over the age women can collect their pensions from 60 to 66 after a landmark High Court fight against the Department of Work and Pensions (DWP) was lost last year.
However, the Court of Appeal's judgement unanimously dismissed the claims they had been discriminated against and not given enough notice of the changes.
It was a shattering blow for Waspi campaigners, who had been fully supporting Backto60's legal efforts.
But they have stressed that the battle is far from over, with the case possibly now going on to the Supreme Court,
Waspi also has a claim of maladministration in with the parliamentary ombudsman but that was paused for the court process.
Wigan and Makerfield Waspi joint co-ordinator Jan Fulster said: "The ladies are obviously very disappointed and upset by what has happened. We're waiting now to find out what the way forward is.
"This is not the time to say that we have lost. The case goes on. As far as we are concerned justice still hasn't been served.
"Many of our ladies are still working, many have health issues and with one thing and another life is really not very good.
"We have been in touch with MPs to see whether action can resume in parliament and there can be something like a debate to bring this back to the fore. There are still a lot of MPs for the case that we have.
"It is now a case of seeing where we are up to and regrouping."
Wigan's Waspi campaigners have enjoyed prominent support from the borough's MPs, the council and many elected members in the town's chamber.
Wigan Council's Waspi champion Coun Pat Draper said: "I am obviously disappointed with the outcome of the judgement.
"The Waspi campaign will carry on concerning the maladministration and fighting for justice.
"The leader of Wigan Council has always supported Waspi and will continue to do so.
"Some 100,000 1950s-born women have died before they reached the new pension age of 66 years old. How many more are going to die before this government recognises this injustice?
"The co-ordinators of both the Wigan and Makerfield and Leigh groups have worked tirelessly for justice for the past five years.
"I am so proud of them, they will always have my support."