Stephen's delight at his new home
A mum has described her autistic son's new home as 'like finding gold dust'.
Published 27th Jul 2018, 15:14 BST

- 3 min read
Updated 27th Jul 2018, 16:17 BST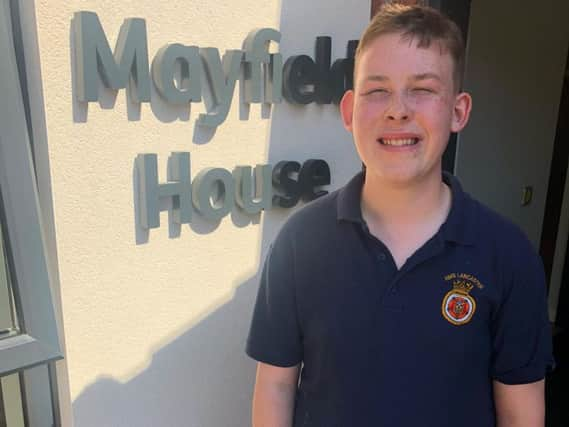 Stephen Hart, aged 17 from Lowton, is the first resident to move into a state-of-the-art housing development for adults with autism.
Stephen is living on his own in one of the 12 self-contained apartments, each with a lounge, kitchen area, bedroom and bathroom, and some with a garden which he loves.
Stephen said: "I love being able to ride my bike in the garden. My next goal is to go out on my own.
"I am able to do things that I would never have done living at home. It has been really fun living on my own."
Although he lives alone Stephen is supported by staff that are available 24 hours a day and can support him with daily living tasks from preparing meals to accessing the community.
The building has been specially designed to suit adults with autism and has features such as low level LED lighting, which slowly switches on when body movement is detected and off when there is no movement.
And Stephen's mum, Sally Hart, is over the moon with his new home.
Sally said: "I'm absolutely delighted that Stephen has moved into Mayfield House.
"We have been looking for two years and to actually get something which is in the borough and so close to our home is fantastic.
"This place is like gold dust. We looked across the whole country for somewhere for Stephen. To find this in Wigan is really positive.
"I just want Stephen to be able to do all of the things that any young person would do, but in a supported and safe environment."
Mayfield House has two communal areas, which have a kitchen and dining room, and an interactive immersive sensory room which can be used to play games, music or films.
The scheme cost £2.6million with funding from Homes England contributing to Wigan Council's investment and was built by our partner contractor Willmott Dixon Construction.
Wigan Council is leading the way across the country to make people more aware of autism and provide a variety of ways to let people with autism play a vital role in their community.
Coun Keith Cunliffe, cabinet member for health and adult social care at Wigan Council, said: "This is a fantastic facility which will mean adults with autism can get tailored support to suit their needs while living with other people and being part of a community.
"It is crucial we ensure we have the right homes for our residents so they can be fully supported.
"Having the wrong housing can be a huge barrier.
"It is our ambition to make Wigan Borough the first autism friendly borough in the country.
"Through our close work with many children and adults with autism we are very aware of the amazing gifts and talents they have as well as some of the difficulties they encounter living in our borough.
"We believe these can be addressed through increased awareness and practical changes to services and are so proud to be opening Mayfield.
"There was a lot of opposition when we closed the building that was previously on this site, The Pines, so I am so glad to see Mayfield open and making such a difference to people's lives already."
The council is looking to replicate the Mayfield scheme in two other areas of the borough to create more provision for adults in Wigan Borough with autism.