Andy Burnham re-elected as Greater Manchester mayor
Mr Burnham claimed victory after winning 67.3 per cent of the vote
8th May 2021, 5:58pm
- 3 min read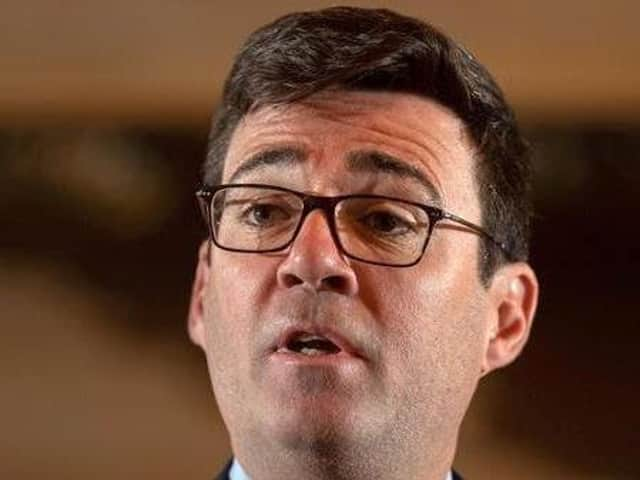 Andy Burnham
Labour's Andy Burnham said his re-election as Greater Manchester mayor "sends a clear message to all Westminster parties that people are buying into English devolution".
The 51-year-old claimed victory today (May 8) after winning 67.3 per cent of the vote while the Conservative candidate Laura Evans came second with 19.6 per cent, and the Green's choice Melanie Horrocks received 4.4 per cent in third.
The significant landslide is an increase from the first time he was elected as mayor four years ago with 63.4 per cent of the vote.
During an emotional speech following the declaration, Mr Burnham said voters want more devolution as "they value the stronger voice it has given to the north of England".
He said: "I will continue to be a voice for all people and all communities. I will continue to adopt a place-first, not party-first approach.
"This vote sends a clear message to all Westminster parties. People are buying in to English devolution.
"They are telling you to deliver more of it, not less of it. They like us having the ability to do more for ourselves.
"They can see how it is making politics work better for them and that is reflected in the council results across Greater Manchester. They value the stronger voice it has given to the north of England.
"Don't give us devolution and be surprised if we answer you back, particularly if you do things here you would never do in London."
Mr Burnham's re-election as the GM mayor will be seen as a rare victory in Labour's fast-crumbling "red wall" in the north.
He is now the most senior and successful elected Labour Party politician outside the parliamentary leadership of the party.
As mayor of GM he has built his own successful brand, being declared "King of the North" during last summer's high-profile spat with Boris Johnson over pandemic funding for the region.
Mr Burnham's popularity has seen him become the bookmakers' favourite to become the next Labour leader, even though he is not in the Commons.
And Mr Burnham added further to this speculation after he suggested he would entertain becoming leader of the Labour Party "in the distant future".
Asked on Sky News whether he wanted to lead the party following reports he would be a frontrunner to replace Sir Keir Starmer, Mr Burnham said: "I've been elected as mayor of Greater Manchester – that is where my focus is.
"I left Westminster politics, I'm not an MP – you have to be an MP to stand for the leader of the Labour Party and I'm not aware the rules have changed.
"So no, my focus is here. In the distant future, if the party were ever to feel it needed me, well I'm here and they should get in touch."
He added: "I have tried twice to be the leader and it has never worked, so I'm not under any illusions that it has never worked for me in the past.
"I feel I am in the best job in the world and we have a massive job ahead of us but I'm here to help the Labour Party if they need it – but they need to change, let's be really clear about this.
"They have lost an emotional connection with parts of the country that is going to take a lot of work to get back, so I think the party has to do a lot of soul-searching about these results and understand why we have done well in Wales, places like Greater Manchester, and it really needs to then buy in to English devolution and build from the bottom up – that's what these results are telling them."
The Greater Manchester election, which took place on Thursday, had originally been scheduled to take place last May - but was postponed due to the Covid-19 pandemic.
This year, nine candidates appeared on the ballot paper including Nick Buckley (Reform UK), Mr Burnham (Labour), Laura Evans (Conservative), Marcus Farmer (Independent), Melanie Horrocks (Green), Simon Lepori (Liberal Democrat), Alec Marvel (Independent), Stephen Morris (English Democrat) and David Sutcliffe (Independent).
The counting of the ballot papers got underway this morning (May 8) with the result announced at about 4.15pm.
In total 714,745 votes were cast in the Greater Manchester Combined Authority Mayoral elections, with the turnout up around five per cent on the last election, to 34.74 per cent.
Thanks for reading. If you value what we do and are able to support us, a digital subscription is just £1 for your first month. Try us today by clicking here and viewing our offers ...