Sanderson Watts: Wigan's 'cutting-edge' nuclear specialists
As a civil and structural engineering consultancy which specialises in the nuclear industry, Sanderson Watts Associates are very familiar with large, complex projects.
Tuesday, 3rd March 2020, 6:00 am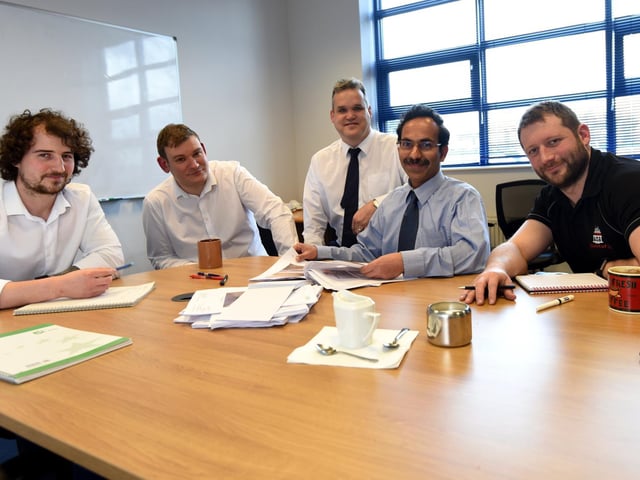 Eddie Webb, centre, with colleagues during a meeting in the board room at Sanderson Watts Associates.
Incorporated in 1991, the company will celebrate 30 years of delivering high-profile nuclear decommissioning and new-build projects across the UK.
Also operating in other sectors such as defence, rail, infrastructure, and commercial property sectors, Sanderson Watts works with key regional clients such as BAE Systems and Wigan MBC on high-profile projects such as the the A49 Goose Green to Westwood Park link road and the redevelopment of town centre market places such as Preston, Blackpool and Sheffield.
"Delivering to blue-chip clients requires us to really hit the mark in terms of delivery, so our skill in undertaking innovative technical design has to be matched by our skill in project management," said Managing Director Eddie Webb, 48. "Everything we do is safety- and environmentally-driven and our talented engineers employ techniques on the cutting edge of construction design technology.
"We use 3D information modelling software extensively," added Eddie. "We are industry leaders in this and amongst the first companies in the UK to achieve certification to the new ISO 19650 international standards.
"Many of the projects we support, particularly in the nuclear sector, play an important part in providing clean energy," said Eddie, who is from Tarleton and has worked at Sanderson Watts for 11 years. "I firmly believe nuclear energy production is the best way forward in achieving a low-carbon economy."
"Whilst I welcome the government's commitment to the funding of HS2, that sort of public money would support the construction of a number of replacement nuclear power stations and upgrading of the national grid," said Eddie, with the business - one of the Top 100 UK engineering consultants - employing 30 people. "The UK will need this reliable capacity to charge electric vehicles if we are serious about getting diesel cars off the road and hitting net zero greenhouse gases by 2050."