Standish Sabres FC dismayed at poor condition of pitch
A football club has complained to the council about the state of its pitch, saying the "grass on it is too long."
By Ben Butler
Published 16th Sep 2020, 07:00 BST- 2 min read
Updated 16th Sep 2020, 08:14 BST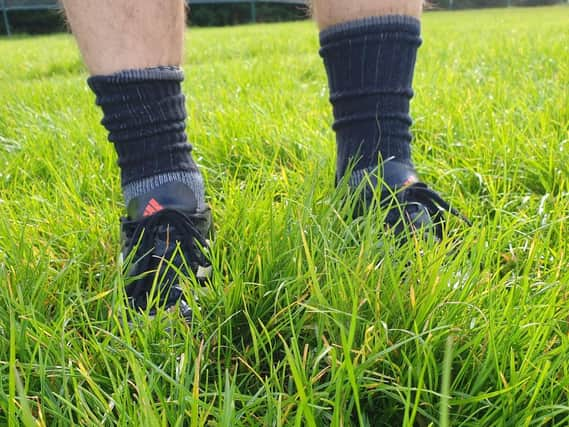 Standish Sabres FC want Wigan Council to deal with the "historical problem" of long grass on the Ashfield Park playing surface once and for all.
Their calls come after the team struggled through their first game of the season against Hawkley Athletic on the pitch.
Council chiefs said they could not cut the pitch on that weekend because it was too wet and that it has since been done with the lines remarked.
But Neil Summerfield, the manager of the club, who only formed in 2015, said they still weren't particularly happpy with the state of the pitch.
He said the long grass doesn't help performances and presents a potential health and safety issue.
He said: "The grass has been cut since Sunday but it's still quite long.
"When we got on the pitch for our first league game you could tell it hadn't been cut during lockdown and there was water in the goalmouths.
"They re-lined it on top of the long grass a few weeks ago, which didn't make sense.
"The surface wasn't great to play on Sunday and it was more hit and hope than being able to pass the ball.
"In the past few seasons, we've had two lads who have had to pack it in because of injuries they've sustained, one having a leg break and the other a cruciate knee injury, while there was a player for an opposition team who did their knee in."
And Neil said that the pitch, which is one of four on Ashfield Park, is used by other teams including Standish Park Rangers and Standish Panthers.
He said that his team pay £440 towards the pitch.
He said: "We're a grassroots club and don't have a lot of money so that's a lot to pay for the pitch.
"We usually have it cut at the start of the season and then maybe a few times during it.
"We did have plans to move to the 3g at St Peter's but that hasn't gone ahead unfortunately."
He added: "Something does need to be done about the pitch as it's a historical problem."
Paul Barton, director of environment, said: "This particular pitch was too wet to cut last week, so rather than the lines being washed out, the team cut the lined areas with a hand machine and then re-marked the lines.
"The pitch has been cut this week and the lines have been remarked.
"In response to the covid-19 pandemic, in March many of our frontline staff were redeployed to help vital services.
"Amongst other services, grass cutting was suspended as we prioritised an emergency situation.
"As we begin to recover, teams have started to return to services, with grass cutting resuming on a more regular basis.
He added: "However we'd ask residents to please bear with us as we make this transition as things are still regularly changing and we are having to adapt to local needs."