Wigan climber dies in 200ft fall from Helvellyn
A man who died after falling more than 200ft on England's third highest mountain is believed to be from Wigan.
Published 21st Mar 2018, 08:51 BST

- 2 min read
Updated 21st Mar 2018, 11:00 BST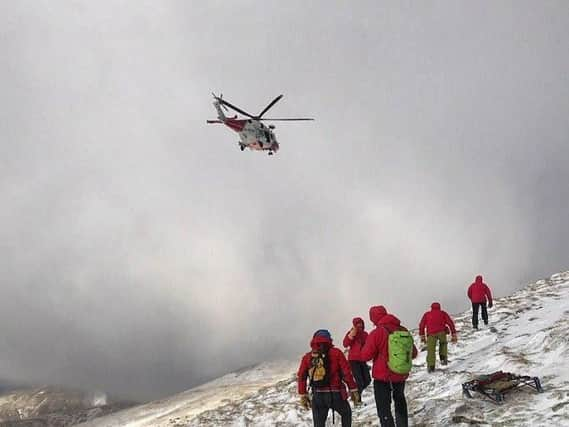 The climber, who has not been named, was believed to be in his 50s. He fell amid ice, snow and freezing conditions in the national park.
A spokesman for the coroner's office in Cumbria confirmed that it had received a file regarding the death of a Wigan man on Helvellyn last weekend, but did not reveal his identity.
Mountain rescuers said they were called at about 3.30pm on Saturday after the fall at Brown Cove Crags, one of the most popular climbs on Helvellyn.
Strong winds meant a rescue helicopter could not winch the man and rescue team members warned of the "serious challenge" the 800m-high mountain posed in icy weather.
"Conditions in the valley give no clue to how difficult conditions will be at 800m," said Keswick and Patterdale mountain rescue.
"Snow patches have frozen to bullet-hard ice, making crampons – and an ice axe – to arrest any slip or fall absolutely essential."
Keswick Mountain Rescue Team and colleagues from the Patterdale team were already on the mountain range after being called out on Saturday afternoon to aid a woman reported to be stuck on steep ground in Nethermost Cove.
A Keswick MRT spokesperson said: "This was in the same place as two recent incidents, on the main footpath from Swirls car park to Helvellyn summit in the area beside Browncove Crags.
"The team immediately requested a winching helicopter in view of the likely seriousness of his injuries, and the team members who were descending from the top of Nethermost were quickly on scene, along with three Patterdale team members. Other team members were sent out from base to assist.
"A passing doctor also managed to get to the casualty quickly but, regrettably, the injuries the man had sustained were so serious that he didn't survive."
The Prestwick Coastguard helicopter flew to the site but was unable to winch the man from the mountain because of very strong winds.
The spokesperson said: "The team then stretchered the casualty down to Swirls car park to liaise with the police. Other team members escorted the casualty's partner down.
Twenty-two Keswick MRT volunteers and three from the Patterdale team were involved in the incident for more than three hours.
In the previous callout, no sign of the woman reported to be in difficulties at Swallow Scarth in Nethermost Cove could be found.
Both rescue teams searched for two hours in conditions described as cold, savagely windy and slippery underfoot, with visibility hampered by snow flurries.
The Keswick MRT spokesperson said: "It was concluded that she must have self-rescued."