Wigan market rent VAT row hits a stalemate
Wigan market traders staged a protest outside the town hall after council chiefs turned down a request for group talks over the introduction of VAT on some pitch rents.
Published 27th Jul 2018, 15:56 BST

- 3 min read
Updated 27th Jul 2018, 16:02 BST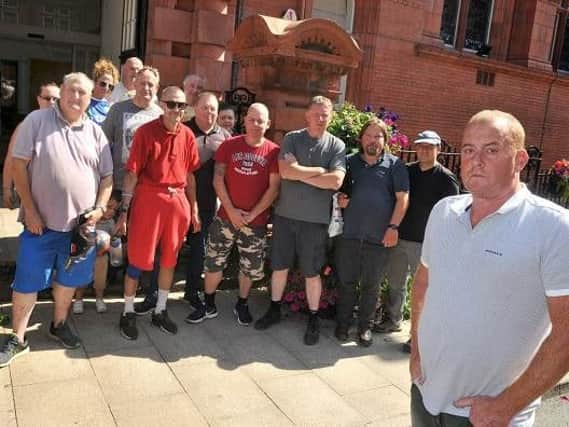 Some stallholders fear they could lose their livelihoods if hit with the extra 20 per cent which HM Revenue and Customs is now urging local authorities to enforce on businesses which receive additional goods and services beyond a basic pitch as part of their licences.
This is presumed to include the likes of cleaners, waste disposal, heating and publicity, but the terms remain vague, prompting national representatives of landlords such as Wigan Council to suggest that parties hang fire before the guidelines are redrafted and a test case involving Shrewsbury Council market traders is resolved.
But Wigan Council is pressing ahead with the enforcement and has been offering one-to-one talks, complete with advice from a financial expert, with traders. The authority suggests that most if not all traders locally will have to pay because they all receive extra goods and services of some sort.
The traders have asked opposition councillors to represent them and the latter say that the one-to-ones are designed as a form of divide an rule.
They turned up en bloc at the town hall hoping to have a big meeting with senior officers to debate the issue, but the authority refused, saying it would not be constructive.
The council has already issued a "don't shoot the messenger" statement saying that this an HMRC issue and the authority will not benefit by a penny.
It has also offered the first three months of VAT to allow businesses to acclimatise to the new regime.
But trader representative Coun Paul Maiden said: "There's a lot of smoke and mirrors here. Shrewsbury Council is taking HMRC on over this and getting a hearing at the High Court, but Wigan is just backing down and saying traders have got to pay. There's not a lot of transparency.
"We said let's get everyone together, sit down and see what is going on, and the market lads who brought us in as independent councillors wanted that too.
"However, they've only offered one-to-one meetings and will only meet traders and councillors in different locations. They're trying to separate us."
Council director for economy and skills Rebecca Heron said: "Working with local businesses is a key priority for us. We are always open and honest and have the best interests of the local markets at heart. By arranging one-to-one meetings with traders instead of holding a large scale meeting whereby some voices may not be heard, we are able to provide tailored and bespoke support as each business has different needs.
"We continue to stress that the implementation of VAT on market rentals has been introduced following HMRC advice and the council will not receive any income generated. This will go to central government.
"By implementing these changes and encouraging all market traders to register for VAT, the Council can protect public finances and ensure that the Council or traders are not exposed to any risk of future VAT liabilities or penalties levied by HMRC.
"We're committed to helping our markets thrive and we will continue to work with traders to ease their concerns."
Traders can seek clarification and advice in relation to VAT registration via HMRC on: www.gov.uk/vat-registration