Wigan pensioner's anger at alley rat problems
A Wigan pensioner has been left 'annoyed and upset' after months of being plagued by rats in and around her home due to rubbish build-up.
Published 21st Mar 2018, 11:06 BST

- 2 min read
Updated 21st Mar 2018, 12:10 BST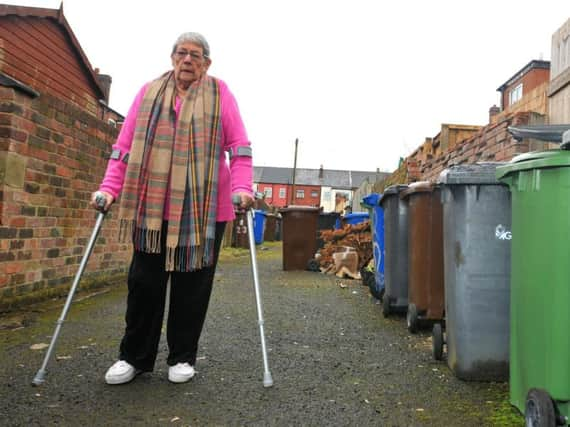 Pauline Gill says the rodents are swarming around outside her Orrell home, scurrying among piles of waste and the decomposing cadavers of other rats.
"We've put poison out, we've had the pests man out, but they are still here. I had loads of them in the loft.
"You could hear them running around all night."
She added: "For dead rats to be lying on the floor outside your gate is not on at all. It is a health hazard - these things carry diseases."
The rats are thought to have been gathering due to overflowing bins and rubbish in the alleyway behind her home on MacDonald Street.
To add to her woes, Pauline said that a call to the council's environmental health team resulted in her being told to pick up the dead creatures herself and put them in a bag.
A frustrated Pauline said: "I am 78, I am wobbling around on crutches - I am not going around collecting rats."
Pauline also feared that the problem could become much worse if authorities did not act to clear away the rats.
"They're going to breed here and things can only get worse as the weather warms up this spring and summer too. They'll all have babies and it will get worse and worse and we'll be back to square one, with them in the loft."
She added: "They say you're never more than a few feet away from a rat, but when they are walking about in your garden it's just not on."
The Post has a picture of a dead rat at the scene but chose not to publish it.
But the council says it has found no trace of rat activity.
Paul Barton, director for environment at Wigan Council, said: "We received an inquiry from the local ward councillor regarding fly-tipping/rubbish in December last year.
"Our environmental enforcement officer visited the location on the same day and noted that the area was free from any waste. A follow-up visit was undertaken a few weeks later and, whilst there was a small amount of waste observed, there was no evidence of rat activity.
"We understand the resident's concerns and will continue to monitor the area on an ongoing basis."