Wigan Athletic: The 12th Man: 'By making an offer everybody was likely to refuse, Moreno turned out to be more Don Trump than Don Corleone...'
Our panel of Wigan Athletic experts assess the continuing saga at the club, the collapse of the 'Preferred' Spanish bid, the opening up of the process...and how long this madness can go on...
Published 8th Jan 2021, 11:02 BST

- 12 min read
Updated 8th Jan 2021, 11:04 BST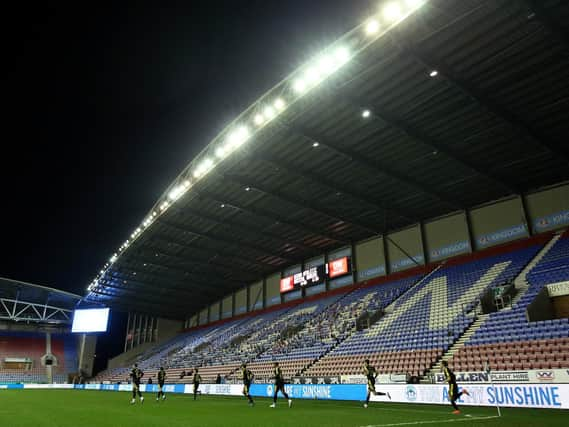 So then, Felipe Moreno. There had always been doubts about the Spanish bid, but a lot of us had reached the point where we just needed to be out of administration, and Moreno looked a decent bet following the removal of Jose Miguel Garrido Cristo. The EFL, it seems, hadn't wanted Garrido involved from day one, which led to a takeover lasting about four months longer than it ever should have done. Moreno is a football man. But he never actually wanted to buy Latics, barely knows Garrido, and doesn't speak a word of English. In hindsight, it was doomed to fail from the off. By making an offer everybody was likely to refuse, Moreno turned out to be more Don Trump than Don Corleone, which begs the question as to where the administrators were in all this. Actually, we know where they were, they were counting their £1.3million and hoping their job was done by getting the Spanish over the line – whatever it took. Alas, at least for Krasner and Stanley, it was not to be. I, like many others, have been massively critical of the EFL's role in the takeover process. But it is probably time to eat humble pie. In their own cack handed way, the EFL were actually protecting us from a fate not so far removed from the Choi/Au Yeung nonsense. In hindsight, we need to show them a little bit of gratitude, for not just following their own rules and waving through the next bunch of cowboys wanting to be owners of a football club. Which, like the worst game of Snakes & Ladders ever, puts us right back to square one. Begbies, for their part, have panicked about having to actually do any more work, and have made today the deadline for new bids to be submitted. A process which has bumbled along for more than six months is now condensed to just three days plus legalities. I wish I could say I was making this up. But Begbies beat me to it by applying whichever rules suited them on any given day. They are already insisting on awarding exclusivity as soon as possible after the close of business today, despite having no legal reason to do so, and being urged to keep all interested parties involved.
There is news of bids being submitted or resubmitted, but we need to remember that things have changed massively since July. We have just four senior players still at the club from the team that finished last season. The only saving grace is that the price shouldn't really change, as the £3million figure is the amount required to pay all creditors and avoid a second, 15 point, deduction bringing certain relegation. It's sickening, it's exhausting, and it's potentially devastating for the club. The transfer window is open, and yet we only have an 'Out' door to work with. Kal Naismith is the latest to leave the club, having terminated his contract by mutual consent. I don't fully know the details, but the administrators could, and should, have sought to bring in some sort of fee. A more cynical man than me might think Bergbies want us to die a death by a thousand free transfers. So we go again. Go where, I have no idea, but we go anyway. The coming days will show more of who and what will be involved in finally getting the biggest club in the world back up and running smoothly. I'd even take a Bolton man at this stage, that's how desperate we are.
Well it looks like everyone's cancelled their holidays to Benidorm, thrown out the San Miguel and given the Serrano hams to the dogs after the Spaniards turned out to be nothing but tyre-kickers after all. They had most of us duped, myself included, into believing they were actually interested in buying us. Thanks for the £300k deposit by the way, because that ain't going back to Madrid. Paul Stanley said they'd halved their offer for the club which 'would still work', even though we'd incur a 15-point deduction for not paying our creditors and virtually guarantee our relegation. THAT'S how much Begbies Traynor really care about Wigan Athletic. He went on to say the Supporters Club have £800k 'burning a hole in their pockets'... Well I'm sorry but that money isn't for you. It's for the future of OUR club, when you finally do what you're charging extortionate fees for and actually sell the club. At this point we're back to square one, and bids are being invited again. It seems £300k again gets you exclusivity, and three months to waste if you're Spanish. We've all heard Tony Frampton telling everyone about his sliding roof, schools and hospitals plan for Wigan. Well, it's simple. Stop talking, and put the money where your mouth is. Let's see if you're full of dreams or full of hot air.
By the way, has anyone heard from Gerald Krasner lately? He seems to have gone quiet for some reason, after hawking himself out to anyone with a mic six months ago. They've said they've had three confirmed interests so far. Do I believe them? I wouldn't believe them if they said it was January now. The only thing I will believe from them is they want the club sold ASAP. Now it's back to them paying the wages out their own pocket, and we know what that means...SELL, SELL, SELL the scraps they've already not managed to offload. I'm very confident we will be sold –who to, I've no idea – but these yet again are worrying times for Latics fans everywhere. It'll be down to the kids to try and stave off relegation, and what a job they're doing in trying. We really couldn't ask any more from them, Leam Richardson or Gregor Rioch. They aren't going down without a fight. We've a break now due to the Covid outbreak, so hopefully it'll be better news before our next game and some kind of light at the end of the tunnel...a flicker will do! Until then, we just have to keep on believing, as we always do as Tics fans, and 'let Latics gel'. Right, I'm off protesting outside Manny's shop with a 'Bow...
About now we should be swapping mulled wine for sangria and perfecting our range of tapas creations. Well that's not going to happen now. So the takeover saga continues, and who knows what will happen next? On one hand, is it a good thing that, if the Spanish weren't willing to go ahead with the deal mentioned, would they have stuck around for the long term? I know football clubs are a money pit. However, this is a relatively cheap purchase in the grand scheme of things which, if managed and run correctly, has the potential to be a sustainable club. Until this takeover is sorted, one way or another, there's always the risk of a depleted squad being further reduced. We've lost so many promising young lads along with the first-team regulars, I just hope we can cling on to what's left and get a deal with someone over the line. We've been showing promise on the pitch, and it would be great to be in a position to build a squad with the likes of Adam Long, Alex Perry, Chris Merrie, Thelo Aasgaard, Kyle Joseph and Callum Lang as integral parts. The transfer window is open, and we're likely to see the remaining experienced players leave or be rumoured to leave, so watch this space. I genuinely don't know which of the rumoured parties I'd prefer to get a purchase through. It's going to be an interesting few days, where hopefully the 'Saviour' comes riding in. Who that could be, I've no idea. I just hope they can commit and support our club like we do.
The year 2021 was supposed to introduce an immediate 'changing of the guard' for Wigan Athletic. With 2020 serving as the worst year on record for the club in recent memory, a magical aura began to build as Latics fans prepared to replace their wall calendars and gather their celebratory items of choice in anticipation for a new beginning. As the clock struck midnight, millions of people across the globe set off fireworks in jubilation. Latics fans stood by and admired, knowing that it would likely just be a short matter of days, maybe even hours, before they would be able to celebrate their own personal triumphs. Yet, here we wait. Our first fixture of the new year at Swindon held lots of symbolic value. It was not only set to be a bottom-of-the-table six-pointer, but also a crucial measuring stick for how far the Latics had progressed since John Sheridan departed the club for our relegation rivals. Consequently, the first week of 2021 proved time does not heal all wounds. In our case, it created some new ones, and even reopened our most gaping lesion yet. First, there was a frozen pitch that postponed the Swindon match. Next, there was a teamwide Covid outbreak that caused a further postponement of upcoming fixtures. However, those setbacks did not initially seem obstructive as they would have given Latics more time to sort out the team and coaching staff during what was fixing to be an active month of personnel turnover.
The shock announcement of the Spanish takeover falling through brought on a strong sense of deja vu. It was the moment all Latics fans were preparing to encounter, given the events of 2020. It still seemed less likely to manifest with each passing day over the month of December as titbits of encouraging news were shared with the fanbase. There are multiple parties who share various levels of blame for their role in preventing Latics from obtaining new ownership by this point. Most importantly, going forward, we must soon find new owners who will commit to Latics for a substantial amount of time. It is hard to pinpoint what specifically led to the change of heart from Felipe Moreno and company during the last week of 2020. During that short period of time, the party went from being insistent on completing the deal to executing an 180-degree turn that was so abrupt, you would think that it was spurred by a single indisputable event. I am just as perplexed as anyone else as to what this event could've been. The Spanish were either incredibly naive to the abundance of challenges that lay ahead for Latics financially and on the pitch or were not nearly as invested in the club's future as they appeared to be over the course of the past three months. Our prospects of League One survival took a massive hit with this week's news. Latics appear to be on the verge of a significant player exodus with little ability to bring in proper reinforcements. The looming prospect of having to sell even more of our Academy starlets is a soul-crushing thought to consider. While we have said 'adios' to our most promising suitors yet, the next accepted bid will hopefully yield less drama and turmoil. One week down, 51 to go. There is still time for 2021 to be a much better year for Latics.
Well after being led a merry dance by the Spanish bid for what seems like an eternity, they move the goalposts at the last minute – and they are off. We are now in search again of someone to buy the club, so to those making big noise over the last few months...now is your time to 'put up or shut up'. There are calls from the Supporters Club and local MP not to have exclusivity for any new bid. But to put a deposit down and not have exclusivity would be madness from a bidder's point of view. We are probably closer to the edge now than we have been in this, with very little left to sell off now. Hopefully someone steps up to the plate. On the pitch, just as things were looking up a bit, first a postponement for a frozen pitch and now positive covid tests – most importantly, hope those who tested positive come through it ok - with the added blow of a Sky cash windfall for the Hull game tomorrow now gone. Stay Safe.
Well new year, new nothing else. Not sure where to start... Results on the pitch are improving, players are/were getting used to each other, unfortunately that possibly is about to change with contracts expiring, etc. So near, yet so far with the takeover. Did I think it was going to go through? Yes, and I can't believe it got so close only to collapse. Too many parties for me are trying to blame others for the reasons and, as I said previously, if the Spanish bid was dodgy, why even accept it after the changes? Too long umming and arring, then this bombshell. The problem for me now as a fan, although I'm always positive, is whoever takes over – well, hopefully – I'll be wary of their motives. Our previous long-term owner, Mr Whelan, although he was a businessman, wanted the best for us. We CANNOT lose this football club, it means so much to so many. The administrators and EFL need to, by some miracle, find the best people f, because we CANNOT go under.
Where do we go from here? Quite literally what do we do now? So after 14 weeks, one disqualification and numerous tweaked plans, the Spanish takeover of Wigan Athletic fell at the final hurdle. Despite Begbies Traynor telling us that 'no problems were envisaged' and the deal would originally be completed in 'two to three weeks', it was of no surprise to the vast majority of us when the deal finally broke down. There had been rumours of issues with both the bid and the prospective owners from very early on. And when Jose Miguel Garrido Cristo failed the EFL's owners and directors test back at the start of December, many expected that to be the end of their interest. A month later, and Felipe Moreno – owner of Leganes – had stepped forward as the main owner, and a deal looked all but completed. Indeed many of us had been told it had been done. But as Christmas and New Year came and went, the less we heard. An interview with Paul Stanley describing the situation as 'in limbo' gave us an idea of the states of the talks, if not explicit notice it was on the rocks. I think the Spaniards had got a lot of credit in the bank among fans due to the fact they're still the only party to actually put any money down. Or at least the only party Begbies have told us about. Plus Moreno and his wife Victoria Pavon did a very good job at Leganes in similar circumstances. But the fact remains the administrators and indeed our club have been played. First by Jose Miguel Garrido Cristo, who was disqualified almost immediately by the EFL. And latterly by Moreno, who tried to cut his bid by half, and as such failing to cover the creditors. Why would you do that? Well it's true that things have changed since the original bid in October. His business partner is no longer on the scene, and the Covid situation has worsened, meaning it could well be next season before supporters are allowed back into grounds. I can see why you wouldn't want to invest your money in something that has no real prospect of returning a profit any time soon. But then why bid at all? As Lisa Nandy said this week, it has been three wasted months. Three wasted months off the pitch, and now surely any hopes of League One survival have gone, as more senior players get set to leave with no funds to replace them in the January transfer window.
The situation is grave. Make no mistake, the club's very existence is still at threat. It is beholden on the part of Begbies Traynor that we are still in this situation. A constant false narrative from day one has led us into this position, and sadly we are now relying on them to get us out of it – and we have seen precious little evidence they can indeed manage that. We missed our chance of a decent sale in the summer, be that the preferred bid (announced just a few hours before relegation was confirmed against Fulham) or the bid from the American/Belgian consortium led by Gauthier Ganaye. The list of failures and missteps by Begbies gets longer by the week, emphasised by Paul Stanley and his 'Boris Johnson-style' over-promises...'Easier to sell in League One', 'No fire sale', 'Envisage no problems' 'Completed by Christmas'. But, as they say, we are where we are. The Supporters Club who, along with many others have faced some quite unfair treatment in recent weeks on social media, will play a big part in that. There were rumours of a number of decent bidders before the Spanish were given the green light, and I don't necessarily mean the offering the world bid by one T Frampton. Let's hope those bidders are still around and a deal can be swiftly made. This time with fan engagement which the Supporters Club didn't feel they could offer the Spanish. The alternative is too heartbreaking to consider. We're not dead yet, but time is running out. Let's hope the administrators manage to achieve in one month what they've failed to achieve in the previous six.