Animal charities warning about 'serious fire risk' paper sky lanterns ahead of Chinese New Year
The lanterns are popular around several holidays- including Chinese New Year
Watch more of our videos on Shots!
and live on Freeview channel 276
Visit Shots! now
Animal charities and organisations have warned the public against the dangers of paper sky lanterns. This comes ahead of Chinese New Year which is celebrated on January 22.
The lanterns are popular with people as they are lit and allowed to fly off into the night sky, creating a picturesque scene. However, their danger to wildlife has been raised by several animal charities.
Becky Thwaites, head of public affairs at national animal charity Blue Cross, said: "Sky lanterns present a significant danger to animals and the environment, and can even prove fatal as there is no certainty where they will land.
"They may seem like harmless fun but they can pose a serious fire risk, and are a threat to wild and domestic animals who can suffer serious and painful injuries if they ingest them or become tangled up in them. There have even been cases of animals being set alight by them.
"We back a coalition led by the RSPCA, fire chiefs and other organisations who have tirelessly been calling for a nationwide ban and would urge people to consider other ways of marking an occasion rather than the use of lanterns."
The RSPCA back a petition which has been started to ban lanterns from being sold in the UK. At present, the lanterns are only banned in Wales on all council land.
RSPCA's head of public affairs David Bowles said: "Though sky lanterns, or Chinese lanterns, might look pretty in the sky, they pose a serious danger to horses, farm animals and wildlife - so we really urge people celebrating to find alternatives at this time of year.
"Sadly, many people are unaware of the potentially deadly consequences the release of sky lanterns can have for animals. Not only are they a serious fire hazard, but the RSPCA has had reports of suffering animals through ingestion, entanglement and entrapment, or simply the sight of a lit lantern in the sky causing terrified animals to bolt and harm themselves.
"We strongly advise against their use and recommend that harmless alternatives are sought to prevent injury, suffering and fatality of animals. We don't want to be killjoys this Chinese New Year, but please remember what goes up must come down.
"We have worked in coalition with other agencies including the National Farmers Union to raise awareness with the UK and Welsh Governments about our concerns and ultimately hope a ban will be imposed by both countries.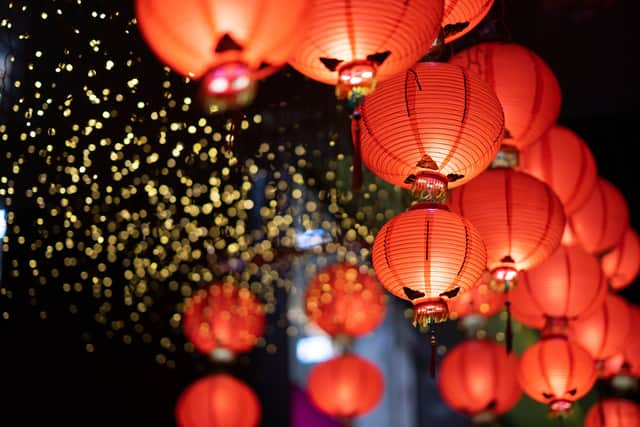 "Following RSPCA campaigning, already many Councils across England and Wales have taken action locally. In Wales we are fortunate that every local authority has put in place a ban on setting them off on their land; while many in England have taken this step too - but they can still be set off on private land."
British Veterinary Association Junior Vice President Anna Judson said: "While sky lanterns can create a beautiful moment to mark celebration, sadly, they pose a serious risk of injury to animals, including pets, livestock, wildlife and zoo animals. Vets often see avoidable injuries resulting from burns and where animals have ingested parts of the lantern or become entangled with the debris.
"At the British Veterinary Association we prioritise animal welfare and therefore support a ban on the sale and use of sky lanterns and advise people to seek safer and more sustainable alternatives."