David Crosby dead: US rock legend and co-founder of The Byrds and Crosby, Stills & Nash dies aged 81
Wife of US rock legend David Crosby, Jan Dance announces he died after 'a long illness' as tributes flood in for the co-founder of The Byrds and Crosby, Stills & Nash
Watch more of our videos on Shots!
and live on Freeview channel 276
Visit Shots! now
US folk rock star David Crosby, a founding member of two popular '60s rock bands, the Byrds and Crosby, Stills and Nash, has died aged 81. The exact cause of death has not yet been confirmed.
Crosby was born on August 14, 1941, the son of Oscar-winning Hollywood cinematographer Floyd Crosby. His glittering career saw him earn the rare feat of being inducted twice into the prestigious Rock and Roll Hall of Fame, owing to his guitar playing and vocal harmonies.
Crosby's wife, Jan Dance, told entertainment site Variety he died "after a long illness" while surrounded by family. She said: "His legacy will continue to live on through his legendary music."
Crosby joined The Byrds, a folk-rock band that had its first hit with a rendition of Bob Dylan's Tambourine Man, in 1964. He also had a brief relationship with singer Joni Mitchell, which led to his dismissal from the group three years later.
Soon after, Crosby, Stills, and Nash created a supergroup and performed at the iconic Woodstock concert in 1969. Canadian singer-songwriter, Neil Young, later joined them. However, the group was plagued by infighting and disbanded after a few years, though it has occasionally regrouped for concerts afterwards.
Crosby wrote several hits during his time in the band including 'Almost Cut My Hair' and 'Deja Vu'. On his final album, For Free, which was released in 2021, he collaborated with one of his children, James Raymond, who had been placed for adoption shortly after birth and only met his father 30 years later.
Those who followed his active Twitter account, where he had continued to tweet as recently as Wednesday, were shocked to learn of his death. The day before he died, Crosby sent one of his final tweets, which was a joke about heaven: "I heard the place is overrated… cloudy."
Graham Nash, Crosby's former CSNY bandmate who had grown distant from him in recent years as their group disbanded, paid tribute to his bandmate on social media. He said: "It is with a deep and profound sadness that I learned that my friend David Crosby has passed.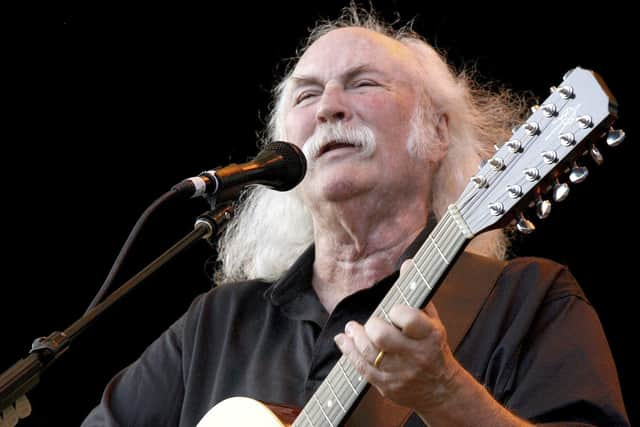 "I know people tend to focus on how volatile our relationship has been at times, but what has always mattered to David and me more than anything was the pure joy of the music we created together, the sound we discovered with one another, and the deep friendship we shared over all these many long years."
Nash continued: "David was fearless in life and in music. He leaves behind a tremendous void as far as sheer personality and talent in this world. He spoke his mind, his heart, and his passion through his beautiful music and leaves an incredible legacy. These are the things that matter most. My heart is truly with his wife, Jan, his son, Django, and all of the people he has touched in this world."
Crosby is survived by his wife Jan Dance, their son Django, son James Raymond, and two daughters, Erika and Donovan, from previous relationships.