Gary Lineker breaks silence as pundit set to return to Match of The Day following BBC apology
Gary Lineker has broken his silence and is set to return to Match of The Day hosting duties.
Gary Lineker described the incident as a "surreal few days" after being taken off air by the BBC for a tweet which compared language around the Government's illegal immigration bill to 1930's Germany. The decision to take Lineker off air caused backlash with pundits including Alan Shearer and Ian Wright refusing to appear on Match of The Day.
Several other football presenters, pundits and commentators followed suit, severely disrupting BBC's football programming over the weekend. It led to the BBC airing Match of The Day with no analysis or commentary as well as being forced to cancel other shows such as Football Focus and BBC Radio 5 Live football phone in.
Lineker has now broken his silence on the incident and confirmed he is to return to Match of The Day. He said: "After a surreal few days, I'm delighted that we have navigated a way through this. I want to thank you all for the incredible support, particularly my colleagues at BBC Sport, for the remarkable show of solidarity. Football is a team game but their backing was overwhelming. I have been presenting sport on the BBC for almost 3 decades and am immeasurably proud to work with the best and fairest broadcaster in the world. I cannot wait to get back in the MOTD chair on Saturday.
"A final thought: however difficult the last few days have been, it simply doesn't compare to having to flee your home from persecution or war to seek refuge in a land far away. It's heartwarming to have seen the empathy towards their plight from so many of you. We remain a country of predominantly tolerant, welcoming and generous people. Thank you."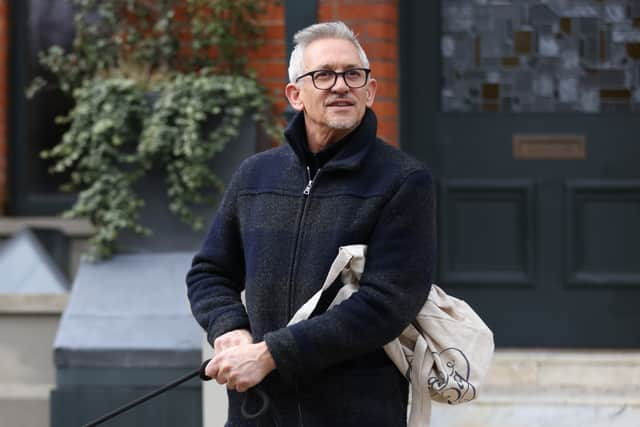 Lineker has been presenting BBC's flagship football highlights programme, Match of The Day, since the late 1990's. Before that, he had a successful playing career for England, Leicester City, Everton, Tottenham Hotspur and Barcelona.