Karen's top tip for a Christmas canape she cooks up in her motorhome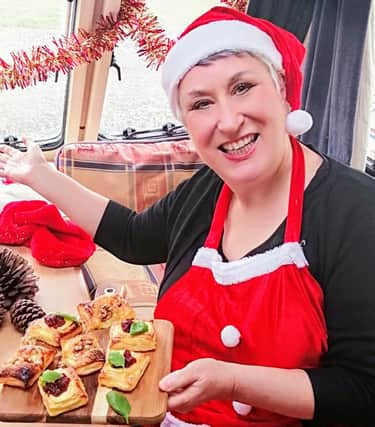 It's almost Christmas and I am finally ready. All my presents are wrapped, all my shopping is done along with as much preparation as possible on the catering front.
I tend to stay traditional at Christmas and always cook a turkey with all the trimmings. Where does that phrase "with all the trimmings" come from though? Who knows?
Apparently, the earliest recorded use of the phrase "turkey with all the trimmings" was first recorded in 1949, not too far back in history then! Well, my trimmings are, pigs in blankets, stuffing and cranberry sauce.
I recently did a little photo shoot in my caravan for the Caravan and Motorhome club, just a fun idea to encourage everyone to get out if possible and enjoy some festivities in the caravan or motorhome.
I made some canapes, and they were delicious and so easy to make, even in the caravan. I think they make a perfect savoury snack to serve over the festive season or even as a starter on Christmas day itself.
To make the canapes you need to have some ready rolled puff pastry from the shop. I recommend keeping a roll in the freezer as it defrosts quickly, and you always have the makings of a meal at hand.
Unroll the pastry and brush with egg wash and then cut into rectangles, I made sixteen.
Then carefully score a margin inside each piece about a centimetre in from the edge, make sure you don't cut right through.
Then lay a little cheese in the middle of each one and top with either chutney, tomato or cranberry sauce. Good combos are goat cheese with chutney, brie with cranberry sauce and cheddar with tomato.
I did go a little mad and used stilton with pear and walnut which was scrumptious. Just bake them in a hot oven, about 200c, for 20 minutes and hey presto, they are ready to serve! Perhaps Father Christmas may like one alongside the mince pie on Christmas Eve!
Merry Christmas everyone!