Queen Charlotte: Who was she, is Bridgerton spin-off based on a true story and how to watch new Netflix series
The release date for Queen Charlotte: A Bridgerton Story is around the corner - but is the new Netflix series based on a true story?
Watch more of our videos on Shots!
and live on Freeview channel 276
Visit Shots! now
Queen Charlotte: A Bridgerton Story will see Netflix fans transported back to the ton (high society in the United Kingdom during the late Regency era) with a new slate of characters and fierce scandals next week. The Shondaland series will centre around fan favourite Queen Charlotte and how her relationship blossomed with King George.
Following on from Bridgerton's highly anticipated second season, the showrunners announced in May 2022 that the spin-off had been greenlit. The news was welcomed by thrilled fans who have been eagerly awaiting the third season of the Netflix sensation based on the Julia Quinn novels, and now another actress has been announced as joining the cast.
The show will run across two timelines, focusing on both Young Queen Charlotte and the Queen Charlotte we know and love from the Bridgerton series. India Amarteifio will star as Young Queen Charlotte, with Golda Rosheuvel resuming her role as the older Queen Charlotte during her reign as Queen of Great Britain and Ireland.
But who was Queen Charlotte and is the Bridgerton spin-off series based on a true story? Here's everything you need to know.
Who was Queen Charlotte?
Queen Charlotte was in fact a former Queen of Great Britain and Ireland. Sophia Charlotte of Mecklenburg-Strelitz (more commonly known as just 'Charlotte') was born in 1744 in the town of Mirow in Germany.
She was the eighth child to Duke Charles Louis Frederick of Mecklenburg-Strelitz and Princess Elizabeth Albertina of Saxe-Hildburghausen. As she had many older siblings, little was taught to young Charlotte about political life and her education was mostly devoted to domestic affairs.
However, when Charlotte turned 17, she was thrown into the British court following her marriage to King George III in 1761. The pair, who tied the knot six hours after Charlotte arrived in England for the first time, had a long lasting marriage until Queen Charlotte's death in 1818.
Is Bridgerton and Queen Charlotte spin-off based on a true story?
Although the Netflix series is a work of fiction, the character of Queen Charlotte is based on the monarch from the 18th century.
Did Queen Charlotte have 15 children?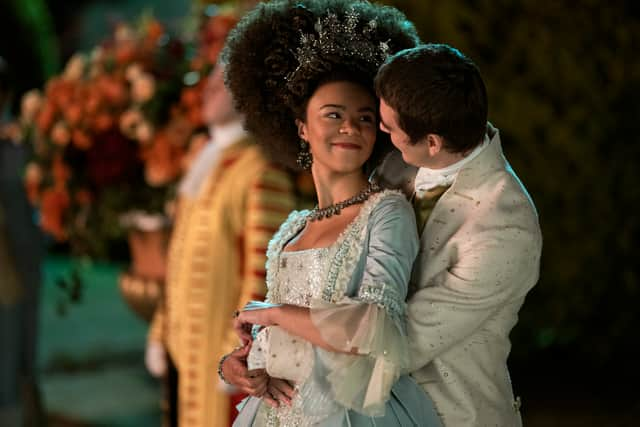 While King George and Queen Charlotte were reportedly very affectionate with one another during their marriage, they also faced difficult periods. The couple had 15 children together, with only 13 making it through to adulthood.
The deaths of Queen Charlotte's two children, Prince Alfred and Prince Octavius, were due to smallpox.
Was Queen Charlotte black?
In Bridgerton,  the lords and ladies of early 19th-century Britain are depicted as black as well as white - including Queen Charlotte. According to a number of historians, Charlotte was Britain's first Black queen and her descendants, including Queen Victoria and Queen Elizabeth II, have African ancestry.
Historian Mario De Valdes y Cocom believes Charlotte directly descended from a Black branch of the Portuguese royal family: Alfonso III and his mistress Ouruana.
The historian told the Washington Post: "Alfonso III of Portugal conquered a little town named Faro from the Moors. He demanded [the governor's] daughter as a paramour. He had three children with her."
He added one of the couple's sons, Martín Alfonso, married into the noble de Sousa family, which also had Black ancestry. This means Charlotte had African blood from both families.
Did Queen Charlotte live in Buckingham Palace?
According to the Royal Family's website, St James's Palace was the official residence of the Royal couple. However, shortly after they moved in, the King purchased a nearby property, Buckingham House.
In 1762, King George and Queen Charlotte moved into the new house, naming it Buckingham Palace. During her reign, Queen Charlotte also purchased Frogmore House in Windsor Park as a country retreat for her and her unmarried daughters.
Queen Charlotte: A Bridgerton Story - how to watch
Queen Charlotte: A Bridgerton Story is set to drop on Netflix on May 4, 2023.