Woman 'disgusted' after live worms crawl out of Morrisons fish while she was cooking
A woman who was cooking for friends has been left 'sick to her stomach' after live worms crawled out of her £18 monkfish
Watch more of our videos on Shots!
and live on Freeview channel 276
Visit Shots! now
A woman has been left 'sick to her stomach' after she found live worms crawling out of Morrisons fish while she was cooking. Laura Taynton was left horrified when she discovered four worms - around 1.5 inches long - crawling out of the monkfish tails she had bought for £18 from the supermarket giant.
The 33-year-old was about to serve up a homemade monkfish curry to friends when she spotted something wriggling around the pan. Laura, who 'couldn't believe what she was seeing' in her pan, said she immediately 'lost her appetite' and threw away the meal, which had cost her £44 in total.
She said she was "so embarrassed" as she was making dinner for friends, and had to explain to them what had happened.
Laura said: "I felt sick to my stomach. The whole thing had to go in the bin. Honestly, it was absolutely disgusting. There were four worms. All alive. None of us could eat after seeing that. It was vile. I couldn't believe what I was seeing."
Laura said she bought the monkfish tails from the Squires Gate Lane Morrisons branch in her hometown of Blackpool. She said one of the store's fishmongers recommended the product and she purchased two fish tails for £18.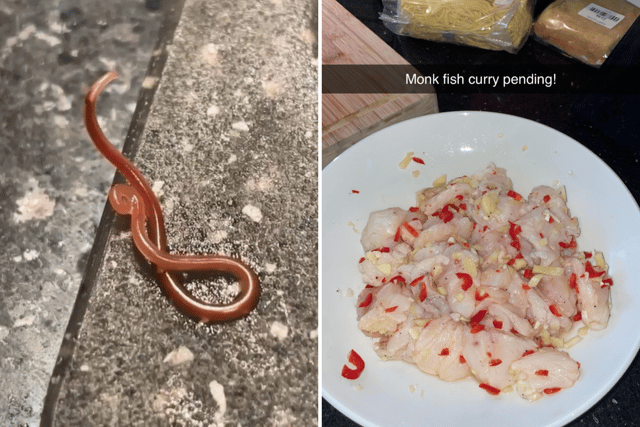 Laura said: "I went to Morrisons and spoke to the fishmonger about buying everything I needed for making a good fish curry. We went through my basket and he gave me tips on what I needed to make a delicious curry from scratch.
"He recommended the monkfish tails, which cost £9.20 each. It was only after I made the sauce, cubed the fish and began stirring it all together that I noticed something moving in the pan."
Laura said that a customer service advisor from the supermarket reassured Laura that the worms aren't harmful to humans and are killed when the fish is cooked. Morrisons has also given Laura £20 on her Morrisons loyalty card.