Best tablets UK 2021: which is the best tablet to buy in 2021? We review the best, including Android and Apple
The late great Apple visionary Steve Jobs had a habit of developing electronic products we didn't know we needed. The iPad tablet was one of them
Published 8th Feb 2021, 21:08 BST
Updated 25th Aug 2021, 09:53 BST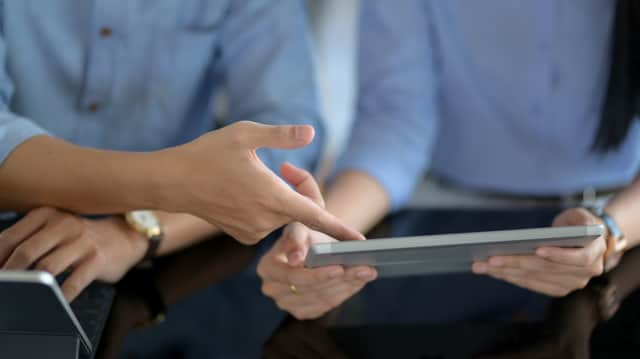 This article contains affiliate links. We may earn a small commission on items purchased through this article, but that does not affect our editorial judgement.
Fast forward a decade and his amazing mobile tablet has become one of the most ubiquitous electronic devices on the planet.
Today, we have a wide range of tablets to choose from but they're not all Apples. Microsoft has waded in with some very decent products, namely the Surface Go series, as has Amazon with its range of great budget-priced Fire tablets. 
However, the current leaders of the tablet pack are unquestionably Apple and its chief adversary Samsung, with their wide range of Galaxy tablets.
Choosing an operating system is a major consideration that often depends on the individual's other computer and mobile products. Hence, if you already own a MacBook laptop and an iPhone, it makes sense to opt for an iPad. And if you have an Android phone or Galaxy Book then perhaps go for a Samsung Galaxy. 
The reason for this is that products that use the same operating system are much more easily synced together and you will notice this most when it comes to the transferal of photos.
What kind of connectivity do you need? 
Another key consideration is whether you want a wi-fi only model or one also with 4G or 5G cellular connectivity that can be used away from home – or anywhere without a wi-fi signal. In general, you can easily get by with a wi-fi model which will be a quite a lot cheaper. 
Most public places have wi-fi but if you're ever caught short and don't wish to use your much smaller phone to, say, surf the web or reply to an email, you can easily tether the tablet to your phone as a 'hotspot' and use the phone's 4G or 5G signal.
You'll need more storage than you think
Storage is another major point that you should think about before splurging the money. A tablet with 64GB of storage may sound enough now but once you've started adding photos and videos, storage space can deplete rapidly. 
This isn't an issue with the majority of Android tablets because they normally include a MicroSD card slot to increase storage size to anything up to 1TB. Sadly, Apple's iPad range doesn't support MicroSD card usage so always opt for a model with the most storage you can afford.
The user interfaces on all the makes and models reviewed here are remarkably similar since they are all icon-based – just like your phone. 
Yes, some of the behind the scenes stuff works differently but if you're used to an Apple product, you should have no trouble working your way round a Samsung one, and vice versa.