Is it worth purchasing a pregnancy pillow? How they help you sleep better, alleviate pain, support your back
We review pregnancy pillows of various shapes, for use from first trimester to third, to help support your baby bump and alleviate the back pain or strains that can come with being pregnant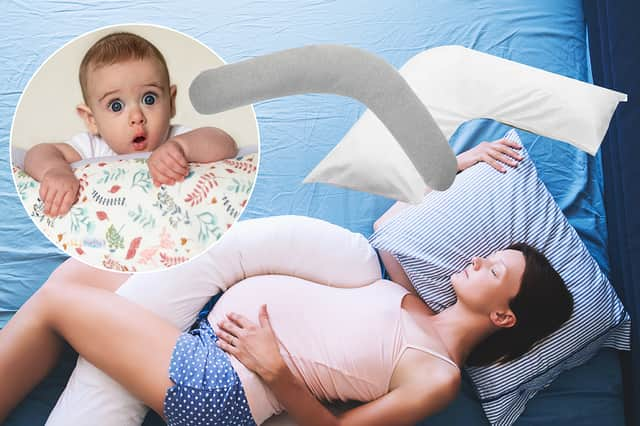 This article contains affiliate links. We may earn a small commission on items purchased through this article, but that does not affect our editorial judgement.
Being pregnant can be an exciting time, full of wonder - but it's exhausting too. Whether you're being plagued by insomnia, night-time cramps or you simply can't find a comfortable sleeping position, many pregnant women find that their sleep suffers immensely during the nine months of expecting a baby.
One of the best solutions is to invest in an excellent pregnancy pillow. A great pregnancy pillow should support your bump, as well as your pelvis, ankles, knees, neck and back.
These can come in all shapes and sizes, and the one you'll find most comfortable will typically depend on what position you like to sleep in and how firm you like your pillows, as well as how much space in your bed you have to play with.
What is the point of using a pregnancy pillow?
It's recommended by the NHS that after 28 weeks, you should sleep on your side rather than your back, and ideally the left side: and a pregnancy pillow can help you get comfortable in the optimal position.
Wedging a pillow between your legs as you sleep can help to maintain the natural alignment of your hips and pelvis at a time when everything feels disjointed and uncomfortable.
When should you start using a pregnancy pillow?
As soon as you want to! In the first trimester, a pregnancy pillow can really help alleviate the typical back pains that can plague your sleep, while as you get bigger, you'll appreciate the extra support for your bump.
Our tester is a diehard fan of a pregnancy pillow and always uses one to sleep even when she's not pregnant: a really supportive extra pillow in bed can be the difference between a patchy night of sleep and an excellent one.
Before buying a pregnancy pillow, consider the many options on the market out there. If you've never had one before, you might consider twisting your existing pillows into various shapes to see what you find most comfortable: a long, sausage-shaped pillow you can spoon, a U-shaped pillow that will support both your bump and your back, a curved pillow that will meet the shape of your bump, or a simple back support pillow you can use to prop yourself up on?
There are so many options out there, with many designs offering one-off perks. These, for example, could include being able to adjust the firmness of your pillow, a special design to make sure you sleep on your left side, or a dip in the middle to allow you to sleep on your front.
What should I spend on a pregnancy pillow?
Take into account how much you want to spend: while some pillows cost less than £10, others can be over £100. Many of them can be used well into the future, whether for nursing or bottle-feeding, or simply as back support while you watch TV and read books well into the future. You may want to pay extra for a pillow's ergonomic design, beautiful appearance or promise of longevity.
Whichever pregnancy pillow you've contemplated investing in, you'll find an option for you in our roundup. We've included a range of shapes, sizes and budgets to suit all stages of pregnancy and beyond - and had many an excellent night of sleep while rigorously testing them out.
Best pregnancy pillows at a glance