James Moorcroft waiting for the green light to fight again
Hindley's James Moorcroft will be hunting for redemption whenever boxing is able to make a safe return.
By Jay Whittle
Published 22nd Jun 2020, 14:11 BST- 3 min read
Updated 22nd Jun 2020, 14:12 BST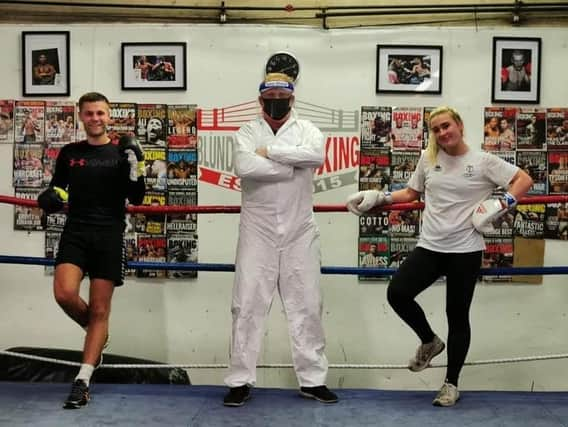 Moorcroft, who is trained by Lee and Luke Blundell at Blundell's Boxing Gym, impressively won his first 13 professional bouts before suffering a defeat against Martin Harkin last January.
The 27-year-old wanted to bounce-back as soon as possible, and was scheduled to fight at the University of Bolton Stadium on Saturday March 21 before the coronavirus pandemic wiped out all sporting events.
And while Moorcroft's initial opportunity for redemption was delayed, he expressed his goal stays the same whenever he is able to box again.
Reflecting on his last bout, Moorcroft said: "I think I may have been a bit giddy, because I had four stoppages in a row, maybe I went for him a bit too much but at the end of the day, we had the best camp ever. I was in the best condition I've ever been in, but things didn't add up on the night, I don't know what was wrong with me.
"I've not had the chance for redemption yet, but I will rectify my mistakes when we're allowed to box again.
"I would say you're going to see a different version of James Moorcroft in the next fight, but the fights before the last were great. I know I've got the ability there, it was just a little bump in the road. We never lose, we always learn. It was a little, 'Come on James, let's switch it on a bit more and start thinking a bit more'.
"There is no doubt in my mind that I will put things right. I know I can 100 per cent move on from this, I'm ready to put these wrongs right, and I'm going to really show everyone what I'm about. I'm going to shock a few people.
"Lockdown, although it couldn't have been avoided, was at the worst possible time. My team had sorted out a fantastic fight for March 21 against an exciting international opponent, and I was looking forward to fighting him and implementing what I've learned.
"I just wanted to get back in there. It's not a comeback because I've always been here - I've never left - but these things happen. Every boxer is in the same boat because of coronavirus, so we've just got to pray for a bit of good news and get things moving pretty soon.
"After coronavirus, my targets and goals haven't changed. I want to get some massive fights and big wins under my belt. The first objective is to return, and get a big victory, then obviously leave the rest to my management.
The Hindley Hammer's career was temporarily put on hold because of the government's restrictions.
As Blundell's Boxing Gym has been kept shut since March, Moorcroft had been training in his back garden and going on long-haul bike rides to keep fit.
After a lengthy absence from his coach and best friend Lee Blundell, there has been some light at the end of the tunnel for Moorcroft and fellow professional boxer Rhiannon Dixon.
"It was absolutely unreal to be back working with the team. It's been really tough to be away from everybody," he said.
"Tough times don't last, tough people do and I'm sure part of the toughest and best team in the world.
"I've got huge respect to Lee and the team for taking every precaution needed to keep us all safe.
"Lee and everybody at the gym are doing everything they can to open. They are trying their best to make things happen and make things work - and you've got to take their hat off to them.
"They're trying to do everything possible to get everyone back, but it's just down to Boris (Johnson) now!
"Things aren't going to be the same for a long time. Boxing is a very contact-based sport, you're very close, so it's obviously not practical at this time.
"We're trying to restore some normality, but it's just the case of following government guidelines, and waiting for their green light to see what we can do."