Admin defends Wigan Athletic star exit
Administrator Paul Stanley insists the decision to release Kal Naismith from the last six months of his contract was 'the right decision' for Wigan Athletic.
Published 8th Jan 2021, 10:32 BST

- 2 min read
Updated 8th Jan 2021, 10:36 BST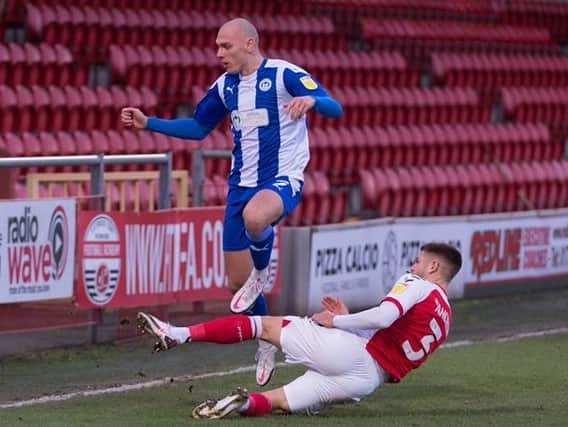 Naismith's contract – which had less than six months left to run – has been cancelled by mutual consent, after the 28-year-old requested to leave.
Although a key player, Naismith was one of the top earners at the club, having joined as a free agent from Portsmouth in 2018.
And Stanley is adamant the saving the club will make on his wages – given the player's desire to go – means it was the 'sensible' decision.
"It certainly wasn't by my request," Stanley told Wigan Today.
"But he's got five months left on his contract, and he asked me whether he could go.
"Initially I wasn't happy about it, but it's very difficult for us at the moment.
"We'd love to have got a fee for him, but no-one is shelling out fees at the moment.
"Some of these guys are still on decent money, and it does free up a little bit for some of the younger lads and those who'll take their place in the squad.
"To be fair to Kal, it's not his fault the club got relegated last season, and he's done well for this club.
"For the sake of me being awkward and making him stay, I'm not sure it helps me, the club or the player. Sometimes you just have to be sensible about these things.
"I know the fans won't be happy about it, but I can't make decisions based on what a few people on Twitter think.
"I've got to make the right decision for the club, and you can't be paying big money out to players who don't really want to be here."
Naismith himself released a lengthy statement to explain his decision to want out.
"The last six months have been incredibly challenging for everyone at the club and like all of my team-mates, the staff and the supporters, I have felt the effects of everything that has happened," said Naismith.
"With that said, when the opportunity to play at a higher level didn't arise this summer, I knew I had to focus myself on supporting the team in being competitive this season and I've been so proud to see the development of the club's young players, who are working so hard to make the most of the opportunity they have.
"Now is the right time for me to leave. I have an exciting and fresh opportunity for me and my family and that's something I have to prioritise for myself, my partner and my children.
"We have all been overwhelmed by the level of support from the fans over the last few months, and the fundraising was just incredible.
"I have learned this club seemingly always defies the odds – and that support is going to be one of the biggest strengths moving forward, hopefully under new ownership."