Colin Bell: life and career highlights of Man City footballer nicknamed 'King of the Kippax' as he dies aged 74
Bell, who was part of Manchester City's Holy Trinity alongside Mike Summerbee and Francis Lee, has died after a short illness
Wednesday, 6th January 2021, 11:56 am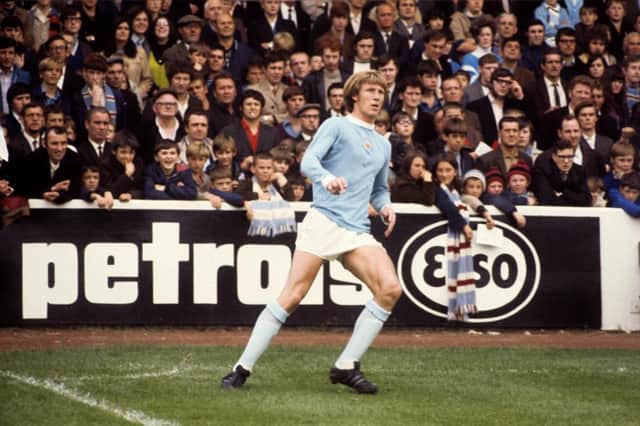 Colin Bell, known as 'The King of the Kippax' from his time at Man City, has died aged 74. (Pic: PA)
Former England international Colin Bell, who was widely regarded as one of the best footballers of his generation, has died aged 74.
County Durham-born Bell made 48 appearances for his country and became a fan favourite at Manchester City during his 13-year stay with the club.
He made 501 appearances for City, scored 153 goals and was dubbed 'The King of the Kippax' as fans in the Maine Road stand would often sing his name.
Supporters voted to name a stand after Bell after the club's move to the Etihad Stadium in 2004.
Bell was born in the village of Hesleden, just south of Peterlee, in County Durham on 25 February 1946.
He was raised by his father and other family members after his mother died of bowel cancer when he was a child.
Bell was also diagnosed with bowel cancer after a football-loving surgeon read his 2005 autobiography, Reluctant Hero, and suggested he be checked out. Three weeks later Bell was operated on.
He is survived by wife Marie, children Jon and Dawn and grandchildren Luke, Mark, Isla and Jack.
Bell joined second division Bury in 1963 from Horden Colliery Welfare and quickly established himself as a first team player, going on to captain the club.
It was there he caught the attention of City coach Malcolm Allison who used to bemoan Bell's form in earshot of other scouts to discourage them from signing the player.
City eventually signed him for £45,000 in 1966 for what Allison said was "an unbelievable bargain", which Bell repaid with over a decade's playing service.
During that time Bell demonstrated his all round ability which suited his midfield role. He had impressive stamina, pace, an eye for a pass, could tackle and was a fine finisher.
He scored on his City debut and helped the side to promotion in the same year he joined.
He was an integral part of the City side that edged out Man United to win the First Division title in 1967/68. He helped City lift the FA Cup in 1969 and two more trophies in 1970 - the League Cup and European Cup Winners' Cup.
Bell was the club's top scorer three times.
On the international scene, he made his England debut in 1968 and was a member of the 1970 World Cup squad. Bell was highlighted as a long-term alternative to Bobby Charlton, replacing him in the quarter final defeat to West Germany.
When did Colin Bell retire?
Bell suffered a knee injury at the age of 29 in a tackle with Man United's Martin Buchan in November 1975.
The Man City player was considered to be in his prime but the injury kept him sidelined for two years, never fully recovering and retiring in August 1979.
He briefly returned to the game in 1980 when he signed for San Jose Earthquakes but his attempts to revive his career lasted just five games.
Why was he known as 'The King of the Kippax'?
Bell was fondly referred to as 'The King of the Kippax' after one of the stands at City's former Maine Road home. He was also dubbed 'Nijinsky' after the famous racehorse by Allison.
A much-loved figure he is remembered for his part in a successful and flamboyant City team that had the Holy Trinity of Bell, Mike Summerbee and Francis Lee.
Summerbee paid tribute to his former teammate.
"He was a huge star for Manchester City, but you would never have known it," he said.
"He was quiet, unassuming and I always believe he never knew how good he actually was. He was just the greatest footballer we have ever had.
"Kevin De Bruyne reminds me a lot of Colin in the way he plays and the way he is as a person."
For those too young to have seen Bell in his pomp a quick look on YouTube will offer a glimpse into his greatness as a player.