FA charge Blackpool after incident involving Wigan Athletic star James McClean
Blackpool have said they will continue to work with the police and Football Association after being charged with misconduct for failing to control their crowd in last week's game against Wigan Athletic.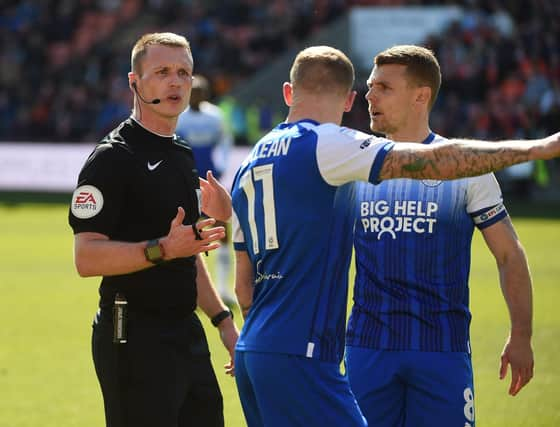 The Seasiders said they strongly condemned discriminatory language after Latics winger James McClean claimed he had been the victim of sectarian abuse during the Championship match at Bloomfield Road.
Blackpool, who won the game 1-0, said in a statement: "Blackpool Football Club acknowledges the charge handed by the FA in relation to crowd control following the recent fixture against Wigan Athletic.
"The club strongly condemns any discriminatory language, particularly in relation to religion or race, and will continue to work alongside the FA and Lancashire Police on this matter."
The FA launched an investigation after a delay during the first half when McClean was allegedly verbally abused while taking a corner.
A statement on the FA Spokesperson Twitter account said: "Blackpool FC has been charged with misconduct in relation to crowd control following its EFL Championship game against Wigan Athletic FC on Saturday 15 April.
"The club allegedly failed to ensure that its spectators – including anyone purporting to be its supporters or followers – conduct themselves in an orderly fashion and do not use words or otherwise behave in a way which is improper, offensive, abusive, indecent or insulting with either express or implied reference to religion.
"Blackpool FC has until Friday 28 April to provide its response."
A Latics statement read: "Wigan Athletic acknowledges the charge handed by the FA to Blackpool in relation to some of their supporters chanting indecent or insulting references to religion aimed at James McClean.
"James, alongside the club, has agreed to provide any further evidence required to the relevant authorities.
"Wigan Athletic does not and will not tolerate any form of deliberate discrimination or hate crime towards its players, staff or supporters and nor will it allow this behaviour towards anyone who visits the DW Stadium from anyone associated with our football club.
"The club will continue to support James."
There was a delay during the first half as McClean prepared to take a corner in front of the North Stand end of Bloomfield Road.
McClean confirmed on social media after the game he'd once again been the victim of sectarian abuse, with anti-Pope and anti-IRA songs also being loudly chanted.
The FA have previously investigated fans singing anti-Pope and anti-IRA songs towards McClean on a number of occasions.
Writing on his Instagram stories on Saturday night, McClean wrote: "On the incident today (aye another one) do not get it twisted, I was not offended by a flag honestly you can stick the flag up your hole for all I care.
"Section right in front of stewards and police (who responded with the words 'nothing to do with us') literally shouting loud and clear 'f*** off you Irish fenian c***' multiply (sic) times while holding their poxy flag.
"Everyone's a big hard man behind a two foot advertising hoarding with the invisible wall in front of them holding them back.
"Referee will make a report to the FA, the same process that happened at Luton away in the FA Cup game either this season with evidence clear as day, as on many occasions over the years, yet the nothing (sic) again will happen.
"This is simply just highlighting the double standards firstly the FA have and secondly how utter useless (sic) that the English FA are."