Five things we learned from Gillingham (h)
Paul Kendrick reflects on five talking points from Wigan Athletic's 3-2 home defeat to Gillingham...
By Paul Kendrick
Published 20th Sep 2020, 11:50 BST- 2 min read
Updated 20th Sep 2020, 12:12 BST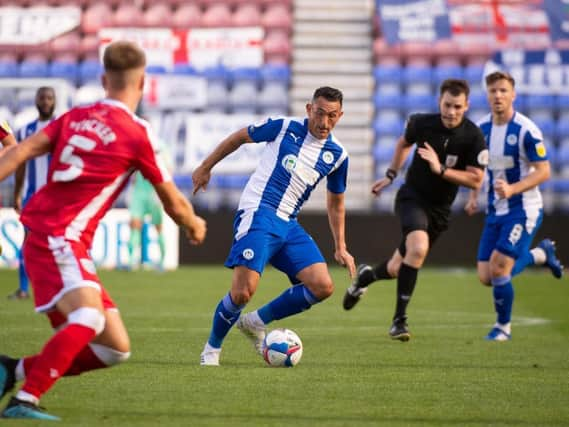 1 Back to earth with a bump. The last time Latics played at home in League One, a side including Will Grigg, Nick Powell and Dan Burn was on the verge of picking up the league title. Fast-forward three years, and the current set-up - and football club - is totally unrecognisable from those glory days. It's a long, long way back from here.
2 Inexperienced team...but not players. Gillingham boss Steve Evans' post-match interview got up the noses of some opposition fans - what's new? - but his comment about Wigan's 'experience' wasn't incorrect. Alex Perry and Tom Pearce (both 22) were the youngest in the starting XI, with the average age being 27.9 Of course - and as Evans is well aware - the team itself was inexperienced, having been thrown together in the last fortnight or so. It just needs time to gel. And we have to be patient.
3 Smokin' Joe at it again! Three games, three goals for new skipper Joe Garner, who is certainly doing his bit to help the side during a difficult time. If Latics can continue to get the ball to him, he will score a bucketload of goals at this level. More need to follow his lead and seize the opportunity to take responsibility with both hands.
4 Robbo KO! Gary Roberts has been another key man in terms of continuity and stability in the new era, and it was a shame to see him pull up in the closing stages with a hamstring problem. Some will point to his increased minutes on the pitch as reason for his muscle injury, but the 36-year-old has always been one of the fittest players at the club stats-wise - and Latics will miss his leadership during his lay-off.
5 Perry, Perry promising stuff. Alex Perry was rewarded for his cameo last week at Ipswich with his first senior start - and he picked up where he left off with a man-of-the-match performance in the centre of the midfield. Fellow Academy graduate Olly Crankshaw also made his mark from the bench - despite only getting five minutes - and one cross looked like it hit a Gillingham hand for what John Sheridan felt was a 'stonewall' penalty. The future is bright...if we can only get there...