Five things we learned from Northampton Town (h)
Paul Kendrick reflects on five talking points from Wigan Athletic's 3-2 home defeat against Northampton on Saturday afternoon ...
Published 1st Nov 2020, 15:43 BST

- 2 min read
Updated 2nd Nov 2020, 17:47 BST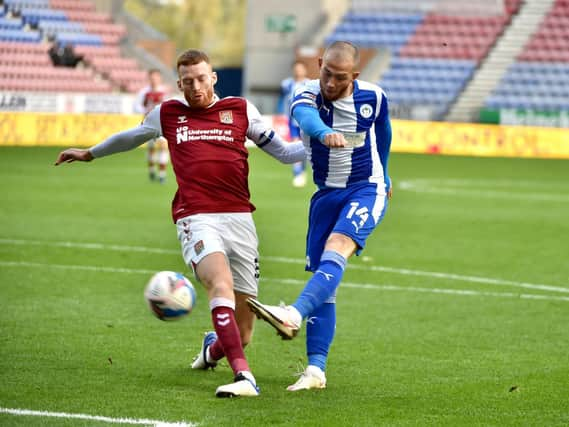 1 Same old, same old! It would have been easier to just cut and paste the match reports and quotes from most of the games this season, amending only the goalscorers, than starting afresh. Even John Sheridan found the funny side in his post-match interview, acknowledging he was repeating himself week after week after week - before regaining his steely exterior and admitting he is 'hating' the current misery. Somehow Latics have to find a way of eliminating the silly mistakes that are proving so costly...easier said than done, of course.
2 Round pegs in square holes not working! Once more the manager was forced to shuffle his pack, thanks to SEVEN first-teamers missing through injury. But again his gamble of switching players from their regular position didn't work. The gamble to play winger Ollie Crankshaw at right-back - with Tom James moving to centre-back - was abandoned midway through the first half, with Emeka Obi coming on at the heart of the backline, and James reverting to the flank. By then, however, the visitors were already two goals up and in total control. Not in any way Crankshaw's fault, it must be said, but the memory of his full league debut unfortunately won't be the fondest.
3 Smells like team spirit! Credit where it's due, once again Latics picked themselves up from the deck to show some fighting spirit which, on another day, may well have rescued a point. Again it came after a half-time rollicking from John Sheridan, who must be wondering how he can produce the same effect from his players from the off.
4 Dan desperate to make his mark! Another positive was the performance of Dan Gardner, who produced his best display for Latics so far and almost scored in the first half with a rocket from distance. It was always going to take him time to settle in, given his injury record over the last couple of years. But he started to show why Leam Richardson - who worked with him at Chesterfield - picked up the phone, and let's hope he can now put together a run of games where he can rediscover his top form.
5 The kids are all right! Incredibly, TWELVE of the 18 players on duty for Latics came through the club's Academy programme. Thelo Aasgaard was handed his first start, Crankshaw his full league debut, while Scotland Under-19 striker Kyle Joseph came within a coat of paint of marking his league debut with a first goal, shortly after coming off the bench. Most of the better players on the day - including Alex Perry and Adam Long - were locally produced. The Academy is obviously at the heart of the club's future - but it's also propping up the club in the meantime.
Special offer: Get 15% off our digital sports subscription - read unlimited Wigan Athletic and Wigan Warriors stories for less than 60p a week! Click here