Frampton group back in for Wigan Athletic
Tony Frampton has revealed his Far East consortium WILL be returning for a second crack at buying Wigan Athletic – before Friday's deadline for revised entries.
Wednesday, 6th January 2021, 4:29 pm - 4 min read
Updated
Wednesday, 6th January 2021, 4:32 pm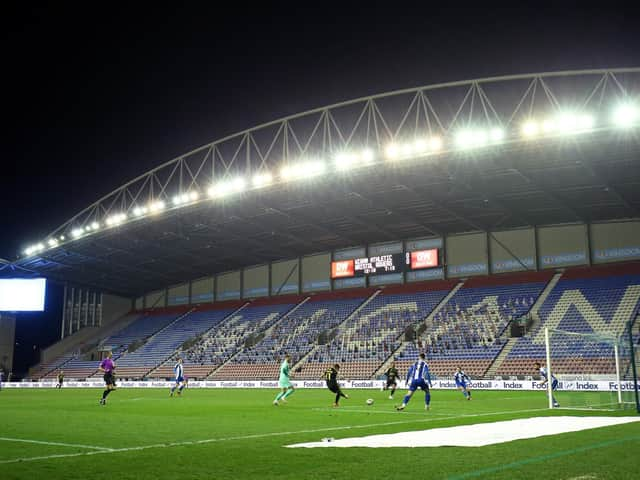 Wigan Athletic's DW Stadium
The club remains up for sale after the Spanish bidders – backed by Leganes owner Felipe Moreno – sensationally dropped out of the race on Tuesday morning.
Their proposal – which was tweaked on several occasions – had been with the EFL for more than three months waiting for approval.
And after they slashed their offer in half at the 12th hour – having already transferred the money into their solicitors' bank account – it finally collapsed.
That's left the door open for a number of rival bidders who were pipped to the post back in September.
And Frampton, whose bid would make a huge investment into the local community as well as the club, says he's not surprised at recent events.
"It was expected, I have to say," he told Wigan Today.
"There were obviously issues around the previous bid, then they tried to rejig it, and now they've gone, and it's back on the table."
When asked whether his consortium would now be at the front of the queue, he replied: "We don't know who's in the queue yet.
"To say we're at the front, the middle or the back, I suppose that's a decision that will be made by the administrators when they see who's coming in and making a bid.
"They've made contact with us, and put forward their criteria for what they would like to sell it for.
"Obviously that has changed, because of what's happened since the previous bids, with some assets having been sold.
"There's also the possibility that other players could go during January, even though that's not been factored in to the revised price.
"We've got that now, we're now in the process of reviewing what they've submitted, and we'll come back to them."
Wigan-born Frampton had previously bemoaned the 'exclusivity' conditions favoured by the admins, which prevented his group doing anything after the Spanish tabled their deposit.
Despite the Supporters Club and Wigan MP Lisa Nandy calling for the process to be left wide open – which the EFL say they are happy with – co-administrator Paul Stanley insists the first deposit received will again guarantee first crack at it.
And Frampton is shocked there's not been a rethink.
"The admins have told us they'd like us to reply by January 8 at the latest," he said. "However, if they were to receive a bid prior to that, they would be free to enter into another period of exclusivity with that particular group.
"Now, doesn't that sound a little bit like that just happened with the Spanish?
"I would have thought a more prudent way of doing it would be to get everything in before the deadline, see what's on the table, see the quality of the bids that have been submitted, then do their own due diligence...and this is before even thinking about getting the EFL involved.
"You make sure you have someone who will pass the Owners and Directors Test – and the criteria is well set out in the documents they've circulated to all the bidders.
"The EFL are willing to look at more than one bid at once, so I'm wondering what's the rush in taking the first offer on the table... and possibly going through all this again in three-to-six months' time.
"That to me seems dangerous for Wigan Athletic. Surely they ought to have learned something from this exercise with the Spanish?"
With the admins needing money to pay the February wages, Frampton continued: "One way of doing it would be to put money into an escrow account.
"That way if you do have two or three credible bids – and you're not going to have more than that – then you ask them all to put down a secure deposit that way.
"Obviously then whichever bid is successful, you use that money, and the other unsuccessful bids have their money returned.
"It's simple, it's not rocket science. We do this for a living. This is normal.
"I just don't understand why the situation is being over-complicated.
"Begbies shouldn't just be acting like a postman in taking a deposit and passing the parcel over to the EFL.
"They've got a job to do, and they've got to make sure the bids they're passing through are going to complete the purchase."
Frampton also says his group haven't lost any of their enthusiasm to complete a deal despite seemingly having missed out last time.
"There was obviously a cooling-off period, because we were getting told all the time that things were progressing with the Spanish," he added.
"We thought things were dead in the water, so we didn't push any more.
"The fact it's come back again, I've spoken to the founder of the company on numerous occasions, I told him to expect the email from Begbies, which was received, and he replied to them straight away.
"If you're asking are we keen to move, the answer is 'yes'. But we also need a little bit of time just to take in what's happened, and what is now on the table in terms of assets, price, and how that reflects on the previous bid.
"Seriously, money is not the issue. It's just making sure what we're getting in to.
"I don't see anything untoward in terms of the prices or figures I've seen. We've been sent projected running costs for the next couple of years, which is also not an issue, nor is proof of funds."