Fresh bid in, old bid out, shake it all about at Wigan Athletic...
One new party has joined the battle to buy Wigan Athletic while one existing party has dropped out - with SIX active parties now having provided proof of funds.
Published 5th Feb 2021, 14:57 BST

- 2 min read
Updated 5th Feb 2021, 15:41 BST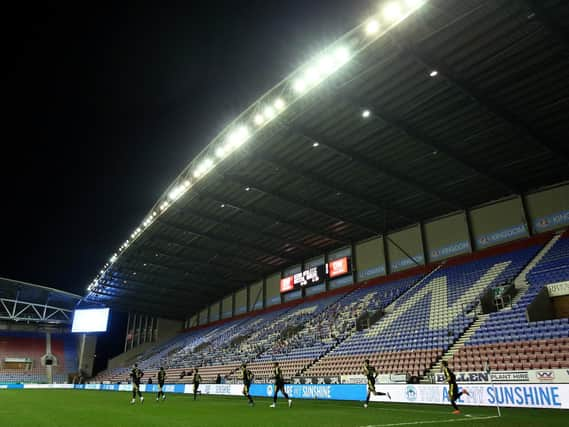 That was the headline news from the administrators now-weekly Friday update, in which they acknowledged the fans' 'frustration at the length of time this is taking'.
The admins also say they 'remain optimistic there will be a successful conclusion' - without being able to put any sort of timescale on it.
"We are continuing to liaise with several interested parties, the EFL and the Supporters Club in respect of the sale," the statement read.
"There has been movement this week in the number of interested parties and we currently have six active parties that have provided proof of funds.
"A new party has joined the process this week and proved funds, a further party has provided proof of funds, and we have lost one during the week.
"We have had a joint meeting with the EFL and one of the parties as part of the process, and we have been informed that two parties have held discussions with the EFL in respect of their interest.
"We understand the frustration at the length of time this is taking and request patience while thorough due diligence is performed.
"Based on the work that has been carried out by various parties, discussions and meetings held this week we remain optimistic there will be a successful conclusion to the sale, although we cannot give a timescale for this. A further update will be provided by next Friday."
The admins also provided a round-up of the club's transfer-window dealings, confirming Wigan Today's stories earlier this week that approaches for Kyle Joseph, Tom Pearce and Sean McGurk had been repelled, with Ollie Crankshaw's late deadline-day departure leaving one spare place in the squad.
"The transfer window closed on Monday," the statement added. "The club received several offers for four players. Because of grants received from the EFL concerning loss of income due to COVID-19, we were not in a position where we had to sell players for financial reasons.
"The manager discussed with us the areas of the team which needed strengthening and targets for those areas.
"We were able to support the manager in all his requests. The player movements have all been dealt with individually on this website as they happened.
"Two players (Kyle Joseph and Harry McHugh) are out with medium-term injuries and so the EFL gave us special dispensation to sign replacements.
"As things stand, there is potentially one free space in the squad should a suitable out-of-contract player be needed to either strengthen the squad or if there is an emergency situation."
Get 20% off our sports subscription package and stay up to date with all the latest Wigan Athletic news with a year's subscription to WiganToday for less than 9p a day. Use promo code TRANSFER20