Grand Final hero Jack Welsby on supporting Wigan Athletic
St Helens' Grand Final hero Jack Welsby has been keeping a keen eye on developments at the DW Stadium over the past few months.
Thursday, 18th March 2021, 8:50 am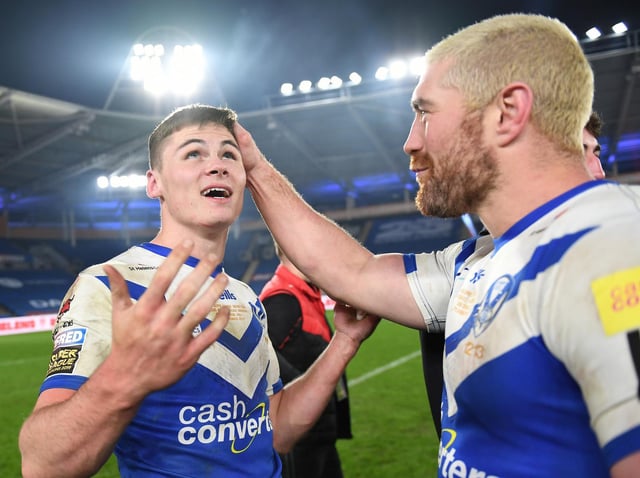 Jack Welsby (left) celebrates his match-winning try against hometown club Wigan Warriors in last November's Grand Final
That's because he is a devout Wigan Athletic supporter.
And Welsby, who turned 20 this week, is keeping his fingers crossed the club's future has finally been secured as the prospective new owner wait for the EFL Board to approve their takeover of the League One outfit.
Last week, Welsby took part in a St Helens press conference ahead of the new Super League season in which he was asked – repeatedly – about his dramatic match-winning try which secured an epic 8-4 Grand Final win against Wigan Warriors last November.
But he was also happy when questions turned to another passion of his life – Wigan Athletic.
"It's been tough, with everything going on," said Welsby, who lives at home with his mum and dad in Shevington.
"Hopefully it looks like it's drawing to an end and it's smoothing out a bit.
"Hopefully we've turned a corner now. We've had some really good results we weren't expected to get, and some really poor ones, too."
Welsby grew up immersed in rugby league, playing for Shevington Sharks and supporting the Wigan Warriors.
But once he linked-up with St Helens and began progressing through their junior ranks, he began following Latics more and more.
He explained: "Growing up in rugby I was always more swayed towards watching rugby, but once you get involved in the professional game, you look for other sports to watch. Latics was the obvious one with it being my hometown and with quite a lot of my mates being Latics fans.
"I went along with them and I really enjoyed it, and it went from there.
"I had a season ticket pre-Covid and I got to as many away games as I could, too – obviously some Saturdays I can't, but I'll try and get to many of the midweek ones.
"We've got a good crew who go watching them."
The utility-back is preparing for the start of the new Super League season next week.
Whatever happens, the competition will struggle to top the craziest finish to the craziest of years.
"I think the game deserved it – we threw a lot at Wigan, they threw a lot at us, it ended up being the tightest Grand Final with the maddest of finishes," he said.
"A lot of mates who I played rugby with at Shevington, they were all gutted when we scored but then when they realised it was me, I think they were okay about it!"