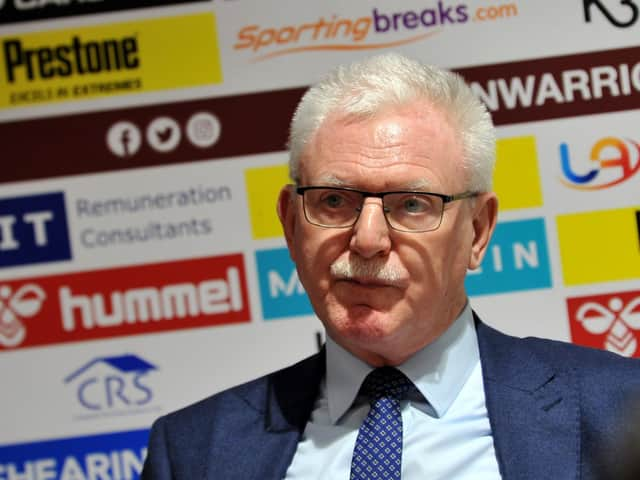 Ian Lenagan spoke to the media today
The Warriors chairman outlined how he has been trying to help secure the League One club's future since they went into administration last July.
Lenagan, a former chairman of the EFL and Oxford United, says trying to secure Latics' future has taken "25 per cent of my time".
He has had no contact with the Bahrain-based party who seem on the brink of buying the club, but is looking forward to working with them if everything goes to plan.
And the 75-year-old didn't rule out getting involved if needed, particularly if the 'plan B' safety net option is required and the Wigan Athletic Supporters Club - which raised £800,000 - move in to ensure their survival.
In a media conference held over Zoom, Lenagan said: "We've had attempts to join consortiums. We're not involved in the current deal, but we're always ready to get involved."
Until now, Lenagan has remained silent about Wigan Athletic since announcing last July his hope if creating a 'Wigan Sporting Partnership' along with Darryl Eales and Gary Speakman, which would have seen the clubs continue to run independently.
They hoped to attract investors and make a bid, which didn't materialise - but he says he has remained involved in discussions with other parties since.
Asked if he had spoken to the prospective new owners, he said: "Not with the proposed new owners but every other potential owner over the last few months, and there were five we had detailed negotiations with and supported.
"With the vast majority of the prospective buyers - not so good with the Spanish people - but it's been very good and at least two of them would have been very good owners.
"We've gone from us putting capital in, for the stadium or training ground for example, but we've never wanted to run Wigan Athletic.
"We don't think it's the right thing to do. We think they should be independent. We'd like to support them in any way possible.
"We think they're critical for the town in the way the rugby league club is.
"So Plan B, as it's often referred to, what happens if nobody buys Wigan Athletic? We are party to that, and we would be a contributing major party to that, if it came to the point there were no other solutions.
"I don't know how current discussions are going but we will support sport, football and rugby league in Wigan, as long and extensively as we can.
"I have spent so much time putting plans in places, trying to raise money, with the Wigan Athletic Supporters Club, with people who may put money in.
"Might we be part of it? You never know is the answer. Not currently."
The Warriors have a lease arrangement to play at the DW Stadium and Lenagan expects their existing arrangement to continue if the Bahrain party take over.
"We're confident we'll be able to work with them as soon as the stadium gets back to being used, and improved, and all the other joint plans we have, the sooner the better," he said.
"I presume they've got the legal advice we got and they know the scenario with the stadium which we know.
"It doesn't worry me either way if we cooperate in advance or afterwards, either way, it's in both of our interests - we can't do without them, they can't do without us.
"Our attendances, and our income - you can drink at rugby games remember, and the income that comes from our spectators and into the stadium is very important.
"And the stadium is very important for us to play in.
"So we have common ground. It may not be the case, there may be difficulties, but I doubt it - they're sensible people from what I've read and they know the way it works in football, as I do."