'I'll wait to buy Wigan Athletic', reveals Smurthwaite
Norman Smurthwaite says he'll remain in the wings as a 'last resort' to buy Wigan Athletic - despite seeing a bid just short of £3million turned down.
Published 21st Sep 2020, 17:46 BST

- 3 min read
Updated 21st Sep 2020, 18:10 BST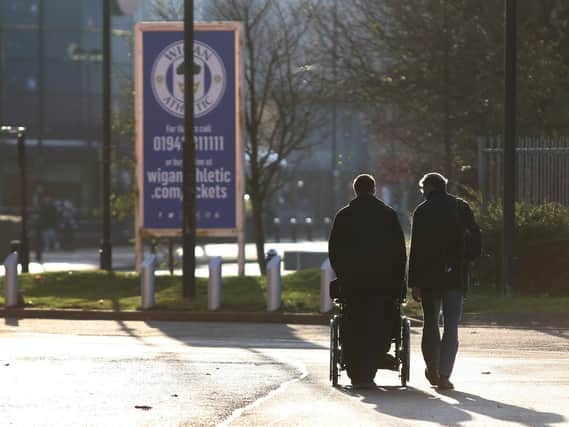 Speaking exclusively to Wigan Today, the 60-year-old – who used to own Port Vale – wants to avoid Latics becoming 'another Macclesfield'.
And he revealed he'd be happy to work with the Supporters Club, who have raised more than £850,000 since the club was placed into administration on July 1.
"I've spoken to an intermediary, and I've told them I'm still here as a last resort, if nothing else concrete happens in the coming weeks," Smurthwaite said.
"If there isn't a genuine buyer, we don't want to see another Macclesfield, let's try and iron out a deal. And I've no problems with the fans having representation, through the Supporters Club.
"If the Supporters Club would like to discuss saving the club with me, I would be happy to sit down with them."
Smurthwaite also revealed how his plan to take control of the club – a £1.5m down payment, with a further guarantee just short of that figure to pay off the creditors – was given short shrift by the administrators.
"I've only made the one bid, and it was flatly rejected in a matter of minutes," he said.
"When I first got involved, I was told I'd need to offer £3.3m, which would cover everything.
"I told them I didn't think it was worth quite that much, so I went in with a bit less – but would have covered the 25p in the pound requirement.
"They said they would ring me back, they haven't, so I've taken the view they're not taking me seriously.
"I'm not going to do anything else now. Let's wait and see what happens."
Smurthwaite's pledge followed the release of a quite extraordinary statement from the administrators, which made several jaw-dropping claims concerning the process to date.
Begbies Traynor claimed an unnamed investor was prepared to deposit £4m with their lawyers but backed off after social media speculation about a rival £2m offer from a French-American consortium.
That bid belatedly came but only with the caveat that Begbies Traynor would be responsible for a £1.3m payment to creditors that would see the club avoid a 15-point deduction. The bid was rejected.
"On Sunday 13 September, social media was inundated with news that the French-Americans had made a final bid of £2m," a lengthy statement read.
"Despite being in constant communication with the French-Americans, no such bid was received that day.
"What it did do however was panic some of the very interested buyers. As a result of all the adverse publicity this generated, one of the principal bidders backed out Monday morning and they were due that day to deposit £4m with their lawyers on the basis of anonymity at this stage.
"They said the publicity had put them off and their bid was withdrawn. It also led to other parties (who were not in the front running for bids) to make similar offers, one of which was as low as £1.5m for all of the assets.
"We did in fact receive a bid of £2m from the French-Americans as predicted on Friday 18 September at 16:25pm. What was not disclosed with this bid on social media however was the strings attached to it – namely that we had to pay the £1.3m to creditors to avoid the 15-point penalty.
"This was not feasible under English law and we went back within the hour at 17:19pm to inform them that their bid had been rejected and the reasons why.
"If they want to rethink the bid and remove the clause where we have to pay the £1.3m then that will be seriously looked at by the joint administrators."
The administrators also warned about a "considerable liability" to HM Revenue & Customs on player wages and VAT owed on sales.
The statement added: "Taken together with the costs of the appeal, the loss in administration is over £3m which has to be paid before any dividend can be paid to the unsecured creditors.
That becomes an impossibility when the actual offer is only £2m. If this bid is remade it will be given very serious consideration."
Latics, who were relegated to League One last season after a 12-point deduction for being placed in administration, are seeking a buyer to secure their long-term future.
An initial deadline for a sale of August 31 was missed, but the club were given permission by the EFL to start the campaign earlier this month.