Latics guest column - Reece James
What a great feeling it is to be backon the field and injury free again.
Published 14th Sep 2017, 21:35 BST

- 3 min read
Updated 27th Sep 2017, 11:39 BST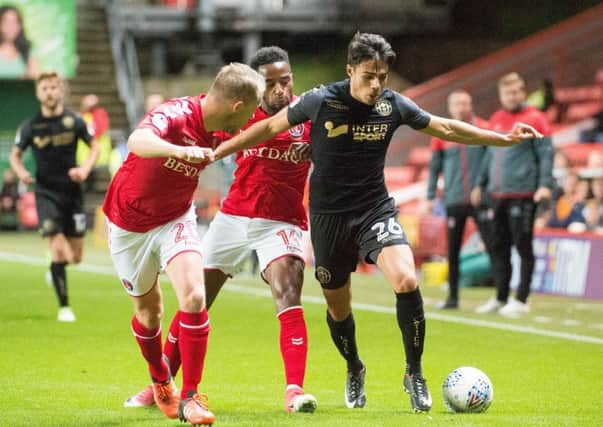 After almost 18 months on the sidelines, it's amazing to be back playing football.
The ankle's feeling really good at the moment, and it's great to be back.
I can't really describe how good it feels, after everything I've been through.
Touch wood, I've not had any setbacks or even any twinges – and I'm hoping it stays that way.
I'm just trying to progress and get better every week, and the more I play the more it's coming back to me.
At the moment, I'm managing to keep on top of everything.
After each game I'm having ice, on my days off I'm trying to maintain my recovery, things like that.
The physios have given me a programme to do each morning and, as long as I keep on top of that, hopefully there won't be a problem.
Obviously pre-season was a bit difficult for me, because it took a while for me to get going due to the fitness thing.
But I was determined to persevere, and now I've got my chance and feel I've justified that faith in me.
I have to say it makes it so much easier coming back into a winning side, as we are at the moment.
When you're winning games, the momentum just continues to grow, and everyone's playing well just now.
There's a really good togetherness about the group – whether it's the lads who are starting or the lads waiting to come in – and that's credit to the manager.
I always felt part of the group, even when I was injured for so long.
There's a lot of big characters here who go out of their way to make everyone feel part of it, so that's never been a problem.
The clean sheet at Charlton in midweek was massive as a defender, because that's always the first priority.
But to also get forward and get a couple of assists was the icing on the cake.
I'm claiming the assist for the third goal, even though it came off a defender, and that makes it three for the season now!
Obviously with Nathan (Byrne) on the other side also chipping in, it's giving the team even more options going forward.
The gaffer's giving us that licence to get forward, he wants us to be an attacking side.
That was perhaps the issue at Shrewsbury last weekend – they played us well, they made us be a bit more defensive, and it showed.
At Charlton, we were able to get much further down the park, and we were able to get three goals on the board.
When you've got players who can drop in there and do a defensive job, like (Sam) Morsy on my side, it helps a lot.
He sits back and covers the gap I leave, and it just shows the value of the team digging in and helping one another.
We've still got a game in hand on the teams around us, and we're looking to take advantage of the two home games coming up in the space of three days.
The aim for us is to go up automatically, and we're in a great position to be able to push on now.
If we can stick together and keep performing like we did at Charlton, we shouldn't have a problem with that.
It's a pretty similar bond in the dressing room to two years ago when we managed to win promotion from League One.
It was obviously difficult at first two years ago, because we were a brand new squad and a lot of the lads didn't know each other.
We've got that again with a few players this time, but the new lads have fitted in quickly.
The style of play is a little bit different, with the system we're playing, but everything is in place for us to go up.
It's a young squad with a bit of experience to help us along, and that's a good mix.
* Reece James was talking to Paul Kendrick