MP Lisa Nandy urges Wigan Athletic administrators to get the deal done
Lisa Nandy sees no reason why a deal to sell Wigan Athletic can't be done this week.
Published 9th Sep 2020, 08:01 BST

- 2 min read
Updated 9th Sep 2020, 08:20 BST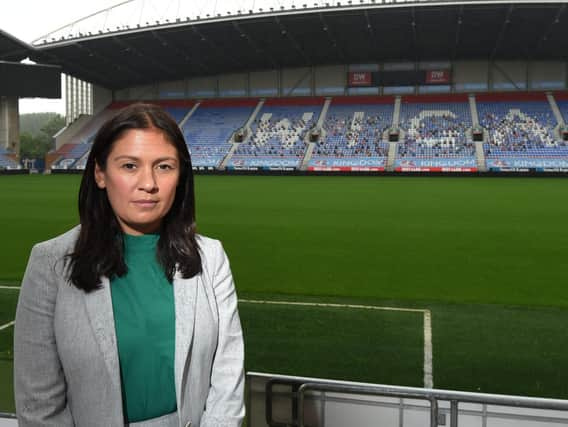 The Wigan MP has been working hard trying to secure a buyer for Latics, who start the new League One campaign at Ipswich Town on Sunday.
She admits there will need some "give and take" from the parties involved, but hopes the administrators in charge of the club secure a new buyer soon.
Nandy said: "I've met with one potential bidder on a number of occasions and the conversations have been extremely encouraging.
"I see no reason why a deal couldn't be agreed before the weekend, with a bit of give and take."
Co-administrator Gerald Krasner revealed this week two new parties are interested in the club, while dismissing an American bid – fronted by Oostende CEO Gauthier Ganaye – as 'not serious'.
They offered £500,000 for the Christopher Park training base and a nominal £1 for the club, but nothing for the £3m-rated DW Stadium. The Sun has since reported the American party would even prefer to move games to Leigh Sports Village to save on costs - an idea dismissed as "rubbish" by Krasner.
As well as selling the DW and training ground with the club, administrators are also hoping to sell the site of Sharpey's Chippy for £500,000.
Of the £4m they want for the club and its three principle assets, £1.3m would be used to pay off non-football creditors – ensuring Latics avoid a 15-point penalty when they start the season.
The remaining money would cover their own costs and legal fees.
A report sent to creditors a month ago revealed administrators' fees had already topped £1m. Given they have remained in control since then, they are likely to have escalated since.
And Nandy said: "I've written to the administrators today regarding their costs and fees that have been incurred. Of course they are going to want their fees but they shouldn't be set at a rate that deters potential buyers."
Yesterday, co-administrator Paul Stanley told TalkSport radio the fees listed - as part of their legal requirements - "doesn't mean we will be charging those fees" and said their payment would be taken from money that "would otherwise have gone over to Hong Kong."
Nandy was involved in the launch of the Wigan Athletic Supporters Club's 'Save Our Club' campaign which has raised more than £640,000, with the intention the fans can have a stake in the club - and also provide a safety net if the club isn't sold.
Nandy added: "I've always been clear the best option is to find a buyer with the long term interests of Wigan Athletic at heart and my preference is to run with the supporters club, to help drive the direction of the club.
"I'd just like to pay tribute to the fans, they really are the best in the world and they deserve better than this."