Paella not pies for ex-Wigan Athletic ace!
Wigan Athletic old-boy Jordan Flores has stumbled upon a recipe for avoiding going stir-fry crazy during the long days and weeks without football.
Published 11th Apr 2020, 11:55 BST

- 2 min read
Updated 11th Apr 2020, 11:58 BST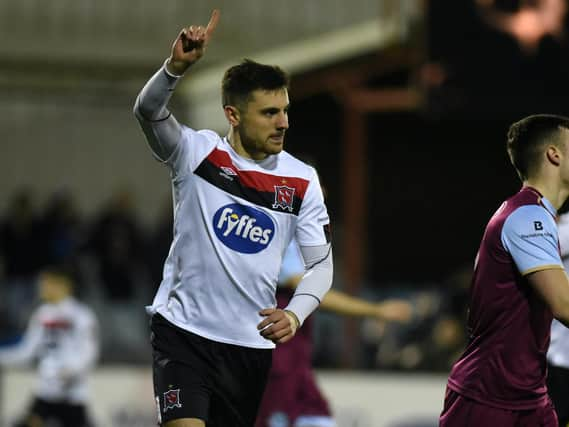 Sharpening up his culinary skills in the kitchen!
Which means the 24-year-old from Aspull – now playing over in Ireland with Dundalk – isn't feeling as isolated as he otherwise might.
"I am keeping in touch with things back home, and it is tough at a time like this," he told the Wigan Observer.
"But I suppose I'm in a similar position to what I'd be like at home, I wouldn't be able to visit, we'd be facetiming anyway.
"My girlfriend's over here with me, so I'm not on my own... I think I'd be going stir crazy if I was. It's just a case of trying to keep as busy as possible, trying to fill the days.
"I've actually found cooking is a massive distraction at the moment!
"You can kill a good few hours cooking up a decent meal, in between all the training.
"I'd say my speciality is paella, that's my go-to dish.
"I've not tried making a pie from scratch, but I've got time to have a go now!"
Incredibly, it's coming up to five years since Flores made his Latics debut, on the final day of the 2014-15 season at Brentford.
Since then, he's spent time with Blackpool, Chesterfield, Fylde and even Swedish side Ostersund, before taking the big decision to make a new start in Ireland last year
"I had a little taste of that when I went to Sweden, although that was only temporary," he revealed.
"To move over to Ireland permanently was a big decision for me, and I didn't settle in as quickly as I would have liked.
"But since I've been playing regularly, I feel really settled now, and looking to stay for a while.
"It's a small town, a footballing town, pretty similar to Wigan, maybe on a smaller scale. But it's a nice place to live, and I'm enjoying myself.
"I've struggled to get back to normal fitness ever since 2017, when I had my car crash. This season's probably been the first time I've felt like my real self, I've been playing regular football and enjoying myself.
"It's a big year in terms of getting games under my belt, and getting back to where I was."
Indeed, Flores did rather more than getting back to where he was, with a jaw-dropping goal against Shamrock Rovers in February that achieved global fame.
"It was crazy the way it went viral, the video's had over five million hits now," he smiled. "If I had a quid for every view, that wouldn't be so bad...
"The only twinge of disappointment was we actually lost the game, so it didn't count for anything.
"I wasn't that comfortable doing all the interviews afterwards, because of that, but I was advised to just enjoy the moment.
"Sadly I don't even think it will count for anything if the season gets cancelled, but we'll have to see."