PART TWO: Wigan Athletic: The 12th Man - 'After over 50 years of 'normal' viewing, I finally went over to the dark side...I took the plunge, but it was a bit of an anti-climax really...'
Our panel of Latics experts run the rule over another fine week for the club, which has seen progression in the FA Cup as well as victory over League One high-flyers Peterborough...
Watch more of our videos on Shots! 
and live on Freeview channel 276
Visit Shots! now
The League One and FA Cup double is firmly back on after another fruitful week for the Tics. Two wins in two games has got most fans in a good mood ahead of the trip to struggling Cheltenham at the weekend. The long trip to Exeter saw a goal of the season contender from Thelo Aasgaard and a tap-in from Steven Sessegnon...I think...the Devon cider had taken hold by then! I jape of course. Sunday saw the draw for round two, and it could not have been any better for us,... trip to Chester or York, oh yes please! Word on the street is it'll be a pitiful allocation for Chester and a decent one for York but, with murmurings of a TV appearance, hopefully whatever City we're in, we'll get to see the game. And if not, there's plenty of local attractions (pubs) to keep the fans busy. The midweek game against a very good Peterborough side saw a cracker of a game, a real end to end affair that could've easily gone either way until Callum McManaman strapped on - I mean in - and unleashed an absolute bullet to get us the three points. Special mentions to Liam Shaw and Scott Smith, who were absolute class on the night. With Josh Stones and Chris Sze also finishing the game - and I know it's been said a million times - what an Academy we have, thanks to the hard work work of Gregor Rioch and his team. We really would be in the mud without these lads. I also saw a couple of posts having a slight pop at Stephen Humphrys not being happy at being subbed on Tuesday. I know I'd sooner have a player unhappy at coming off than not being bothered, to me it shows he's giving his all and wants to carry on, surely! Anyway, all roads lead to Cheltenham on Saturday, and another disciplined performance is needed. Yes, we're going to be favourites but football as we all know doesn't work like that. Let our standards drop, and they'll be all over us so, without being too optimistic, I can see a 17-0 win. The games have come thick and fast recently, so an international week next week will give the lads a well-earned rest. Yes, I know there's a game against Tranmere next week in the Freight Rover Trophy, but we're already through to the knockout rounds. Play the Junior Latics for all I care. Have a great weekend Tics fans, whatever you're drinking, because we're on a roll towards the play-offs minimum, and no one's stopping us. The 'Believe' bus is getting MOT'd and the 'Bow is on order!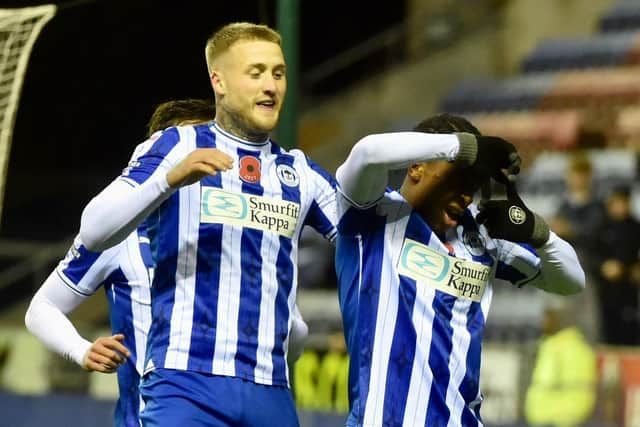 Two more winning games! Unbridled joy (well sort of) and happiness. Starting with the FA Cup game and a workmanlike performance produced the right result. Happy to see Thelo Aasgaard scoring again, but the downside is he seems to have picked up an injury just when he was coming into form. The highlight of the afternoon surely had to be the wonder goal from Steven Sessegnon, who deserved something for his continued hard work every week. The disappointment of the afternoon - well for me it - was the reaction of Gary Caldwell. I have to say he was never my favourite at the club - either as a player or manager - but I didn't think he was that petty. However, I then thought back to an away game at Blackpool a few seasons ago, when he dragged Sam Morsy off quite early in the match. Morsy was furious, and it looked as if Caldwell would never pick him again. Anyway - after Morsy was loaned out to Barnsley - Caldwell soon left and Sam came back to become one of our better leaders. Maybe Caldwell just doesn't know a lot about football, but it costs nothing to be gracious and - more importantly - people have long memories. Moving on to Tuesday night, the signs weren't good. A miserable night, and the kiosks were closed on the concourse! Plus, Peterborough started like a train and, for the first 10 minutes, the boys in blue hardly touched the ball. But the tide slowly turned and, although the game could hardly be called a classic, it was more than interesting to watch. The highlight, of course, was the fantastic goal from Callum McManaman, but that was only part of his all-round performance. I think we all know there's never going to be 90 minutes in him anymore but, for the time he does spend on the pitch, he gives 100 per cent. His tackling back was great to see and helped out immensely in the last portion of the game. There were many other good performances, but I have to single out Liam Shaw for another outstanding display. He continues to improve week on week, and his enthusiasm and work rate is a joy to behold.
Finally, a special mention to the manager. After his 'hiccup' in our last league game, it took some nerve to take off two of our better players. The majority of us raised an eyebrow or two, but predictably there were a few shouts of 'Doesn't know wor he's doing this mon!' - and worse. But, when sub Tom Pearce crossed for sub McManaman, well I think we can say Shaun knows best! A bit more fall-out from the last two games: The success in the FA Cup means the league game scheduled against Bolton will now probably be postponed. In real terms that means, between now and January 20 - over 10 weeks, we will probably only have one Saturday afternoon league game at home. From my point of view, that's even more annoying, because that sole Saturday clashes with a personal long-standing commitment – so I'll miss it! However, my position pales into comparison when we look at the potential revenue losses - and other issues - with the lack of Saturday games. I read one or two moans about the lack of atmosphere at the DW in midweek, and that the ground is too big. Well I guess the ground is an issue we should address, maybe on another day, but I'm not sure what people expect on a miserable, cold, wet Tuesday night in November. Plus, it was a school night, so even the enthusiasm from the youngsters was missing. I feel a bit guilty highlighting this, because I can offer no reasonable solution, but something needs to be done. It doesn't make sense a club suffers financially because of the international weekends or because they have advanced in a cup competition. One final point about the FA Cup victory: It looks like we have a decent draw in the next round, and most people seem to be hoping York make it through. This is mainly because they have a newer ground with a larger capacity than Chester. One thing is clear, however...whichever team makes it through, the ticket allocation won't be enough to accommodate the travelling Latics fans. And unfortunately, once again, we will have the usual arguments about who deserves to get their hands on a ticket. Cleverer people than me have tried to solve this conundrum, but surely there must be some way regular away fans get some kind of recognition?
Anyway, not sure I've contributed much this week, I've probably just pointed out the blindingly obvious. But I'm still a bit overcome with something that happened in midweek. After over 50 years of 'normal' viewing, I finally went over to the dark side. Yes...I took a flask to the game. My kids looked at me with a mixture of pity and scorn and almost refused to sit near me! After many years laughing at 'picnickers', I took the plunge, but it was a bit of an anti-climax really. It was just a cup of coffee. But there was one moment of magic when the kids found out the computers were down on the concourse, and they couldn't get anything to eat or drink. Then that cup of coffee suddenly tasted a whole lot better. He who laughs last, etc! Ah well, onwards and upwards.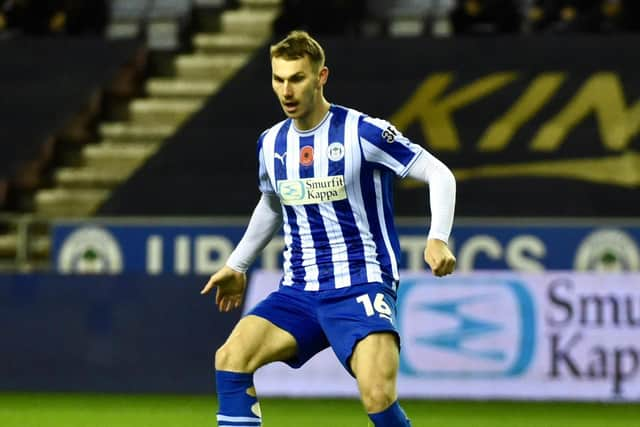 After our 3-2 defeat to Charlton at the DW on Halloween, there were still plenty of reasons to cast doubts about our team. We allowed a mid-table side that hadn't won away from home through the first three months of the season to play us off the pitch in the first half and create a half-time deficit that would prove to be too big for us to overcome. It would've been very easy to overlook the spirited second-half display that followed and assume this team was primed to start another poor run of results. Another long trip to Exeter would soon be followed by a visit from a Posh side who were eight games unbeaten across all competitions. Gary Caldwell's Exeter team surely fancied their chances for redemption after possessing 73 per cent of the ball while firing off 29 shots against us just two weeks prior. Like the overwhelming majority of our fanbase, I was unable to watch our first-round FA Cup affair, but I was overjoyed by the 2-0 winning result. Steven Sessegnon's 87th-minute wonder-strike should have no problem garnering a few 'Goal of the Season' votes come May. Another clean sheet would only serve as further evidence the defensive collapse against Charlton was strictly the by-product of a one-off performance. Sunday's favourable second-round draw – which will see us travel to the winner of York and Chester's first-round replay – only added more fuel to our fire. We were given a full momentum boost heading into a very tough midweek home fixture. However, team news prior to Tuesday's kick-off indicated we'd be missing several key players who featured at Exeter. Baba Adeeko would serve a yellow-card suspension, while Thelo Aasgaard and Sean Clare would miss the match due to injuries sustained over the weekend. News of another injury setback for Jason Kerr, along with the omission of Charlie Wyke from the matchday squad, only left more reason for pessimism leading into the match. What ensued over the next 90 minutes could easily be described as one of our best team performances of the season. We took the game to Posh early on and created numerous chances in a free-flowing first half that saw us go into the break with a well-deserved 1-0 lead. Our opponents came out firing in the second half, and it took all of nine minutes after the restart for them to find an equaliser. Maloney would make some very controversial substitutions over the next 20 minutes as a number of our in-form attacking players would exit the match in exchange for far less proven options off the bench. The move proved to be one of the best tactical decisions of the season as our attacks became more dynamic, our off-the-ball play dramatically improved, and we began to look like the team that would be more likely to grab a winner. We only had to wait until the 82nd minute for Callum McManaman's rocket strike from the top of the box to beat the keeper and allow the DW to explode in celebration. The lads would defend with gusto and hold on to secure the 2-1 victory - one of our most satisfying three-point showings yet.
Exactly one week ago, the DW crowd had every reason to doubt the direction this team was going based on a disappointing display against Charlton. Going into the Posh match, if you were only going to compare the two teams on paper, there would've been little reason to back the home side. Posh had the more experienced manager, a much higher position in the league table, and less key omissions from their starting XI. With both teams desperately seeking a winner in the late stages of the game, Posh brought on one of the best strikers in the division, Jonson Clarke-Harris, who scored 26 goals last season. Shaun Maloney brought on two 19-year-old strikers who have yet to score at this level, along with a 32-year-old winger who had nearly retired from the game six months prior. The ensuing result proved many of us wrong, and provided the perfect example for why games are played on the pitch and not on computers. The attributes our lads displayed over that final crucial stretch of the match - fight, hunger, desire, - would go on to be the deciding factor in a second half where the live betting odds were surely not in Latics' favour as time wound down. It's obvious this team possesses that 'special something' that will allow them to be a force in this league. Even if we as fans didn't have full belief in the team going into these past few fixtures, it's obvious the lads never questioned themselves for a moment - and that's what matters most. There's no reason for us to lose our balance anytime soon while riding this current winning wave. Cheltenham away awaits. C'mon lads!
In many ways, that's two perfect results in a row for Latics. Following the triumph of 2013, we know how important the FA Cup is to the club and to gaffer Shaun Maloney, who of course won the cup as a player. Therefore, it's fantastic, we have got through to the second round of the cup, especially after last year's disappointment, when it would have been nice to get a run going to mark the 10-year anniversary of THAT day out at Wembley. The second-round draw has been relatively kind to us, as Latics face a non-league side in either York or Chester. But we know as much as anyone that no team in the FA Cup can be written off. It would be brilliant to see Latics up against a Premier League side in the third round (or further) for the first time since enduring two sets of awful ownership groups. Turning attention back to League One now, and Tuesday night's result was the perfect response to the Charlton setback. Prior to their defeat at the DW, Peterborough had not lost a game since September 2, when they lost to leaders Portsmouth. The ability to overturn top sides such as Peterborough, and Oxford back in October, shows how adept Maloney's management can be. We all know Maloney is a manager who would like to see Latics controlling possession in an ideal world. However, against top teams such as Tuesday's visitors, that may not always be possible. But through the likes of Martial Godo and Stephen Humphrys in particular, Latics are always a threat on the break. We have the ability to win games in more than one way which is a major plus. Like some others in the East Stand around me in midweek, I was somewhat perplexed when Maloney chose to withdraw Jones Jones and Humphrys, especially following last week's team sheet hiccup against Charlton. However, those substitutions worked a treat. Tom Pearce looked miles better than he did last week against Charlton, where I will admit to being rather critical of him. Perhaps Pearce is just more effective off the bench, and that's perfectly okay. Another lad who is superb coming off the bench is Callum McManaman. What a goal! The winner against Peterborough was an absolute stunner. As someone who watched McManaman's first spell at Latics as a child, I feel so grateful and also nostalgic to see him performing like this in 2023. Moving forwards, it is great to see the depth in the squad, and the effectiveness of youngsters such as Chris Sze and Josh Stones. We will miss Thelo Aasgaard while he is injured, but we've proved we can produce the goods without him. It was also excellent to see how well Scott Smith performed in Baba Adeeko's absence. We have the makings of a very good side in place now, so it's all about establishing that key word. Consistency.
Some of the takes on social media during the game and pre match are absolutely mental. Who knows where we'll end up this year but it's a transition period and we're doing alright. The fellas in Bahrain who almost killed the club got more respect than Maloney from some. I don't agree with all of his subs and team selections, sometimes they don't pay off and it looks bizarre but he does care and he's getting fairly consistent results. Maybe if he got Twitter and posted a few pen emojis he'd get a few more to back him.
If you would have said to someone ahead of Derby away at the start of August we would be sitting on 17 points at the start of November, they would have snapped your hand off. When you consider, without the points deduction, we would be sat in 7th, they would be even more surprised. Tell that same person, after that torrid run in September and early October, we would win five of the next six games, and be through to the second round of the FA Cup, they would think you had properly lost your marbles. As the old saying goes, 'let Latics gel and watch 'em go'! Well, we're seeing just how true that old adage is. Despite a number of injuries to first-team players against Peterborough, we managed to see off one of the in-form teams in the division, who hadn't suffered defeat in 11 matches and, as with Oxford a fortnight before, we were extremely good value for the win. After falling behind in the second half, Shaun Maloney made a number of brave changes, much to the derision of certain members of our support. But two of those changes, Tom Pearce and Callum McManaman, came together for the winner, and what a winner it was! Lots of people questioned Maloney when McManaman returned. Maybe, just maybe, it shows Maloney - an ex-international footballer, FA Cup winner and UEFA Pro Licence coach - may know more than me and you about football and the footballers he works with every day. As with Saturday at Exeter, the confidence among this young side is building match by match. With a run of favourable fixtures coming up, we could really put some distance between ourselves and the relegation zone. Imagine where we could be now if Mr Al Jasmi had just paid the wages. Despite the ridiculous pain caused by the events earlier this year, I have a feeling this has done us good. It allowed us to bring in a manager with a vision. It allowed us to hopefully bring together a sustainable system for the club under a sustainable owner, as oppose to what we had previously. But possibly the most satisfying element of it all is seeing our own young lads running the team. When you can bring on Josh Stones, Chris Sze and McManaman - all Academy graduates, and all with something to say in the match - it's a great day for the club. Things are looking up, we're in safe hands, on and off the pitch. Give the lads time and give them support, and who knows where we could go.