Second time lucky for Wigan Athletic loan star
Leon Balogun admits his move to Wigan Athletic was second time lucky.
Published 27th Apr 2020, 11:48 BST

- 2 min read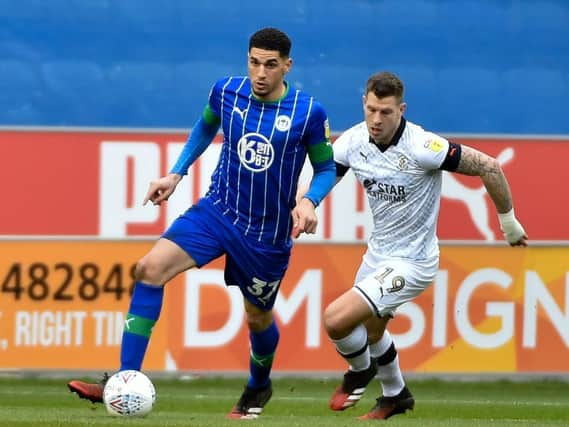 The 31-year-old centre-back made an immediate impact at the DW after arriving on loan from Brighton on the last day of the January transfer window.
His form was even more impressive given the fact he hadn't played in the league for more than a year, after falling out of favour at the Premier League club.
And the German-born Nigeria international has revealed he almost joined Latics five months before he actually rocked up!
"At the beginning of the season, I was very hopeful, because we had a new manager at Brighton," Balogun said.
"I didn't expect to start, but I thought if and when I got a chance, I would be able to show him what I'm about.
"But it didn't turn out that way and, looking back, there were some pretty clear signs that I would not be given a chance.
"I did look into leaving before the transfer deadline last summer – on loan or whatever – but the right move just didn't come up.
"To be honest, Wigan did ask about me, as well as another team, but I decided to give it one more go to make it at Brighton.
"That didn't happen, and I had to think about my situation, with my contract being up at the end of the season.
"In January, I had to do something, and Wigan came in for me again, asking if we could make a loan move happen.
"Again, I didn't feel so confident about it, because I looked at the stats, and they had lost 11 of their last 16 games.
"I said: 'Oof...I don't know about this'. But my agent said: 'Look, I know what it looks like, but it's another life experience'.
"I spoke to the manager, Paul Cook, and he is an amazing man, especially on a personal level.
"The way he spoke to me on the phone, before the deal was done, he really got me. I could really tell he had looked into me for a period of time already, and I spoke to my agent and we agreed this was a great opportunity to play football again.
"That was important with my contract up this summer, and I said: 'You know what, no risk, no fun, let's do it'.
"And when I arrived at Wigan I found an amazing, amazing group of people – both on and off the field.
"That helped me settle in, and up to the lockdown it was going really, really nice."
Balogun is out of contract this summer, and he says he hasn't given up hope of finishing his career at the highest level.
"With the Super Eagles (Nigeria), I would love to be part of another World Cup," he told the 'Funny Bone Official' podcast.
"And at club level, I would really love to play in the Champions League... that is my little boy's dream.
"I know people will hear that and ask what I've been drinking or smoking, but it's football, anything can happen."