Sunday won't decide any Wigan Athletic futures, insists Leam Richardson
Leam Richardson says Sunday's season-ending visit of Swindon won't be a do-or-die audition for any of his players wanting to secure their Wigan Athletic future.
Friday, 7th May 2021, 4:18 pm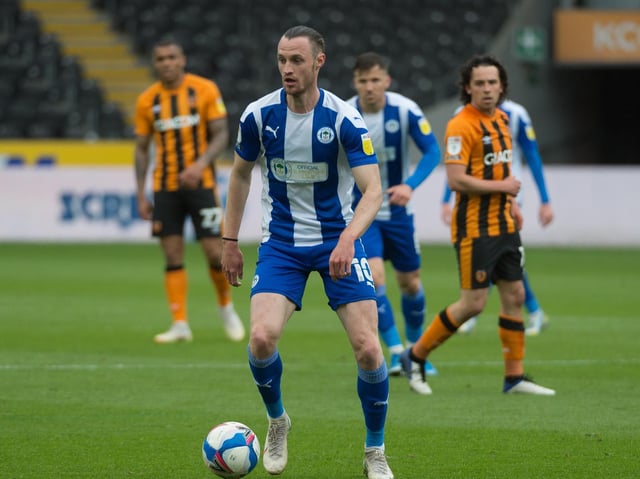 Will Keane is one of SEVENTEEN Latics players out of contract after Sunday's game
Because the Latics boss already has a pretty good idea which of the SEVENTEEN players who are out of contract after the game he'd like to keep hold of to be part of the big rebuild.
"I'm not one to be putting too much emphasis on the 90-minute period on a Saturday, and basing all judgement on that," said Richardson, who only has Tom Pearce, Adam Long, Luke Robinson, Thelo Aasgaard and Callum Lang under contract beyond this summer.
"I'm one for assessing characters Monday to Friday as well, building up to Saturday, and how they represent themselves and what they can bring to the team and the club.
"Sunday will be a chance to cement thoughts I already have – in different ways – and the lads are certainly aware of that.
"I think every time a player takes to the field, it's their duty to give their best for themselves, for the team and for myself.
"Thankfully, we don't have any lads who don't also think that way, they're all of very good character and that's allowed us to achieve what we have this season."
Richardson says he'll be fielding as strong a side as possible to end the campaign on a high.
That's despite several fringe players absolutely champing at the bit to show him what they can do.
"There's lads who have trained so hard for so long, and have been supportive of the lads who have been playing," Richardson recognised.
"Over the last month or so we've been lucky in that we've been able to field a settled team with a little bit of continuity, which is so important in a team game.
"We feel the players deserved the right to stay in the team because of how well they were doing.
"But certainly there's a few players behind them who have been training well between Monday to Friday, waiting for that chance.
"And if they get on the pitch on Sunday, it'll be no different."
Richardson says the staff and the players have enjoyed the luxury of having a pressure-free week of training – an extremely rare occurance over the last few years.
"I think it was natural for everyone to breathe a huge sigh of relief following the events of last weekend," he added. "The new owners coming in and taking over the club was a massive box ticked.
"And then obviously securing our League One status was the second part of that success.
"We've said for a while how determined we were to ensure when fans came back it was to a League One club – and we didn't say that flippantly.
"We know the last time they were in, it was for Championship football, and we didn't want to drop two divisions in the meantime.
"We were desperate to ensure that didn't happen, and everyone has dug in to make sure that wasn't the case.
"There's a lot of men and women here who care about this football club.
"And when you get them together on the same path, it means you can do special things, which we're hoping to do in the future."
Get 20% off our sports subscription package and stay up to date with all the latest Wigan Athletic news with a year's subscription to WiganToday for less than 9p a day. Use promo code TRANSFER20