The 12th Man: Where will Wigan Athletic be 10 years from now?
Our panel of experts have their own ideas of where Latics will be come May 2030...some good, some not so good...
Published 7th May 2020, 14:03 BST

- 14 min read
Updated 7th May 2020, 14:04 BST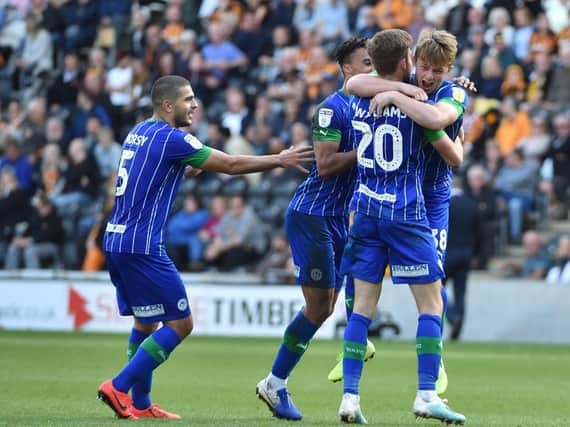 Some years ago, I wrote an article simply titled 2032. Those with a keen eye will be aware of the significance of that year, and now the reality is, that with time passing by, it is a mere 12 years away. It is just a year, a point in time in the future but on August 27, 2032, it will be a hundred years since Wigan Athletic played their first ever football match. Of course, we are behind the curve compared to many other clubs. However, most other clubs haven't had the fractious history and local challenges, yes let's call them challenges, that simply don't exist in most other towns. Lest us forget that it was only a couple of decades ago that it looked like Wigan Athletic could go the same way as Wigan Borough, Wigan County, Wigan Town and Wigan United. The reasons why those clubs fell by the wayside is equally murky, if you dig around a bit into the history. Although to be honest, the themes are mostly consistent with the treatment Wigan Athletic suffered in the late eighties and early nineties at the hands of others, many of whom whose job it was to support and protect their community football club, yet often seemed to do the exact opposite. Many of whom were climbing over each other 10 years later, albeit some through gritted teeth, to congratulate Wigan Athletic, as it made an unlikely ascension into the Premier League. For many misguided football fans, and indeed sports fans, history seems to equate to trophies. Those who choose a team to support in order to maximise their bragging rights rather than adopt a little humility and look around their community and think about where their support could have the greatest impact. Yet every football club has a unique history, and it is very often the struggles and adversity they face that really bring the colour into the archives. As it goes, we've been lucky enough to have quite a bit of success as well, but nobody got into supporting Wigan Athletic to take the easy option. Make no mistake, the greatest achievement of all that Wigan Athletic FC has done is surviving.
I don't have the word count to document the challenges this club has faced, from formation to trying to become established in the league, to financial difficulties and some draconian treatment from the local authorities, all twisting the knife when a helping hand was needed. Triumphing through all that, with more than a little help from a certain white-haired white knight in recent times, needs celebrating. It needs remembering and celebrating every time we take to the pitch, whenever that next might be. Now Dave Whelan has cut his ties, of course, the future is uncertain once more. And to be fair, both the subtle and overt obstacles that once stood in the way of Wigan Athletic are now less of a concern. It is, of course, the money that has flowed into football, that has perhaps steamrollered any past perception that having a thriving little club in the town might not be desirable. We are established and playing in one of the biggest leagues in the world, bringing the footfall of 300,000 people into the town over the course of nine months. Thankfully most football fans seem to enjoy our pie shops and pubs and famous hospitality with good spirits these days, compared to the bad old days of smashing things up. Yet money is also the biggest threat to our existence, as it is to every football club's existence. And when I look at our current custodianship, I can only revert to the same question that goes through my head all the time..."what's in it for them?" I can't answer that, of course. Yet without their financial support, we have no football club. Let's be clear, this isn't an isolated scenario: there isn't a club in the Championship who don't have an owner with deep pockets, it is a pre-requisite of owning a football club now.
To return to the editor's opening gambit as to where I think we will be in 10 years' time, and with the expectation of a Bruce Forsyth type 'higher or lower' response, I would tend to believe we would be lower. But I'd be happy with that, so long as we are still in the game. If there's one thing I hope people have learnt during these strange times, it is that, yes of course, results are important. But they aren't the be all and end all. Having a football club to watch is what matters, a place to spend your Saturday afternoon. Whatever society emerges outside the other end of Covid-19 will undoubtedly be very different, and indeed football and sport you'd like to think will be very different. Everywhere, business models are being adapted, reviewed and amended and I'd like to think football will do the same. I'm not holding my breath, though, as the rumours won't go away that Premier League football will recommence in just five weeks' time. Apparently, it will be good for the morale of the country. I tell you what will be good for my morale: people not dying. Everything else can wait. Including my beloved Wigan Athletic. So long as we have a football club to watch in one year, five years, 10 years and yes, 12 years' time, then we have something to celebrate and be thankful for, through good times and bad.
Ten years ago this past weekend, Wigan Athletic were seeing out the season with a 2-2 draw at home to Hull. Despite losing to West Ham the previous week, Roberto Martinez had steered his former club to safety in his first season as manager, and with it would follow an unprecedented sixth season of Premier League football. I'm not sure many at that point would have predicted we would have the decade we have just had. Many may have thought relegation was a certainty the following season – especially after seeing us ship eight at Chelsea on the final day of the season. Not sure many would have predicted that we would relegate West Ham in such dramatic circumstances a year later to help seal our own survival. Or indeed that we would beat anyone who was put in front us in a remarkable 2011/12 season to again secure another unlikely season of Premier League football. I'm not sure many would have predicted we would win the FA Cup by beating the richest club in the land, or indeed we would nearly do it again a season later. Some may have predicted that we would play in Europe one day, but would it be as memorable as it was? Did many predict the aftermath of those Premier League years? Failed managers left right and centre and two relegations. I'm not sure many would have predicted us winning the League One title, not once but twice, 10 years ago, indeed how many would think League One Wigan Athletic would reach the FA Cup quarter-finals by beating three Premier League sides? That's the issue with predictions, life and indeed football can change in the drop of a hat. Who had 'season interrupted by deadly pandemic' in their list of predictions at the start of the season? Not many I'd wager. So to contemplate where we may be in 10 years' time is fraught with difficulty.
I can instead list the scenarios I hope are true in 2030, and see where we end up. First and foremost I hope we still have a football club to support. None of us know where football clubs could be in a post-Corona world or indeed what state sport as a whole could be in. First and foremost is that there is still a club left for us to support. My little boy is five now and has been to a couple of games this season. We were hoping to bring him to more games towards the end of the season before finally making proper use of his season ticket next season. For him not to experience what I did with my dad is a thought too difficult to bear. I would have felt a lot more confident going through a crisis like this with the Whelan family still at the helm. Someone who really did have our best interests at heart would have made me feel a lot more confident that, come what may at the end of this awful period of time, there would still be a club for us to watch. Darren Royle says our current ownership, who have been subsidising us since they completed the purchase from the Whelan family in 2018, will maintain that, and alongside wage deferrals, will help to see us through. But who knows how long this crisis may go on for? Even if games are played behind closed doors over the next few months, a big slice of our income and other club's incomes will be taken away and, no matter how many subscribers you have to streaming platforms, it won't replace the matchday income you generate by getting people into the stadiums. There's the other way of looking at things of course, and this crisis may well be a leveller for football clubs. Those who have constantly overstretched themselves to gain an advantage may find it a tougher way to operate in the brave new world. Who knows what state football will be in when we get back to some form of normality for the country and indeed the Football League. As well as having a club to support, I would love to see a competitive Wigan Athletic. IEC said they expected a return to the Premier League as soon as possible. That clearly isn't going to happen but, if we manage to stay competitive in the higher echelons of the Championship, I think most of our supporters would be happy with that. Let's hope we're back soon to actually witness us playing a football match.
Ten years is a long time in football. Ten years is a long time in the life of anything really, be that a person, or a sporting team, or a business project. If you sit down and try to predict where Wigan Athletic could be in 10 years, then your head might explode given all the complexities of the current ownership, the club's financial position, the Covid impact, and also the mood of the sporting public in general. The club could be in the Premier League (the remotest outcome by a country mile), hopping around the lower leagues (most likely) or they could be playing on Parsons Meadow in the Sunday League, it really is that wide open. The reality is that anything could happen, it really could – it's an amazing club with an amazing history. When I look back over the years I have watched the team, going back to the non-league days of 1976 to the top flight years and winning the FA Cup, you just could not have predicted any of that, could you? The impact of Covid and there were rumours in the press that football could be played behind closed doors for another 12 months, could be life-changing for many clubs. So for me, if we still have a professional football club in Wigan in 10 years' time, then that will be an achievement. The optimist in me says that in 10 years, captain Joe Gelhardt will be stood on the steps of the Bernabeu with the Champions League trophy after a comprehensive destruction of a resurgent and reformed Dukla Prague. Lockdown does that to you.
Where will Latics be in 10 years' time? I don't think anyone can predict where football will be in 10 months' time due to the pandemic. The face of football will change for a good few years now, money will be tight, wages will drop, so will transfer fees from the Championship downwards. Talks of north/south divide salary caps, TV contracts will be harder to negotiate with the ongoing fears of second, third or even fourth waves of Covid-19. On to Latics, how long will our owners want to hang around in the new football landscape, propping up the club. Who would want to take over us? All in all, I've no idea how football or Latics will look in 10 years' time. Stay safe.
Where do I see the Tics in 10 years' time? Well I'll be approaching 50 years of watching them, and no doubt I'll be sat in a bar somewhere pondering whether to go the game as usual, be it Barcelona, Liverpool or Bolton in the non-league. From loving the early days at Springfield Park, Dave Whelan buying the club and promising Premier League football (oh how we and the world laughed), watching us beat Liverpool, Manchester United,Chelsea, Manchester City (as usual) and Arsenal et al in the Premier League, winning the FA Cup, relegation to League One and coming back with some great days out, to hopefully settling in the Championship this season, I'll be really honest, I couldn't care less what division we're in. At Wigan, we've seen things 90 per cent of clubs can only dream of, and I can always say "I was there". The only thing I'll hope for in 10 years' time is all the lads I go with, all the lads and girls I speak to while I'm there, all the people that are associated with Wigan Athletic are still around to see us beat Man City – probably the Intergalactic/Universal World Champions by then – 1-0 at the DW with a nearly 60-year old Cad bouncing around on the pitch taunting "mum of 17" in the away end. Who cares what division we're in... we're all Tics, aren't we? Right, 'Bow time!
If a week is a long time in politics, it's an age in football. Fans can go from the highs of winning an FA Cup final, to the lows of being relegated. Sounds a little far fetched, a bit too reverse Enid Blyton? We all know it isn't, of course. So to figure out where Latics might be in 10 years' time isn't as straightforward as it would be for fans of many clubs. We all know from experience that being a Latics fan is never straightforward. We went from near-bankruptcy, and almost dropping into the Conference, to the Premier League in 10 years. We went from losing at home to Donny Rovers in the LDV to winning the most famous trophy in sporting history in 10 years. A decade, just to be clear, is a very long time. If I'm honest, I have a nagging fear at the back of my mind that we might not have a club to support. In the blink of an eye we've gone from the absolute financial protection of a local-boy-made-good to the slightly dubious no-chance-of-making-a-profit-so-why-did-they-buy-us ownership of a largely anonymous Chinese corporation registered in a tax haven. Eventually, as we've seen time and time again around football, the plug will get pulled. And then what? We can only hope that somebody else with deep pockets comes along to at least keep the club afloat. If not, then the alternative is quite terrifying. But, all that aside and assuming we're still around, in football terms I can see us still hanging around the top two divisions. I don't think the Premier League is off limits, even to a club as small as Latics. We've done it before, so why not do it again? Bournemouth are another good example of how the right players and manager can achieve near-miracles. As wonderful a time as we had in League One, I don't really want to keep going back there. Yes, it was all great fun, but we carry an expense sheet that is unsustainable on a League One income. It isn't really sustainable on a Championship income, for the most part, but at least it isn't a death sentence. Not quite. I'll be happy if, in 10 years, we're bobbing about in the middle of the Championship. To be winning as many games as we lose hasn't been an overly regular occurrence since 2005. I'll take it, though, coupled with the occasional decent cup run and a bit of flirty eyelash fluttering at the play-offs every now and again. For the vast majority of clubs in English pro football, life is uneventful. For a handful, it's eventful but expected. For even fewer there are brief, glorious eruptions of brightness. For Latics, we never know from one week to the next what's going to happen, never mind over 10 years. If I was to rub a Mitre, size 5 regulation weight, and a genie appeared offering me one wish for the coming decade, it wouldn't take much thinking about. For once in my Latics-watching life, I'd like us to strive for mediocrity. Not so mediocre that we end up like, say, Preston or Derby, but mediocre by Latics standards. And to still have a club to support.
In the past year or so, I've often thought about the future of the club and where we'll be in 10-20 years time. Not from a 'what league will we be in' perspective, but more 'will we have a club to support in 10 years' mindset... and I know that's a bit depressing. Football is getting worse with the amount of money involved in the game, particularly in terms of the number of clubs in debt and player wages play a big part of that. Wages continue to rise, and it feels too late to introduce some form of salary cap. But even if such a concept were to be introduced, where do you draw the line? Do all clubs have the same cap on wages, or do bigger clubs have larger limits compared to smaller clubs because of their better revenue streams? With our latest financial results, we lost £9.2million in the space of 12 months, and a large proportion of that is due to player wages. Thankfully we've had the Whelan family covering our losses for a prolonged period of time, and now IEC have taken on the burden. Given we rely on owners to cover the losses due to our low income revenues, I often think about whether IEC will still be around in 10 years' time, and whether they will stick around if their ambitions of Premier League football are not met. IEC are still in the very early days of owning the club, and I do like their plans on developing players through the academy for the first team to then sell on for profit, as well as buying young, hungry players to sell on hopefully for big money. If it works, then it could help with working towards making the club more self-sufficient financially, but to combine that with the goal of Premier League football is extremely difficult. It's vitally important to keep your best players when pushing for promotion, so we would need to find a balance that works for the club. But for me, as long as there's a Wigan Athletic to support in 10 years' time, I don't mind what league we're in. Obviously I still want us to get back to the Premier League one day, but we all know it's not the be-all and end-all of football, and some of my favourite away games have been from us playing in the EFL. If IEC have the patience and best interests of the club at heart, and if the youth development ambitions become successful, then the next 10 years could be very exciting. If IEC suddenly get bored at a lack of progress, and decide to sell up at short notice with no consideration for the future of the club, who knows what can happen? Let's hope for the former, and if we're still knocking around the Championship in the future, that'll do just fine for me.
By the end of the 2010 season we'd secured another season in the Premier League, a certain Spaniard was in charge and we had a squad containing a number of players who would go on to earn an FA Cup winners' medal. Fast forward 10 years, and we can reflect on dramatic survivals, cup wins, European football, cup runs, relegations, promotions, numerous managers and a change of ownership. To say it's been eventful is an understatement. Where do we go from here? If the next 10 years offers us half of that, it'll be a fun ride. The change of ownership was and for some is still a little unsettling particularly in the current climate. Obviously I'd love to win the Premier League, cups, European Cup, etc..... but quite frankly I'd take a Saturday 3pm kick-off in any league at the moment! So fast forward to the end of the 2029-30 season.....I predict a final-day victory cementing mid-table in the Championship (or whatever it's called by then)! What happens in between, who knows, let's just continue to enjoy the ride. Up the Tics!