'There is something great happening here, once again, but it takes time. We are way ahead of where we could expect to be, and there are glimpses it could get even better...'
Our panel of Latics experts run the rule over another fine week for the club, which has seen progression in the FA Cup as well as victory over League One high-flyers Peterborough...
Watch more of our videos on Shots! 
and live on Freeview channel 276
Visit Shots! now
Well, well, it is quite the football team we seem to have got together here, and it is full credit to one Shaun Maloney, and his backroom team, for working miracles compared to the Doomsday scenario we faced, just a few months back. Watching young, exciting players giving their all for the blue and white is more than we can expect, given the turmoil of the summer, and we are truly blessed to support such a wonderful football club. We have more than matched the top teams in this division, now the ridiculous refereeing decisions seem to have settled down, and played some scintillating football at times. Of course, it hasn't always gone all our way, but again, I don't think we have any right to expect it to. I note I got a few pelters for my comments the other week - stating it would be like the admin season - with folk putting 2 and 2 together and getting 372. My point, in case it wasn't obvious, was the similarity is we have had to blood a number of untried youngsters because we are under a transfer embargo, and we have limited depth in a squad thrown together at no cost and very short notice. My secondary point was, unlike the admin period, this time we can actually turn up and support them and cheer them on, as opposed to them being stuck behind closed doors. I think it is abundantly clear this current crop are far more talented than many of the previous crops, and are doing us proud, so we've come to expect more from them. But piling pressure on them helps nobody. Throughout the team, let alone the squad, there are players who had barely played a league game before this season, and they are acquitting themselves brilliantly. They are also going to have off days, and that is when they really do need your support. They are only going to improve in confidence by playing games and getting encouragement from the crowd. We are stronger this time, as we also have kept the bulk of the residual squad under contract. Although, lest us forget several of the better players chose to walk and go elsewhere, and we are left with the ones unlikely to get a better offer at this stage of their career. This is all stuff Maloney is working through. There are undoubtedly issues bubbling away behind the scenes, indeed they have been publicly alluded to at times, in not so many words. If you look at the forward line, we know Josh Stones and maybe even Chris Sze are the future, Stephen Humphrys is the present and hopefully the future too, but also Charlie Wyke and Josh Magennis are the present, and will be until the end of this season. And it's up to them how hard they choose to train and play out the remainder of this season. All three of those are senior pros in a very young squad and should be setting examples. Humphrys, along with GOD - sorry Godo - is looking like THE key player for us this year. Someone just needs to buy him an alarm clock for Christmas and he will be pivotal to our season! Again, there is discontent among the fans over the non-selection of Wyke. Again, reading between the lines, one can only assume Josh trains a lot better than Charlie. However, I also sympathise with Charlie...after everything he's been through, you couldn't blame him for having his fair share of emotional/mental health issues after such a life-changing trauma.
However, what I say or you say makes no odds. The ball is in their court not mine. Of course some of the ball might be in Maloney's court. But he sees what goes on day to day, and no doubt what he sees physically at training, is backed by reams and reams of data and statistics. They know when players are in the red zone, or whatever it's called, and whether they are fit to play. Even in League One, they will monitor every single attribute of fitness, nutrition and energy levels. Team selection will be backed by data analytics, as well as form and judgement. So can we please stop with the hysterics every time the line-up comes out, or Every. Single. Substitution. Is. Analysed. To. Death. I've seen dancing robots do less backtracking than there was on from some of our fans during the course of Tuesday evening. Call me a simple old fool, but it bears repeating. I inherently trust a former professional, Premier League footballer with half a century of international caps and extensive coaching badges, with a team of people supporting him and access to a mountain of data about his squad, which he spends all week with, not just the odd 90 minutes here and there, perhaps knows slightly more than you or I do about how to manage a football club. He's not perfect, but nor would he pretend to be. Of course he's got things wrong this season, most notably the Charlton and Bristol Rovers games. And you know what? He came out and said as much immediately after both games.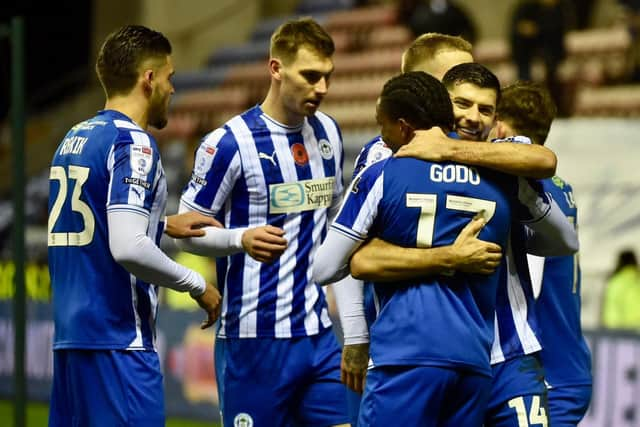 I've noticed a few people have described the contributors to this column as 'fan bashers'. Let me clear this up for you, we're not 'fan bashing', we're 'critic bashing'. And for clarity, a critic is usually somebody who, out of all the ways they could contribute their time on this earth, choose to spend it moaning and criticising others. Usually others who are considerably more qualified than they are, and have achieved considerably more than they have. The old maxim of not taking criticism from those you wouldn't accept advice clearly applies here. This is not me saying to people 'stop having an opinion', and there's not a hope they would listen to me anyway. But we have a particularly destructive element to our support that was calling for Maloney's head a few weeks ago, or tagging players on abusive tweets. There is something great happening here, once again, but it takes time. We are way ahead of where we could expect to be, and there are glimpses it could get even better. Maloney admits he is openly fallible as a manager. He's an emotional fella with genuine passion who cares for our club as much as we do. But make no mistake. Like most open, progressive football managers, if he gets time to do a job here, he will undoubtedly build something special. Unfortunately, as patience is in short supply, getting time isn't the case too often in modern football, as the clamour to get rid gets deafening during every bad run. Let us not forget in the 80's, Alex Ferguson was a dodgy cup game from getting potted. The landscape of top-flight football would have looked very different for decades had that situation unfolded. And before the critics pipe up again, I'm not comparing Maloney to Sir Alex, it is an example. A very good one, of giving a manager time, rather than jumping on his back every time he makes a decision you don't like, when you don't barely possess any of the facts as to why he has done it. This season is turning into the latest wonderful chapter for our amazing football club, a club that has given back more than most of us could ever imagine. You have two options, you can either spend your time enjoying the latest roller coaster ride. Or spend your time continually coming up with distorted theories about how everything should be better, when the truth is there's barely a set of fans outside the top flight who would swap places with the stuff our club has achieved over the past few decades. If you're with me – great. If you're not, never mind. We'll keep smiling, you can keep groaning. I'm sure it's serving some purpose, somewhere.
It's a funny old game, as some wise sage once said. A few weeks back we couldn't buy a win, we were even struggling for goals. Our Toughsheet rivals were having a field day at our imminent plunge into League Two. But tales of our demise were premature. Here we are riding the crest of a wave of optimism after two more wins since our last epistle here. The FA Cup dream carries on with a superb win in Exeter, capped with a worldy from Sess. A tie against non-league opposition awaits and, although we know there are huge banana skins lying all around, the third round is just visible round the corner, and the prospect of us beating Manchester City yet again looms. Shaun, of course gets it - the thing between Wigan and the FA Cup. He understands what it means to the club and the fans, in a way that, for example, Uwe Rosler never even vaguely understood. Shaun knows the Cup is a big thing, and will do all he can to get us as far as we can go. Tuesday was, of course, a horse of a different feather. A league game against one of the front runners, who have had a great start to the season. But within seven minutes, Martial Godo did what we have all been crying out for our players to do - he attacked them! Push forward, pressure them, and nip in and connect with a ball into the box. It looked like we had got the answer and, with Peterborough playing a very high line, they always looked vulnerable. But sadly that never came about in the first half, and a bit of switching off to let them equalise gave them hope. In the second half, I showed I know nothing about football. It's why I write in this column. I bemoaned the substitutions. I was baffled by them, I couldn't understand the tactical changes (nothing new there – to me tactics is 'kick the ball into that net thing'), and there was a lot of head shaking. Of course I was wrong. Just as I was when the corner came across, and I voiced 'well that was a (expletive deleted) corner' at the same moment Callum blasted the ball into the net. He has been a revelation, has Callum, and is just what we need. In a team of quite young players, an older, wiser, more solid head - who knows when to play a fancy pass, when to take a man on, when to shoot, and also defensively when just to hoof it - is something the youngsters hopefully will learn from. The downside to the night, however, was apparent to all. Wigan Athletic with an IT problem? Surely not? No beer, no pies, it's a calamity. Get it sorted, along with a better ticketing system that lets you buy tickets for family, and we'll all be happy. Although I do wonder about the ticketing. I'm sure the gate staff just wave a phone at your ticket, go 'beep' and press the release for the turnstile. At least it works. Hopefully normal service at the bars will be sorted by next game. It's these things that matter. Onwards and upwards.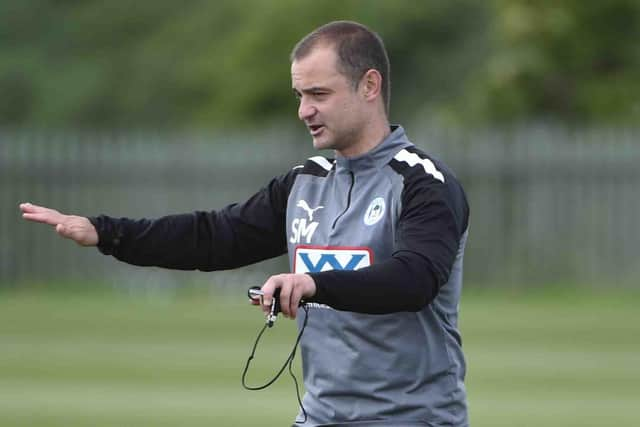 To those for whom it might concern/apply (Tuesday and/or previous matches), write out 100 times: 'Shaun Maloney knows more about football than I do, and I should think twice before criticising his decisions or team management...and certainly, I should keep my mouth shut in preference to calling for him to be relieved of his position'. That's it. Nothing else required...except for offering a very warm 'well done' to all concerned for the past two games.
Do you ever feel you're heading down a path that will only ever lead to heartbreak? Well, I have that feeling right now after another wildly successful week supporting Latics. In the last 12th Man, we were looking ahead to the Exeter tie in the FA Cup first round, and I mentioned how a victory would boost the morale of the whole club, and ignite another spark when coming back to League One football. What I didn't expect was just how good we would look against a fantastic Peterborough side, who I have no doubts will be in the play-off places - or higher - come May. Now, I mentioned heartbreak at the start of this, and I say that because I have fully fallen in love with this squad and our loan players. We all know the saying: NEVER fall in love with a loan player. I am really trying to not think about the time when Martial Godo, Liam Shaw and Liam Morrison eventually depart us. I'm still not recovered from the Reece James era! But my oh my are they a joy to watch play football. The minus eight deduction means our true performance will never be reflected fully in the table, and who knows how that will eventually impact us come the end of the season. At this rate, we might just miss out on the play-offs by a handful of points and, while that might actually be beneficial to have a rebuilding season and stabilise the club better, it will be a 'what could have been' moment. Shaun Maloney deserves an almighty amount of praise for what he is achieving with this club. I did a cross-comparison between our overall form heading into the last international break, and our form after it, and the turnaround is sensational. Before the last break, we played 14 games in all competitions, winning five, drawing three, and losing six. Breaking that down into 45-minute halves, we won nine, drew eight, and lost 11. After the break, we have now played six in all competitions, winning five and losing one. Again, breaking that down into 45-minute halves, we have won nine, drawn two, and lost just . For the halves that we have won, we have scored 11 and not conceded a single goal. How about that for a turnaround? Darren Ferguson and Gary Caldwell have both had a lot to say about their losses to Wigan recently, but to them, I say it's an 'unforgiving league' when you don't take your chances. Both sides had chances, they didn't take them, and Latics punished them for it. That's football. Maloney has long been saying Latics need to be 'better in both boxes', and we are seeing that now. The way he has set us up to defend makes it difficult for the very best teams in this league to break us down, and our attacking phases are rocking the best defences. So that begs the question: Are Latics growing to be one of the best teams in this league? Well, we have the most wins outside of the top five, and we are tied with Portsmouth, Derby and Charlton for the fifth-highest goal tally with 25. There's a case for the argument...so, what next? From now until the next 12th Man, we go to 23rd-placed Cheltenham - who have just eight points from 15 games and have scored just six goals - and then Tranmere in the EFL Trophy, where we are already through the next stages. This isn't a time for Latics to take their foot off the gas, by any means, but in the latter game, I would love to see our Under-21s given another crack at first-team football. Harry McHugh, Youssef Chentouf, Chris Sze, James Carragher...get them all in that team. For now, we are out of the relegation zone, the second-most in-form team in the league over the last 5 - tied with Bolton, 12 points from 15 - through to the FA Cup second round, through to the EFL Trophy next stages, and playing such enjoyable football to watch. Up the Tics!