This is what Wigan fans are saying about Paul Cook's emotional words after QPR win
Wigan Athletic fans have reacted to manager Paul Cook's heartfelt comments after his side won by a single goal against QPR last night.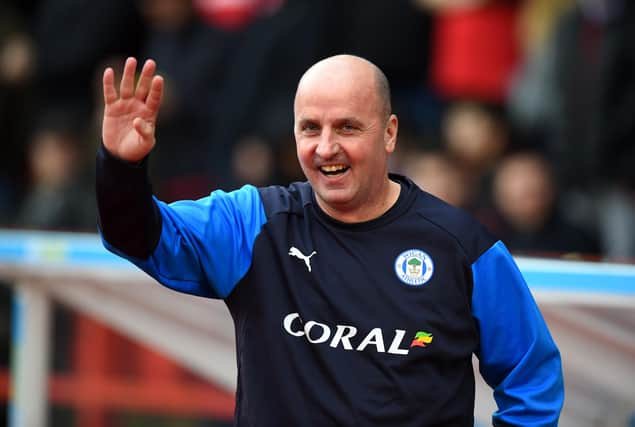 The result sees the Latics edge closer towards Championship safety after it was last week announced that the club had been placed into administration.
"What a tough week. Not just for me, not just for the players, but for Wigan Athletic Football Club and the town," cook explained post-match. "It's probably best not speaking about the situation we find ourselves in, so I'll just concentrate tonight on thanking our supporters.
"We're well aware of what's going on. We're well aware of what our supporters and our local MP [Lisa Nandy] are doing for everyone connected to Wigan Athletic.
"Jonathan Jackson hasn't stopped working despite being made redundant, Darren Royle our executive chairman. These people are just working and working, Louise Kerrigan, Andy Birch, everyone is working so hard.
"To see it and to see the redundancies really hurts us, so tonight, what could we give to the fans and the people? We could give them a win, no matter how we did it, just win. I'm so pleased for the players that they delivered that for the supporters."
And Wigan fans were quick to react to their manager's words – here's how YOU reacted.
@AbramLatic: "What a man...inspirational."
@Cookiethehamst3: "Love you Cookie, so proud of you. Thank you from the bottom of my heart."
@galore_goals: "Thank you thank you thank you TEAM WIGAN. Played brilliantly. Thank you! oh, again thank you. A tireless effort in Wigan's latest 'Cup run' and we are good at them. YOU can do it and you'll be equal heroes as the 2013 team; just different. Thank you."
@LaticsBR: "Congratulations to all players, coaching staff and fans for not giving up on this great club, we will win."
@jailbrkr21: "LOVE you all at this club, tell all the players from ALL of our supporters. We love them all. They are all the best fighters we have ever had. This is the toughest test for our club but with a group of players and staff that we have WE WILL WIN. Thank you"
@catalinar: "A fine fine manager."
@PeterGr13642731: "Paul cook has gone above and beyond phoning all the staff that lost their jobs. And getting the team run through walls for him sorry for doubting you early in the season your a great lad and a great manager and your one of our own legend."