'We've got a fighting chance, and I think it is time to put any previous finger pointing blame squarely in the bin...'
Our panel of Latics experts dare to dream again after a fighting display at Luton, and the beginning of the January arrivals through the door...
Published 12th Jan 2023, 15:56 BST

- 12 min read
Updated 12th Jan 2023, 15:57 BST
What's that noise I hear, starting up in the background? It sounds like a croaky old engine, which has fired back into life after a long period of dormancy. Could it be? It couldn't be, could it? Could it be THE #BELIEVE BUS? Well, it could be, I suppose, but things are looking marginally more positive than a week ago, in that we didn't get hopelessly battered at the weekend, for once. I had the little rant I needed to get out of my system last week, but there are signs we might all be able to move on soon. I don't know where you are personally up to on the seven stages of grief scale, but the 'shock', 'denial' and 'anger' has gone, and I have moved on to the 'acceptance' and 'bargaining' stage, as in 'things might not be so bad after all'. My definition of things 'not being bad' is a lot more generous than others, I should add. However, at least the existing squad seemed to have galvanised a little, based on Saturday's performance, and the cavalry is on its way in the form of exciting new signings. OK then, loan signings. It didn't go unnoticed we reverted to type in terms of style at Luton, with low possession, deep defending, packing the midfield and getting rid of the ball quickly out of defence. It was almost like a Leam Richardson performance, aside from Big Josh bouncing aimlessly off centre halves up top. I think this is the right way to go at the minute. Kolo clearly has grand plans as to how he wants us to play, but I think it is a case of evolution not revolution, given the pickle we currently find ourselves in. I've said previously I really don't care how we play, as long as we turn up, work hard, give it our all and find the best way possible to get some kind of points-collecting results with the limited squad we've got in each game. We simply don't have the players, or the time to teach those players to play a completely different style of football in the short term. And throwing a bunch of strangers into the mix, in January, isn't going to immediately result in team cohesion, when they don't even know each other's names, let alone how to gift wrap a silky pass to each other with the outside of their fancy coloured boots. Long term, if there is such a thing in football, then fair play, I'm all for some exciting, possession-based, pressing football, but now isn't the time to do it. Changing the style of play mid-season is like going to the London Philharmonic Orchestra at the Royal Albert Hall, changing all their instruments around during the interval, and expecting them all to play a completely new tune. The big handed tuba player is left tingling the triangle and the double bassist is haplessly twanging on a flute, while the cellist is in tears. Let us keep the changes to a minimum for now, slowly embed the new players, by all means try a few different things, but we cannot carry on to be as open as a 24/7 hypermarket at home, otherwise goals will continue to leak. Put up a fight, however we play, and the fans will respond. I know we're away this weekend, but it is the home form that needs work: two wins at home all season distresses me greatly. And not me personally - I see lads and dads (and mums and lasses) at the game and on the school run, and I wonder in particular, how kids respond to us getting tonked. In truth, they're probably more resilient than us grown ups. However, there's one bloke I see at nearly every game with his lad, faithfully turning up, hoping for a win and returning home disappointed. I don't want Latics to win for me, I've seen enough glory. I want them to win for this family and hundreds like them, kids who are just getting into watching their local team. Kids (and parents) who have been brave enough to buck the increasing and misguided trend that football is a TV show, and you just latch on to whichever team is winning, at home or abroad. I still don't know whether we will get the required quality in, to win a few more games and get us out of the mire. We have clearly gone a few steps backwards since November, and I'm not getting massive BELIEVE vibes in all seriousness. But I've hit the stage where I've accepted we'll probably get relegated and, therefore, if we can somehow manage to stay up, it would be an amazing achievement. If Kolo can keep us up this year, then he will be a hero and can be our manager forever, in my eyes. But then I said the same about the last bloke who turned us around from a near-impossible situation, and that didn't quite turn out the same. I don't know whether the blame lies with the board, for taking so long to appoint, or even Toure, for what was a disastrous start to his managerial career. But he has got the responsibility of turning it around and pulling off something special. He seems a determined, ambitious chap and, even though we seemed to have given up on the field in many of his games to date, he seems pretty focussed on getting things right off it, and sticking to what is a difficult task. Players are coming in, they may or may not be good enough to make an impact, but I am just pleased we are getting players, given the many concerns over late wages. We've got a fighting chance, and I think it is time to put any previous finger pointing blame squarely in the bin. What's done is done. League One isn't a stranger to us, so long as there is a plan regardless of whether we go up or down. But it is still only January, and there are plenty of points available to keep us up. It starts on Saturday at Cardiff, and then a double header against Luton. A chance to put things right and start fighting back. Over to you, Kolo.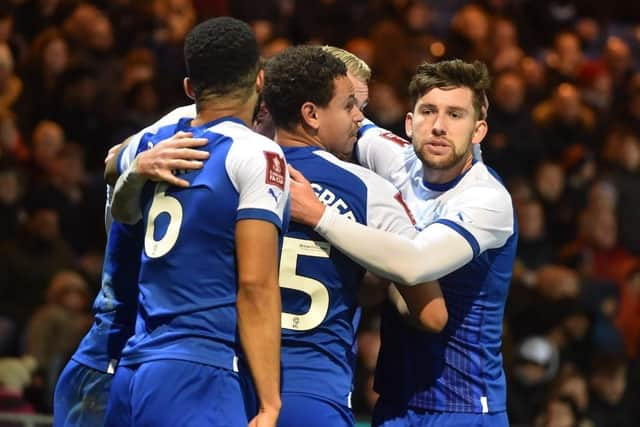 A much-improved performance away at Luton, spoiled only by Callum Lang pulling back the goalkeeper to have what would of been the winner chalked off. I've mentioned numerous times last season Lang's shirt grabbing and, despite giving free kicks away and picking up bookings, he doesn't appear to have learned and it's finally cost us a game. Now the window is open, it's good to see quick work in getting Steven Caulker and Miguel Azeez in. We need more, but I don't take notice of rumours, I just wait until they are holding a scarf above their heads with a shirt on. Back to league action this weekend at Cardiff, which is a true footballing six-pointer. We need the win, but it's definitely a 'do not lose' game. Stay safe.
Over the course of one week, the energy surrounding Latics has taken a drastic shift for the better - and we haven't even won a match! Halting our four-match losing streak with a draw at Luton combined with some positive movement in the transfer window has done wonders for boosting the morale of our fanbase. The recent departures of Graham Shinnie and Nathan Broadhead no longer seem like the season-crippling blows to our squad that would have guaranteed our relegation. Our third-round FA Cup replay against Luton has a bit more allure knowing we'll have a very beatable Grimsby side visiting the DW in the next round. The prospect of drawing a 'giant' in the fifth round is still alive. We've made our first new signings of the window and are linked with a handful of names who could be legitimate difference makers over the final four months of the season. For the first time in a long time, we've been given reason to dream about anything other than keeping our head above water in this division. All we can ask from ownership is to do the best they can within their means to give us a competitive squad. Buying Broadhead from Everton for over £1million might not be a financially feasible move at this moment in time. We can hopefully lure another player of his calibre through the loan market, however. If there's any takeaway from this past week's activity, it's that we've taken significant steps towards becoming 'Kolo's' team. We'll need that team to show up as their best selves on Saturday as we face off against a Cardiff side that has surprisingly gone longer than Latics since their last competitive win. After lining up more defensively against Luton, we proved it is indeed possible for a Latics side to go 90 minutes without conceding four goals. As crushing as it was to have our stoppage-time winner overturned at the death, we should hopefully travel to South Wales with a renewed confidence in our ability to produce positive results. Is Saturday a must-win? I wouldn't say it is, but a three-point showing on the road could do wonders for igniting a new year's turnaround. Let's keep things moving in a forward direction.
I hate the transfer window. Like, I really really hate it. All the rumours and 'links' and waiting to see which players leave is enough to induce a high state of anxiety. It just makes me uncomfortable; and this one's been no different so far. Everton activated the recall clause on Nathan Broadhead's loan deal last week, and the club made the rather strange decision to allow Graeme Shinnie to leave for Aberdeen, totalling FOUR players now on loan in the highlands. Seems to be a running theme at Wigan Athletic recently. Sign player - player sits on bench for eight months - goes to Scotland. Very odd. However, we have acquired the services of highly-rated centre-half Steven Caulker, which should give us a boost at the back, and young midfielder Miguel Azeez, who's spent the first half of this campaign on loan in sunny Spain. Ibiza strip to Ibiza bar - what an upgrade! We seem to have all-but confirmed the signing of Christ Tiehi (no, I don't know either) from Slovan Liberec, but the really exciting whisper is the potential loan return of academy product Joe Gelhardt, who made the move to Premier League outfit Leeds United during the dark days of administration. With only 188 minutes of league football this season, Leeds seem to feel he's in need of some regular football, so a loan move to the Championship appears to be the way to go. And there's no denying Joffy would add some pace and creativity to our strike force. It'll certainly be a treat for anyone who hasn't seen the Joffy/Langy link up yet, but I've no doubt if we manage to pull this one off, he'll be the one we're all waiting for asking: "Can we go to bed yet, Paul?" at 11:30pm on deadline day. Fingers crossed!
After some terrible results in Kolo Toure's tenure, an FA Cup game we were unlucky not to have won and some new signings are now reasons for optimism among Latics fans. Perhaps the biggest downside of the third-round clash at Luton going to a replay is the fixture is slotted in between two very important league fixtures. However, performing in the cup is a great way of getting respite from a tricky Championship campaign. Furthermore, if we win the replay, we'd have to avoid an upset against Grimsby in round four. If we do that, we're into round five (the round of 16), and that's when anyone still in the competition can start to dream. It'd be nice to have a little cup run given this year marks a decade since our 2013 triumph. Also, if we beat Luton in the cup, we could perhaps be confident we could then beat them in the league a few days later. On Saturday, we face Cardiff away from home. They are one of the few sides in the league who have almost been as poor as Latics have throughout the season. In fact, they sit just four places and four points above us. They are also on an even longer winless run than Kolo Toure's men. The fixture is what you'd call a six-pointer. Wigan simply have to win, but the Bluebirds will be thinking exactly the same. On to the new signings, and the first two players seem to fit the profile of players capable of playing Kolo's passing-it-out-from-the-back style of football. In Steven Caulker, we've got an ex-Liverpool and Spurs man, and in Miguel Azeez we've got an Arsenal youth player. Hopefully we continue to have a successful transfer window, as we really need to if we are to have any hope of retaining our Championship status.
It's amazing to see the change in attitude in the fanbase in just over a week. Ahead of Saturday's FA Cup tie at Luton, it really felt like Latics were staring down the barrel, after three consecutive 4-1 defeats – each one worse than the last - coupled with an expectation the squad wouldn't be strengthened in any meaningful way in January. A week and a decent performance - one that should really have seen us through to the fourth round - later, plus some transfer activity, and it's all changed again. Now let's not get carried away, Latics are still in dire straits. The league position is as bad as could be, we're rock bottom for a reason - an awful run of form that started in the autumn under Leam Richardson, which has only gathered pace under Kolo Toure. But there are reasons to be hopeful if we look hard enough. The performance at Luton was much improved, certainly in the first half. We look much better when we press sides and, although we haven't returned to the long-ball game we saw at times earlier in the season, it seems a more pragmatic approach has been adopted by the defence. If we try to wilfully play our way out of trouble all of the time, sides will simply pick us off and destroy us, as shown in the festive horror show. Playing the 'right way' is definitely something to aspire to, but there needs to be a balance in when we try to do that. If Kolo has been guilty of anything, I would say it's an understanding - or lack of understanding - about his players' limitations. For the best will in the world, players who have been coached a certain way for 18 months aren't going to be able to switch to a new philosophy and implement it fully after a few short weeks in mid-season. If there was a reset ahead of Luton, it would have been a welcome one, where Latics work towards becoming the side that we want to be – as opposed to expecting us to be there already. Although Saturday didn't result in a win, it resulted in a change of attitude. That old phrase 'stopping the rot' was in evidence post-match and, although Tom Naylor's second goal was ruled out, it should show the lads they can and always have been able to mix it up with the division's leading lights. So on to the transfer market. A couple in already, in the form of Miguel Azeez and Steven Caulker, with more to follow. The squad clearly needs a boost, after the under investment in the summer and the hammering to confidence over the last few weeks. But it's difficult for a bottom-of-the-table side to do that in January. Steven Caulker is one of those classic players whose career has gone somewhat awry, but is still young enough to make an impact. He started off at Spurs before successful spells with Swansea, Cardiff, QPR and Liverpool, where he played alongside one Kolo Toure. He has international experience with England, Team GB at the London Olympics, and is the current captain of Sierra Leone. To get him on a free transfer is quite the coup. Yes, he's had a difficult couple of years, but has played regularly in Turkey, and should bring some much-needed experience to a backline that had been shipping like the Titanic over the last few games. Arsenal prodigy Miguel Azeez has also arrived, fresh from a loan spell at UD Ibiza in Spain's Segunda division. You have to feel for the poor lad, leaving the sunshine island and arriving in Wigan in January. Arsenal fans will tell you he's one of their most exciting talents, others will say he's shown nothing in his two loan spells to date at Portsmouth and Ibiza. Kevin Betsy will know Azeez well, coaching him for both England and Arsenal, and he will be crucial in ensuring he makes the step up. He's described as a dynamic midfielder with an eye for goal, and that's just what we need currently. There's seemingly more to come as well, at the time of writing Christ Tiehi is poised to arrive from Czech side Slovan Liberec along with others. Will they improve on what we have? Who knows, but we need all the new lads to hit the ground running and start turning this ship around. Very few people grow up wanting to play for Wigan Athletic and, with our financial position, we need to be clever when it comes to signings. We've had great success in taking rough diamonds and polishing them up. If we can do the same here we'll be back on the right track. Cardiff represents the perfect opportunity to get our season back on track on Saturday. Let's hope the boost of new faces helps the lads to get a huge three points.