Wigan Athletic ace Kal eyeing Gers return!
Kal Naismith admits he has two major reasons to impress during Wigan Athletic's final pre-season friendly at Rangers this weekend.
Published 26th Jul 2018, 23:35 BST

- 2 min read
Updated 27th Jul 2018, 00:37 BST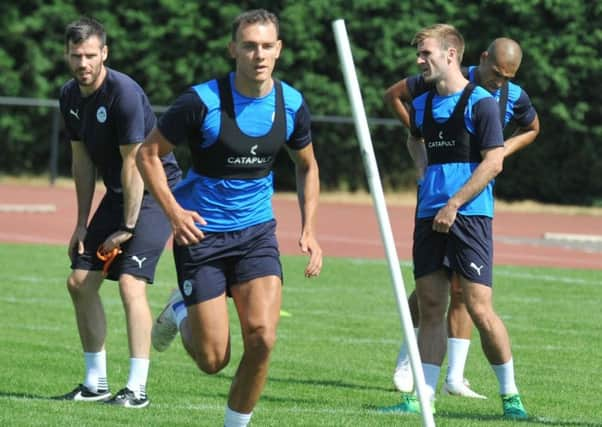 Firstly, he's desperate to transport himself into manager Paul Cook's thinking for the big Championship opener against Sheffield Wednesday on Saturday week.
Secondly, the childhood Rangers fan – and ex-Ibrox favourite – is desperate to once again step on the hallowed turf in front of a bumper crowd and show what he can do.
"It's such an exciting game for me, I've never been back since I left five years ago," Naismith told the Wigan Post.
"I've played at some big grounds and some big crowds but Ibrox...it's very good...very, very good, amazing in fact.
"I'd been to games as a fan as a kid in the Champions League and the atmosphere was amazing. But even playing in games in the third division, we were getting crowds of over 40,000, it was crazy.
"The support up there is ridiculous, and I can't wait to sample it again this weekend.
"I've had so many people asking me for tickets, you wouldn't believe.
"Home end, away end, whatever, they will be supporting Wigan for the day, I'll make sure of that!"
Rangers may have fallen from grace in recent years due to off-field problems, but they're still top of the tree as far as Naismith is concerned.
"Obviously Rangers and Celtic are the big two up there...everyone else doesn't really matter!" he laughed.
"Hearts and Hibs fans might tell you otherwise I suppose, but they are the big two.
"Gazza was my hero growing up, what a player he was. He left well before I joined but his presence was still around the place."
Naismith also believes Rangers are on the verge of something special under new boss Steven Gerrard, who has given the whole place a massive lift since his appointment earlier this summer.
"If I was a player I'd be so excited at the prospect of playing for him and learning under him," Naismith added.
"For the players it's great, but also for Steven to go into such a big club for his first shot at management.
"As a fan I'm very much looking forward to seeing how they get on this year.
"Realistically I think it might take a while to get back to where we were.
"I'd just like to see Rangers beat Celtic in a game, just to let them know they're on the way back, and close the gap in the league table, that would be a good start."